Falun Gong Practitioners Participate in Christmas Parades in South Australia
December 01, 2017 | By a Falun Gong practitioner in Adelaide
(Minghui.org) Falun Gong practitioners in South Australia participated in Christmas parades in Norwood and Port Adelaide on November 25, 2017.
The practitioners' procession included a float with plum and lotus flowers, ladies in heavenly maiden costumes, characters in ancient costumes, a large banner reading "The World Needs Truth, Compassion, Forbearance," and other practitioners in yellow t-shirts.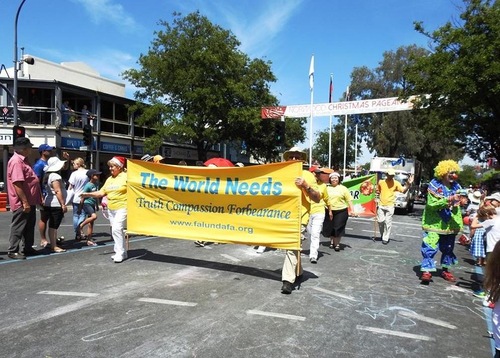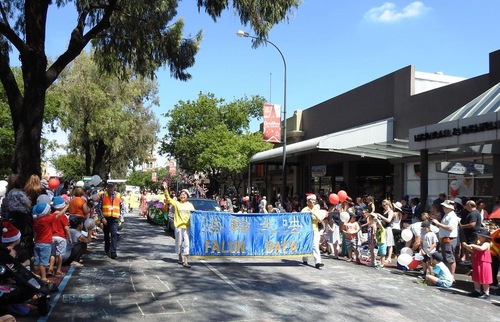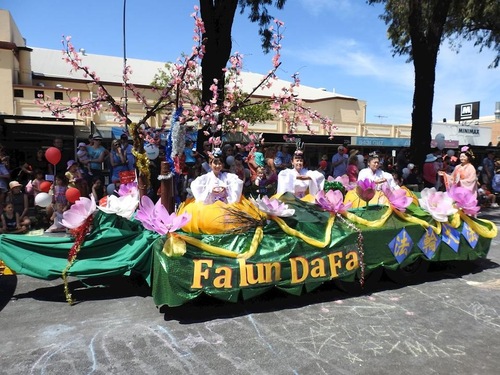 Falun Gong practitioners perform in the Christmas parade in Norwood, Adelaide.
This marked the 40th year the parade has been held in Norwood. Nearly one hundred groups participated in the parade.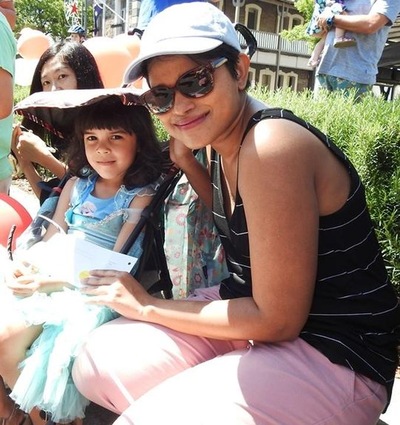 Montaigie brought her daughter to watch the parade.
Montaigie from Singapore said, "The Falun Gong procession is very beautiful. I feel refreshed!"
Toni Gray is a coordinator of a community service organization. She and her friends brought their children to watch the parade.
She said, "It made a deep impression. The Falun Gong group stood out. It was beautiful, colorful, and energetic. It also makes people feel peaceful, serene, and relaxed, so people are delighted in their hearts and can't help but smile."
She agrees with Falun Gong's universal values of Truthfulness, Compassion, and Forbearance. She said, "This is great. So when I saw the float, I said, 'Wow!'"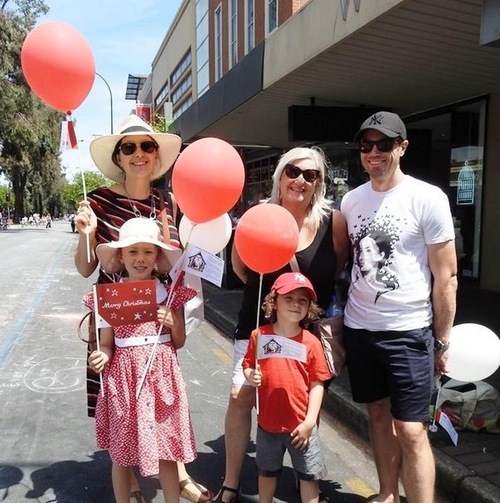 Tony Schaeffer and his family
Tony Schaeffer is a manager at a national defence company. He brought his family to watch the parade. He said, "The float by the Falun Gong practitioners gives people a peaceful feeling. It's apparent that it took a good amount of effort, and the whole team was coordinated well. The Falun Gong group, along with other groups, has become a part of the community and displays our multiculturalism. Their effort is magnificent."
Spectators in Port Adelaide Welcome Practitioners
The parade in Port Adelaide started at 6 p.m. The practitioners' float and procession received a warm welcome.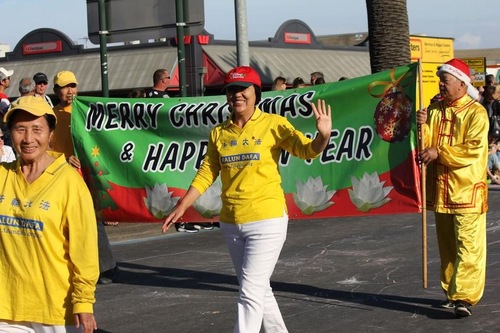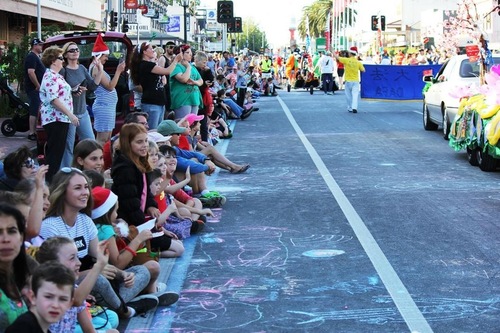 Practitioners participate in the Christmas parade in Port Adelaide
Melissa O'Brien waved to the practitioners during the parade. She said, "I was delighted to see the practitioners' float. Every one of them was happy. This made me feel their grace from my heart."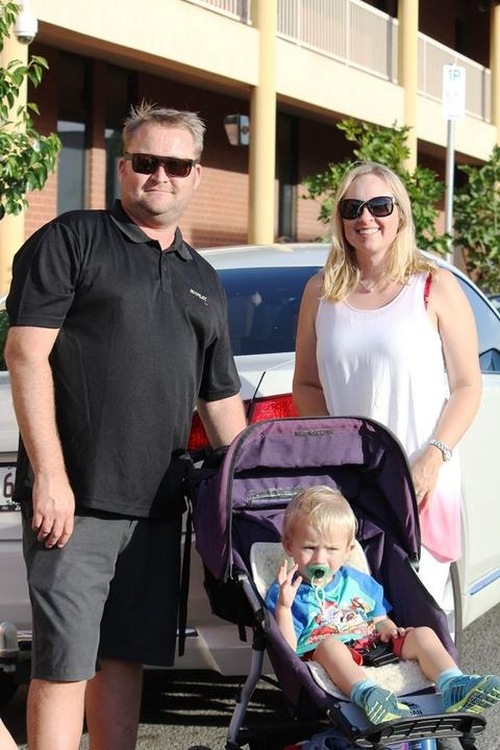 Melissa O'Brien and her family
Spectator Brings Photos Back to China
There were some Chinese spectators at the Norwood parade. They took photos and watched the Falun Gong float.
Ms. Qin from China walked along with the practitioners to the parade's destination. She said excitedly, "My mother is almost 80 years old. She started practicing Falun Gong in 1997. I support her though I am not a practitioner.
"She went to Beijing to speak out for Falun Gong in 2000. But she was handcuffed and escorted back. She has been steadfast these years."
Qin was excited to see the practitioners in the parade a little over one month after she came to Australia. She said, "I know Falun Gong is great. Seeing the procession, I felt so close and touched. I have taken many photos."
"The float is well-decorated. The exercise demonstration is nice. I will share these photos with my family in China. I will also have the local officials take a look, tell them Australia supports Falun Gong, and ask them to stop the persecution of Falun Gong practitioners."