Ms. Qi Jingpu from Jiamusi, Heilongjiang Province Suffers Stroke in Detention (Photo)
November 29, 2017 | By a Minghui correspondent in Heilongjiang Province
(Minghui.org) Falun Gong practitioner Ms. Qi Jingpu from Jiamusi City, Heilongjiang Province was arrested on September 30, 2017. The police later agreed to release the 68-year-old on bail when the local detention center declined to admit her, citing her unusually high blood pressure. But even before the bail paperwork was completed, Ms. Qi suffered a stroke and was rushed to a local hospital. She remains in a coma after brain surgery and has now been moved to a private hospital. Her family was asked to cover her rehabilitation expenses.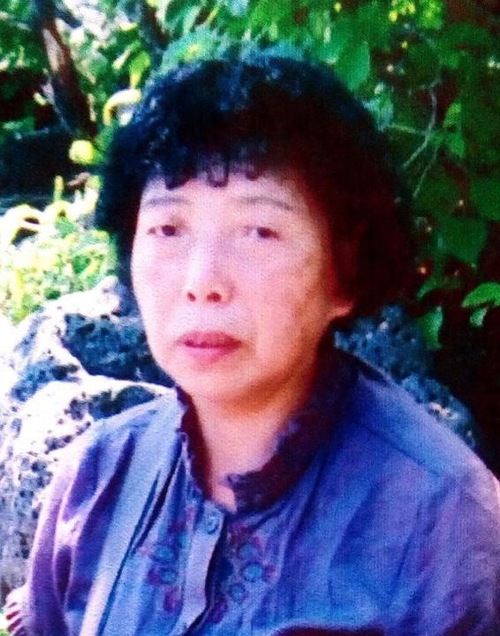 Ms. Qi Jingpu.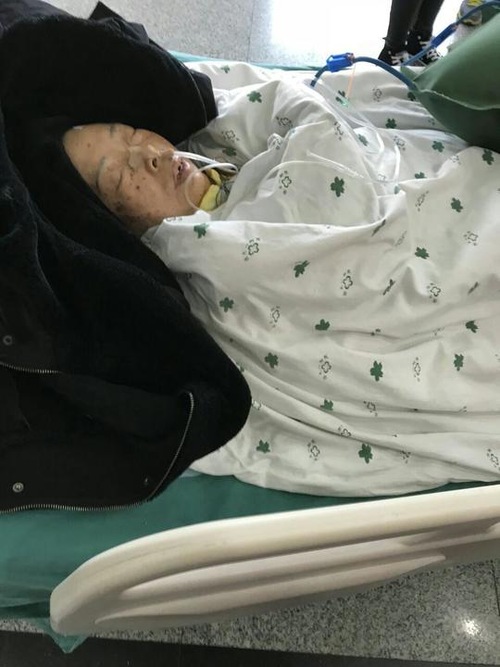 Ms. Qi Jingpu after suffering a stroke in detention.
Ms. Qi Jingpu, a retiree of the Jiamusi City Electricity Bureau, started practicing Falun Dafa in 1996. Living by the Falun Gong principles of Truthfulness, Compassion, and Forbearance, she enjoyed good health and had harmonious relationships with her family after practicing Falun Dafa.
Forced Labor for Petitioning the Government
When the Chinese Communist Party (CCP) launched its persecution of Falun Gong on July 20, 1999, Ms. Qi went to Beijing to tell the government about Falun Gong, believing that they did not understand the nature of the practice. She was arrested and taken back to her local police station.
She was given two to three years of forced labor. During her detainment at the Jiamusi Forced Labor Camp, she was subjected to brainwashing tactics, forced to do unpaid labor, and pressured to write the "three statements" renouncing her belief and denouncing Falun Gong. Nonetheless, the persecution did not change her firm belief in Falun Dafa.
Targeted Again for Helping Another Practitioner
Ms. Qi once acted as the trustee for Falun Gong practitioner Ms. Wang Yanxin, one of the clients related to Jiansanjiang case. She helped her negotiate with the authorities and file lawsuits, and she attended the trial. As a result, local police targeted Ms. Qi and followed her closely. She lived away from home for a long time to avoid persecution.
In order to figure out her whereabouts, police officers harassed and interrogated her family and friends, monitored their phone calls, and staked out at places near their homes.
Recent Arrest and Home Ransacking
At approximately 6:30 a.m. on September 30, 2017, Ms. Qi Jingpu and her husband noticed three police officers following them on their way to a grocery store. The police suddenly ran up to the old couple and arrested Ms. Qi. Later, it was learned that one of the officers was the superintendent of the Anqing Police Station.
Ms. Qi's husband asked them, "Where are you from?"
An officer claimed that he was from the Jiamusi City Public Security Department, Dongfeng Branch. Ms. Qi's husband negotiated with them, "It's the long holiday, and our children just arrived back home. We are going to the grocery store to get some food. How about if I bring her to meet with you after the holidays?"
The police refused and forcibly took Ms. Qi to the Anqing Police Station in Jiamusi City. Extremely concerned, her husband followed them to the station.
When Ms. Qi's husband went back home at about 8:00 a.m., two police officers were waiting at the door. They followed him inside. Four another police officers came in after a while. They ransacked the home for more than five hours.
They demanded of Ms. Qi's husband, "Who did Qi Jingpu contact? Who often comes to your home?"
He replied, "I have been on a business trip all year around, so I have no idea about any of this."
A police officer told Ms. Qi's grandson, "Your grandma is an area leader. She went to the provincial capital to file lawsuits and collect signatures. Video cameras recorded it all."
Finally, the police wrote up a list of confiscated items and ordered her family to sign it.
At 10:00 a.m. on October 1, 2017, the officer who handled Ms. Qi's case took her to the Tangyuan County Detention Center in Jiamusi City. The notice of detention stipulated 15 days of administrative detention.
On the way to the detention center, Ms. Qi was first taken to the hospital for a physical examination. Her blood pressure read a dangerously high 200 mmHg. However, the police showed no concern for her condition and took her straight to the detention center.
Her husband was so worried that he asked to be allowed to accompany her, but the police refused. An officer promised to bring her back if the detention center refused to admit her for health reasons.
At the Tangyuan Detention Center, a doctor measured Ms. Qi's blood pressure, and it was again 200 mmHg. They refused to receive her. Officers then took her to the hospital for another checkup, and her blood pressure was still high at 180 mmHg.
Finally, the police agreed to release her with 20,000 yuan bail. They said that the bail would not be refundable if she were to go to the government again to speak out for Falun Gong.
Suffering a Stroke While Awaiting Bail
Within two days after her arrest, Ms. Qi refused to eat and drink. She also refused to answer to interrogators. Her health declined quickly at the police station.
While waiting for the bail paperwork to be processed, Ms. Qi Jingpu and her family were held waiting at the Anqing Police Station until 10:00 p.m. They were told that it was a busy day because higher officials were there for an inspection.
By that time, Ms. Qi was showing symptoms of a stroke. Her family members were furious at the officers and demanded that the bail money be returned.
Ms. Qi was taken to the Jiamusi University Affiliated No. 1 Hospital for brain surgery. The surgery was done at 5:00 a.m. the following morning on October 2, after which she was taken to the intensive care unit (ICU) for further observation.
Ms. Qi was in critical condition and in a deep coma. She couldn't breathe on her own and was on a life-support machine.
Though currently out of immediate danger, Ms. Qi is still in a coma and runs the risk of being in a prolonged vegetative state. Stroke recovery treatment is very important during this period.
While Ms. Qi was held for observation in the ICU, police officers remained on watch at the door and followed Falun Gong practitioners who came to see her.
The police discussed with her family about transferring her to a regular care unit, but they were unable to do so due to a shortage of patient beds in that hospital.
On November 7, the police transferred Ms. Qi to the Jiamusi City Oriental Hospital, which is a district-level hospital within the jurisdictional area of the Jiamusi City Public Security Department, Dongfeng Branch.
After Ms. Qi was settled into the hospital, her family members were told that no stroke recovery unit was available at that hospital. The following day, the hospital president suggested that they check out and provide nursing care for Ms. Qi at home. Hospital staff kept asking about the background of Falun Gong practitioners who went to visit her.
Upon repeated requests from Ms. Qi's family, she was transferred to a private hospital, the Jiamusi City Rongtai Hospital. Nursing care fees are being charged to the family.
Perpetrators' Contact Information
Heilongjiang Province Public Security Department, Domestic Security Division
Yang Bo: +86-15945183001
Jiamusi City Political and Judicial Committee
Liu Chen, +86-454-8223490 +86-13359630336Song Wenfeng, +86-454-8226230 +86-13845470005Xu Jiacai, +86-454-8511025 +86-13803653098Gao Weili, +86-454-8288278 +86-13351663579
Jiamusi City Team to Eradicate Falun Gong
Sun Zhuang, +86-454-8223567 +86-18345465888Shi Mingguo, +86-454-8511028 +86-13154542333
Jiamusi City Dongfeng District Political and Judicial Committee
+86-454- 8391268, +8613945407377
Jiamusi City Public Security
Chief: Wang Xiaolong (new) +86-454-8298114Former Chief: An Qinghua, +86-454- 8298001, +86-15545416789
Jiamusi City Public Security, Domestic Security Division
Hu Haibin, +86-454-8298126 +86-13836647555
Jiamusi City Dongfeng Public Security
+86-454-8395962Chief, Liu Dongfang, +86-454-8380567 15946557333Ji Fuchun, +86-454-8380567 +86-13803656988Sun Tieli +86-454-8376333 +86-13945476666Luan Xiaolei, +86-454-8394688 +86-13503693333
Jiamusi City Anqing Police Station
Yan Yuncheng, superintendent, +86-18745483477, +86-13945489777, +86-18645451741Sun Wenyi, vice superintendent, +86-13945498538Kong Xiankun, vice superintendent, +86-454-8352777, +86-13945493753Cong Qingzi, vice superintendent, +86-13945477345, +86-18645451621