Falun Dafa Around the World: Learning and Spiritual Improvement
(Minghui.org) This issue of Falun Dafa Around the World contains news about several recent events, including a spiritual exhibition in Finland, a ceremony in Japan, and over 700 high school students in Indonesia learning the exercises.
Finland
Falun Dafa practitioners in Finland have participated in the Hengen ja Tiedon Messut (Spirit and Knowledge) Exhibition for a number of years. This event is one of the oldest and most well-known spiritual conferences in Finland, and was held this year on October 14-15 in Helsinki.
Many people stopped at the booth to learn the Falun Dafa exercises. Some said they had seen the practitioners in previous years and were glad to see them again. Some read the materials and inquired about group exercise locations in their cities.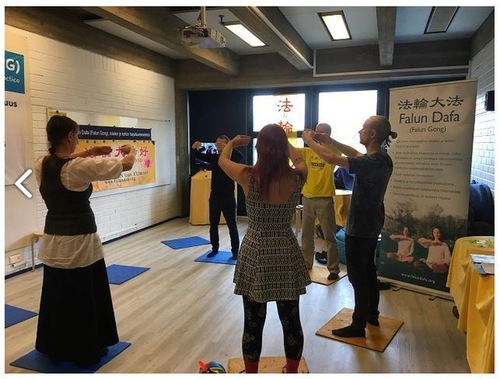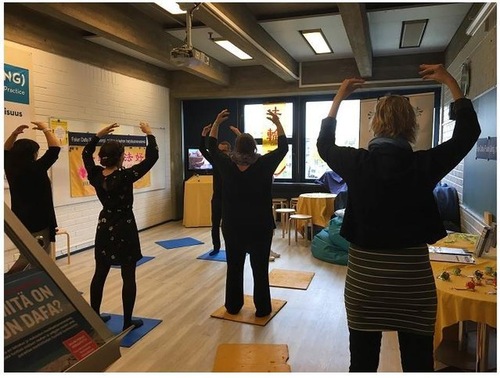 People learn Falun Dafa exercises at the Hengen ja Tiedon Messut (Spirit and Knowledge) Exhibition in Helsinki, Finland.
One woman said, "After learning these five sets of exercises, my body felt very comfortable for a long time."
"I could feel a strong energy field," added one man.
"When I walked down the hallway, I felt the energy from here even at a distance," said another woman.
Surprised to hear about the suppression in China, one young woman returned with her family. The entire family signed a petition calling for a stop to the brutality in China. Some people thanked practitioners for telling them about Falun Dafa and clarifying the defamatory propaganda from the Communist Party.
Japan
During the recent 27th Higashihiroshima Lifelong Learning Festival, practitioners presented an exercise demonstration and a waist drum performance for the spectators. Organized by the Higashihiroshima government, this activity, which was held on November 18-19 this year, promotes learning and information exchange.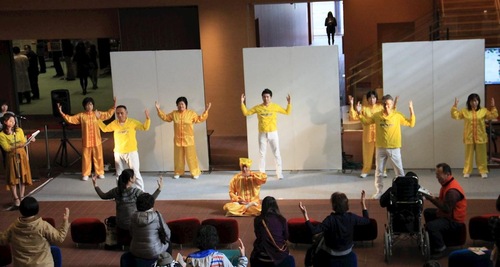 People follow practitioners' movements during the exercise demonstration.
Inside the Art Exhibition Hall, the peaceful music and gentle movements attracted many people, some of whom followed along with the movements. Some started while wearing jackets and hats, but as they did the exercises and felt energy, they removed them.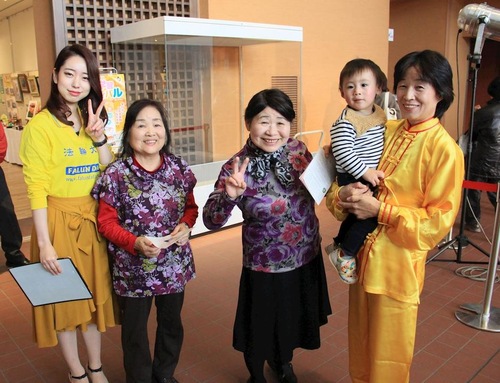 Two people thank practitioners for teaching them the exercises.
"This is really awesome," said one of them, "And thank you for telling us about the group exercise place too."
Indonesia
Practitioners came to a high school in Batam, Indonesia, on November 11 to tell students and teachers about the Falun Dafa self-improvement system. About 1,000 students attend the school, but due to limited space, only 720 students and teachers were able to attend the workshop. They were happy to learn the first four sets of excises from the practitioners during the one-hour session.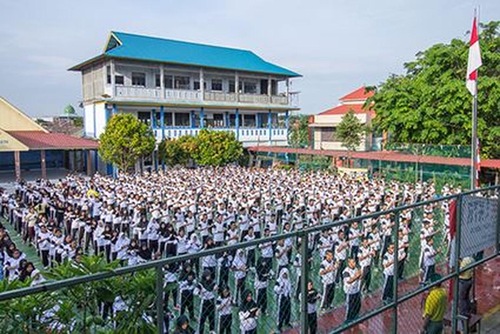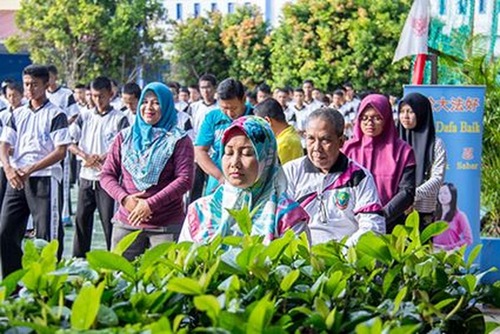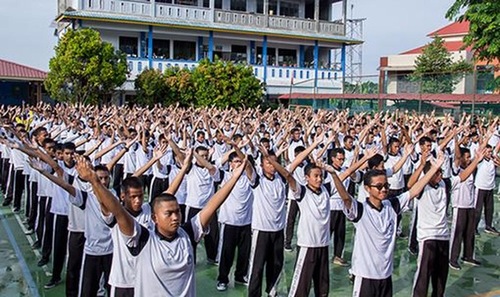 About 720 students and teachers learn the Falun Dafa exercises in Batam, Indonesia, on November 11, 2017.
One student said that the music was relaxing, and helped him concentrate on the tasks he was doing. One teacher was impressed that although the exercises looked simple, they are very powerful and refreshing.
Related article in Chinese:http://www.minghui.org/mh/articles/2017/11/20/在日本东广岛市生涯学习庆典上介绍法轮功(图)-356914.htmlhttp://www.minghui.org/mh/articles/2017/11/13/印尼巴淡岛高中师生学炼法轮功(图)-356655.html