Houston: Local Falun Gong Group Joins the H-E-B Thanksgiving Day Parade
November 26, 2017 | By Minghui correspondent Shu Jing
(Minghui.org) Houston's largest annual parade, the H-E-B Thanksgiving Day Parade, was held in Houston for its 68th year on November 23. The local Falun Gong group was invited to participate in the celebration.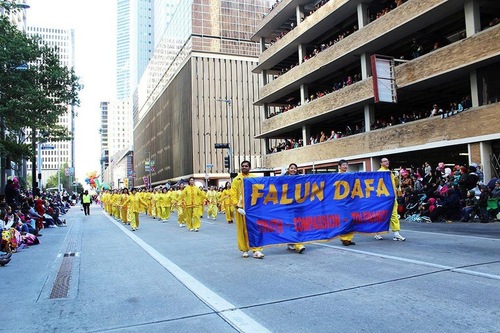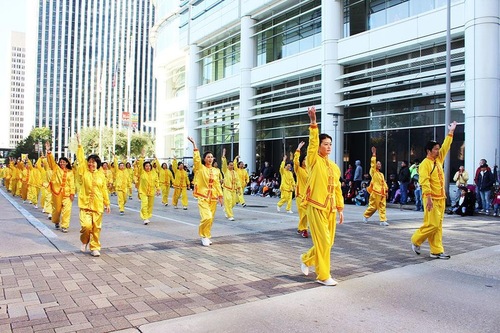 Falun Gong in the H-E-B Thanksgiving Day Parade and demonstrating the exercises.
Several hundred organizations participate with parade entries each year. There were giant balloons, numerous bands, and performances to delight people of all ages and cultural backgrounds. In addition to the thousands of people that line the parade route, millions more see it on television.
This was the fifth time that the local Falun Gong group participated in the festivities. They were selected to demonstrate the Falun Gong exercises in the performance area where local TV stations provide live coverage.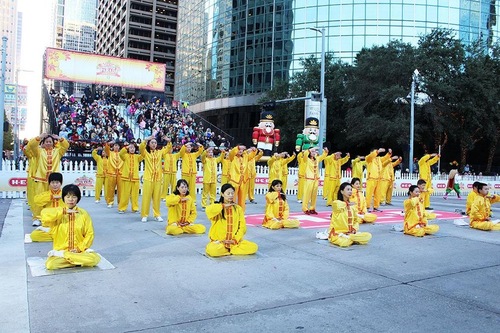 Demonstrating the Falun Gong exercises in the performance area.
The parade started at 9 a.m. from the intersection of Smith St and Lamar St. The Falun Gong procession was close to the front, setting off in the fifth position. A big banner reading "Falun Dafa, Truthfulness-Compassion-Forbearance" began the Falun Gong entry. A group of practitioners dressed in yellow costumes marched behind while demonstrating the exercises. The peaceful Falun Gong exercise music played in the background.
The event organizers set up several broadcast stations to introduce the parade participants. The Falun Gong group was met with resounding applause while several in the crowd imitated the exercise movements.
Hurt Porter is a veteran armed services doctor. Seeing the exercise demonstration, he said, "I was born in Houston and did a tour in Iraq as a field doctor." He said he had many health problems and was looking for a way to find inner peace. He was immediately attracted to Falun Gong and said he wanted to learn the exercises in the following week.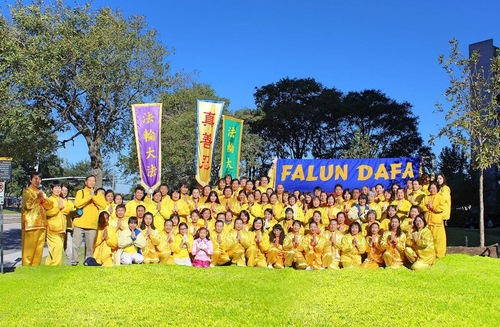 Group photo after the parade.
Background
Falun Gong was made public in 1992 and soon spread across China due to its many health benefits. Near 100 million people practiced it by 1999. Out of jealousy, and paranoid of losing control of the people, Jiang Zemin, former head of the Chinese Communist Party (CCP), initiated the persecution of Falun Gong on July 20, 1999.
The persecution has led to the deaths of many Falun Gong practitioners in the past 18 years. More have been tortured for their belief and even killed for their organs. Jiang Zemin is directly responsible for the inception and continuation of the brutal persecution.
Under his personal direction, the Chinese Communist Party established an extralegal security organization, the "610 Office," on June 10, 1999. The organization overrides police forces and the judicial system in carrying out Jiang's directive regarding Falun Gong: to ruin their reputations, cut off their financial resources, and destroy them physically.
The CCP even conducts state-sanctioned live organ harvesting for lucrative profit. Due to the CCP's information censorship, the exact number of practitioners who have died in the persecution is not known.