500 Villagers Petition for the Release of Two Women But Meet Resistance in Court
November 26, 2017 | By a Minghui correspondent in Hebei Province, China
(Minghui.org) Two residents of Li County were arrested in neighboring Gaoyang County on July 30, 2017, for refusing to renounce Falun Gong, a spiritual discipline being persecuted by the Chinese communist regime.
Both Ms. Zhang Xiaojian and Ms. Wu Xinhua credit Falun Gong for returning them to health and enabling them to enjoy life to the fullest. They are well known among the locals, who witnessed how Falun Gong turned the two into healthy, upbeat, and considerate people. After learning of their arrest, 500 villagers signed a petition calling for their release.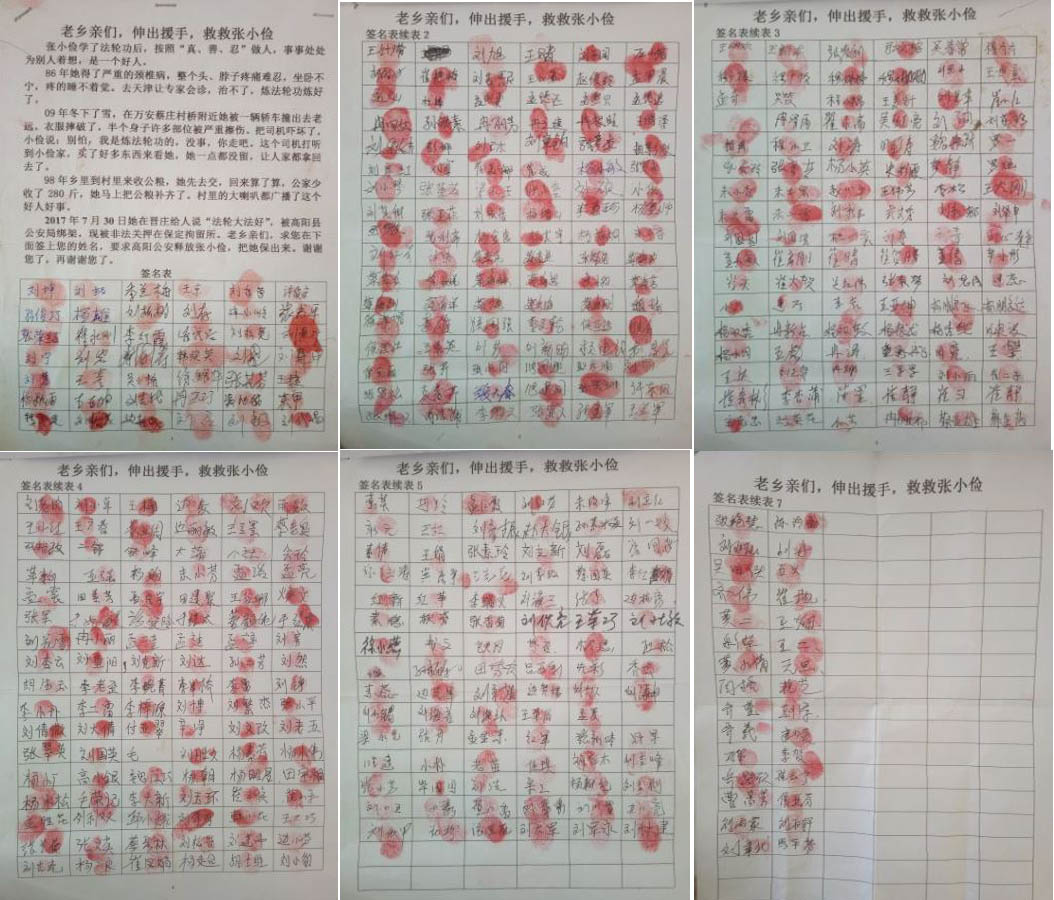 Villagers signed and put their fingerprints on the petition.
The two Falun Gong practitioners appeared in Gaoyang County Court on November 15. Four lawyers defended them, citing the constitutional right to freedom of belief and the fact that there is no law in China that says practicing Falun Gong is a crime. The two prosecutors interrupted the lawyers repeatedly during their defense arguments.
The lawyers tried to file a complaint against the prosecutors, but they were told no one was available to accept their paperwork.
Violation of Legal Procedures by Law Enforcement and Judiciary
One of Ms. Zhang's lawyers had difficulty submitting his application to represent her to Jinzhuang Police Station, whose agents made the arrests. They referred him to their higher-ups, the Gaoyang County Police Department.
At the Gaoyang County Police Department, Bian Likun, head of the domestic security office, referred the lawyer back to Jinzhuang Police Station. As a result, the lawyer wasn't able to get his application processed. It would be a few more weeks before he was finally allowed to represent Ms. Zhang.
Months before the trial, one of Ms. Wu's lawyers wrote a complaint against Gaoyang County Police Department and Procuratorate for arresting and indicting his client without any legal basis, but Baoding County Procuratorate declined to register the complaint and even threatened to arrest the lawyer.
Ms. Zhang and Ms. Wu were handcuffed during the trial on November 15. Their lawyers asked to have the handcuffs removed, but the judge refused.
Judge Li failed to maintain order during the hearing. Prosecutors Cai Ligong and Yao Suling kept interrupting the lawyers, and so did clerk Chen Hongqiong.
Ms. Zhang replied, "No," when one of her lawyers asked if the arresting and interrogating officers ever showed any ID or specified which law she broke. Prosecutor Yao then yelled at the lawyer, "How the police handle the case is none of your business!"
The lawyer gestured that it was his right to ask his client such a question during cross-examination. Prosecutor Cai slammed his hand on the desk and said, "Put your hand down."
The lawyer was simply talking with his hand up in the air as he usually did.
Cai called out, "Toss him out of the courtroom!"
Yao stood up and said, "I quit! I quit!"
Cai also stood up and pounded the desk two more times, saying, "You [profanity omitted] lawyers are lawless!"
Two bailiffs began to push the practitioners' family members out of the courtroom. One man grabbed Ms. Wu's daughter's hat so hard that he broke her hair tie and messed up her hair.
The four lawyers visited Gaoyang County Procuratorate that afternoon but were told no one was available to accept their complaints against Cai and Yao.
One lawyer called Yao later, and Yao couldn't deny the fact that there were no legal grounds on which to charge Ms. Zhang and Ms. Wu.