A Little Girl Saved by Falun Dafa
November 13, 2017 | By a Falun Dafa practitioner
(Minghui.org) No one would believe the little girl in this photo almost died nine years ago when she was only a year old.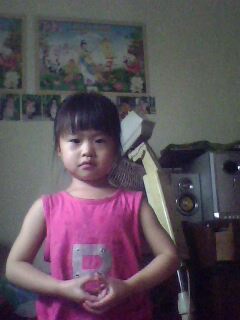 The girl is my granddaughter. We rushed her to our local hospital in Pengzhou City, Sichuan Province, on December 6, 2008, with a viral infection. The ER doctors gave her IVs and told us to take her home to rest.
But she fell into a coma the moment we got into our car. The doctors were puzzled and referred us to Huaxi Hospital in the neighboring city of Chengdu.
An ambulance rushed us to Huaxi Hospital, but the doctors there said there was no hope when they noticed my granddaughter's pupils were enlarging and her teeth were clenching.
My son and his wife started to cry, and I knew that only Master Li Hongzhi, the founder of Falun Dafa, could save our baby. I kept saying "Falun Dafa is good" into my granddaughter's ears. In less than 30 minutes, she regained consciousness and began to talk.
My whole family was confident that Master Li gave my granddaughter a second life. Now, nine years later, she is as healthy as can be.
I share this in hopes that people can see that Falun Dafa is extraordinary and nothing at all like what is depicted by the Chinese communist regime's propaganda.