60 Falun Gong Practitioners Sentenced for Their Faith in September 2017
Nov. 12, 2017 | By a Minghui correspondent in China
(Minghui.org) A couple in Shandong Province, Mr. Jin Yongxin and Ms. Bian Lixun, were tried and sentenced on September 1, 2017, to 8 years in prison and fined 30,000 yuan (~$4,526 USD) for exposing the communist regime's persecution of their spiritual belief in Falun Gong.
The Shandong couple were among the 60 Falun Gong practitioners who were sentenced in September 2017 for refusing to renounce their faith. Their sentences ranged from 9 months to 10 years of imprisonment with an average term of 3.5 years. Of those sentenced, 22 were fined a total of 351,000 yuan (~$52,953 USD).
The 60 practitioners represent 15 provinces and municipalities. Liaoning Province topped the list with 13 sentences, followed by Shandong and Hebei with 11 and 8 respectively.
In addition, Minghui.org newly learned of 21 practitioners who were sentenced between January and August. The full list can be found at the end of the report.
In total, at least 691 practitioners have been sentenced in China since January 2017. However, due to the regime's information blockade, this data cannot always be reported in a timely manner, nor is all the information readily available.
Highlighted Cases
Shandong Couple Sentenced to Eight Years in Prison
On September 1, Mr. Jin Yongxin, 60, and Ms. Bian Lixun, 58, from Qingdao City, were each sentenced to 8 years in prison and fined 30,000 yuan for raising awareness of the Chinese communist regime's persecution of Falun Gong.
The couple are parents of renowned pianist Jin Yuanhui, who was born blind. The local TV station once extensively covered the couple's story of raising their son and lauded them as a great inspiration to other parents.
After the persecution of Falun Gong started, the couple were targeted by the authorities, and the police began tapping Mr. Jin's phone in 2015. A surveillance camera was also installed across from his mother's house. The couple were arrested hours apart on December 2, 2016, and indicted on June 6 by the local procuratorate.
The couple were tried in a makeshift courtroom inside the Pudong Detention Center on July 18. Their lawyer argued that no law in China criminalizes Falun Gong and that his clients should not have been prosecuted for exercising their constitutional right to freedom of belief. He also argued that the police did not produce a search warrant when Ms. Bian was arrested.
The lawyer concluded that there has been a lack of legal basis on his clients' cases since the beginning.
Liaoning Woman Secretly Sentenced to 7.5 Years in Prison
Ms. Wang Shufang, 63, from Dalian City was recently sentenced to 7.5 years in prison. Her family was not notified.
On October 31, 2016, Ms. Wang was arrested when she mailed criminal complaints against former Communist Party leader Jiang Zemin to the Supreme People's Court and Supreme People's Procuratorate. She was held at Yaojia Detention Center for 15 days before being released.
Two months later, on January 16, 2017, Ms. Wang was arrested again outside her house and detained at Yaojia Detention Center.
Ms. Wang's family was suddenly informed on September 20, 2017, eight months after Ms. Wang was detained, that a trial had been scheduled but that the outcome was unknown.
One week later, on September 27, her family was informed again to proceed to the court. They arrived in the morning and waited until noon but did not see Ms. Wang. They later learned that the trial had ended hours ago and that Ms. Wang had been sentenced to 7.5 years in prison. She was taken away through an underpass once the trial ended, and her family currently has no information on her whereabouts.
Three Beijing Practitioners Illegally Sentenced
On the afternoon of September 20, three Falun Gong practitioners in Beijing were illegally sentenced. Ms. Qing Xiuying was given 10 years in prison and deprived of political rights for 2 years, Ms. Xia Hong was sentenced to 4 years, and Mr. Li Yeliang was sentenced to 3 years. All three practitioners expressed that they would appeal the verdict.
Faced with this outcome, Mr. Li's lawyer asked the judge, "Mr. Li is not guilty at all. With such a verdict, why have a lawyer? I went to the detention center, procuratorate, and court over 20 times and talked to many officers. I even emphasized to the judge two days ago that Mr. Li is innocent; the judge agreed that if I defended this manner, nothing would happen. How did it turn out this way?"
The other two lawyers are also working to seek their clients' release.
Three Tianjin Practitioners Sentenced in September
Three Falun Gong practitioners in Tianjin were sentenced in September. They have now appealed the verdict. Mr. Zhang Jian was sentenced to 5 years in prison, Mr. Li Shaochen was sentenced to 4.5 years, and Mr. Liu Jincheng was sentenced to 2.5 years.
The three practitioners were arrested on December 7, 2016.
When Mr. Liu and his mother stepped out of the lift from their home, there were surrounded by over 20 police officers. Both were taken to the police station. Mr. Liu was later taken back to his home and had his home ransacked.
Mr. Zhang was taken from his home by nearly 20 officers at 1 p.m. while Mr. Li was arrested at 3.30 p.m. by six officers. His house was later ransacked by more than ten officers.
Jilin Man Sentenced for Distributing Falun Gong Materials
Mr. Sun Jinghe, 51, of Jiutai City, was sentenced on September 28 to 5.5 years in prison and fined 10,000 yuan (~$1,509 USD) after being detained for 8 months. He appealed the verdict while held at Jiutai City Detention Center.
Mr. Sun, well-known by locals, used to suffer from unexplained illnesses and lost the ability to work. He turned to drinking and gambling and took pleasure in beating his wife and son. However, after practicing Falun Gong in 1998, he regained his health and rejoined the workforce. He quit drinking and gambling and became a loving husband and father.
Having benefited from the practice, Mr. Sun eagerly told others about Falun Gong.
On January 25, when he was driving around to distribute Falun Gong materials, four men noticed him. They held him at knifepoint and demanded 2,000 yuan (~$302 USD). When he refused to comply, he was beaten and left with severe injuries to his head, left eye, and left leg.
One of the men then called the police to have Mr. Sun arrested.
When local residents heard of his arrest, more than 400 people signed a petition calling for his release.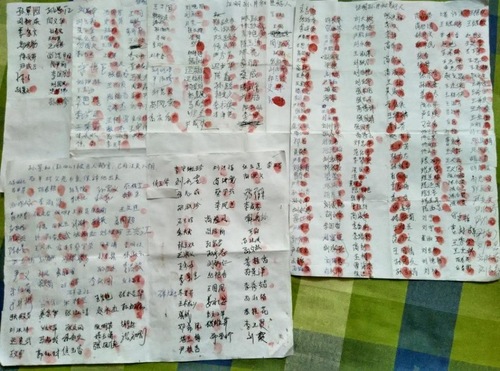 Petition for Mr. Sun's release with fingerprints
However, an officer told Mr. Sun's family that it was no use calling for his release as the authorities had decided to sentence him to prison.