March in Paris Raises Awareness of Persecution by Chinese Regime
October 04, 2017 | By Minghui correspondent De Long and De Xiang
(Minghui.org) Over 1,300 Falun Gong practitioners from 31 countries in Europe held a march in Paris, France on September 30, 2017 to introduce the meditation discipline of Falun Gong and its brutal persecution by the communist regime in China.
The two-hour march started from Place de la Bourse, passed by the Paris Opera, the Royal Palace, and several bustling main streets before finally arriving at Place du Carrousel at the Louvre. Many pedestrians paused to watch the march.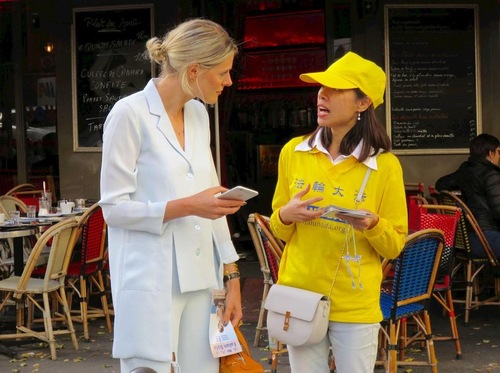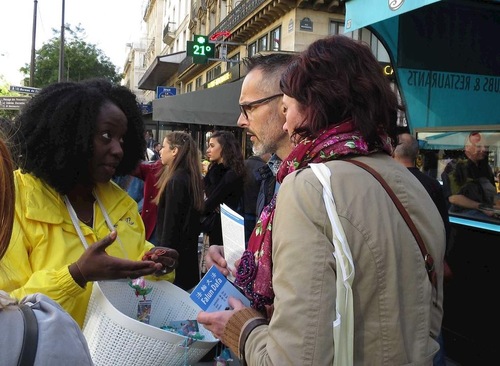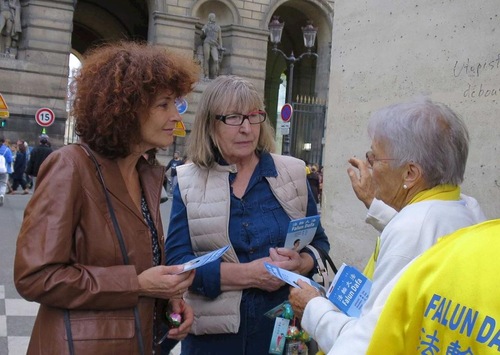 Practitioners explain Falun Gong and why it is persecuted by the Chinese Communist Party.
Yasmine and Myriam Mimèche are sisters. Yasmine is a sport coach and Myriam is an art director. Myriam said, "Truthfulness, Compassion, and Forbearance are very positive. I don't understand why the CCP wants to persecute it."
They were appalled when they saw a banner in the march stating that there have been over 4,000 documented deaths of Falun Gong practitioners as a result of torture by the communist regime.
Yasmine agreed. She said, "We're learning of this for the first time. The march is a good way to raise awareness. Safeguarding the values [of Truthfulness-Compassion-Forbearance] is very good. You should continue to fight for it."
Yasmine and Myriam Mimèche
Michelle, a theater director, saw the march after leaving the Paris Garnier. She said, "A girl just explained the persecution... People cannot practice Falun Gong in China. Otherwise, one would be jailed."
"We live here with freedom and don't know that such a thing is happening in 2017. It is shocking. It should be better known. I just recorded some footage and will put it on my social media."
Claudine and Pierre Gory are a retired couple. One worked in the automobile industry, and the other worked in real property. They learned about the persecution from reading The Epoch Times newspaper. After seeing the march, Claudine said, "This is right to let more people know this issue. The more the better. You must keep doing this."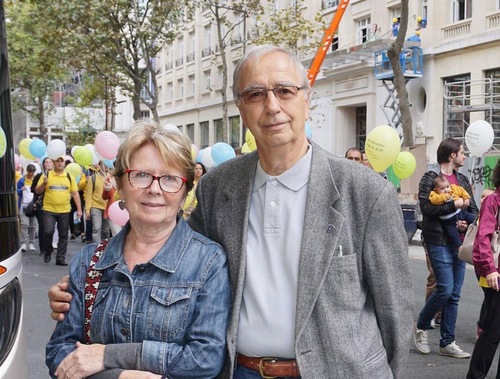 Claudine and Pierre Gory
Falun Gong practitioner Anita Richard is a retired attorney. She said, "I have practiced Falun Gong for 16 years. I want to say that people will become better if the whole world knows Falun Gong. The world needs Truthfulness-Compassion-Forbearance."
Practitioner Anita Richard holding the portrait of a practitioner killed as a result of torture by the Chinese communist regime