Mexico: Mayor Expresses Gratitude to Falun Gong Practitioners
October 26, 2017 | By a Falun Gong practitioner in Mexico
(Minghui.org) Falun Gong practitioners in the state of Puebla introduced the practice to area residents at a market fair in the small town of Teteles de Avila Castillo on October 8, 2017. They demonstrated the Falun Gong exercises, performed on waist drums, and provided literature to those who were interested. Several of the audience members told the practitioners that their presence brought them hope.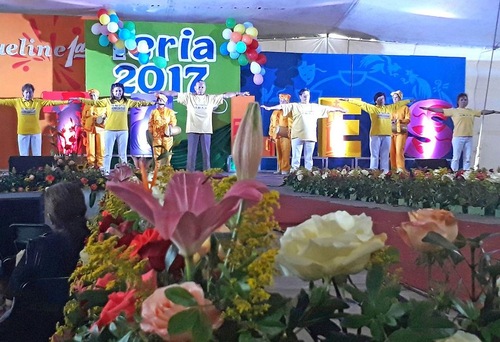 Falun Gong practitioners demonstrate the exercises at a market fair in Teteles de Avila Castillo.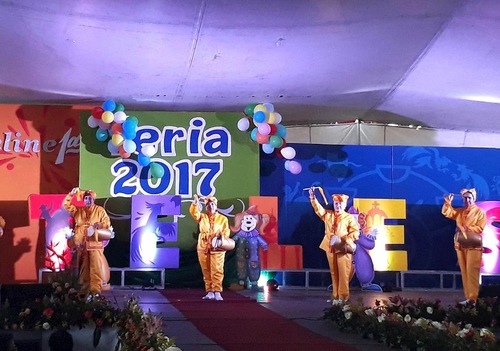 A lively waist drum performance.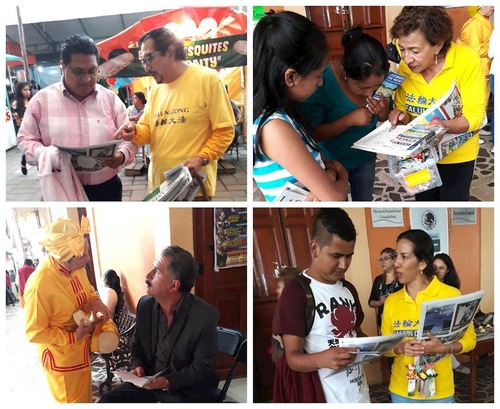 Practitioners talk to passersby about the persecution of Falun Gong in China.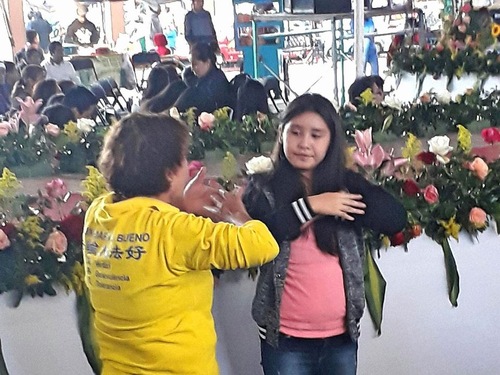 A young woman learns the Falun Gong exercises.
The mayor of Teteles de Avila Castillo was at the fair that day and accepted Falun Gong literature with information about the practice and the persecution. He was very happy and thanked the practitioners, saying that his wife was really interested in the practice.
The practitioners handed out all the literature that day to people enthusiastic about learning the practice. Many passersby learned about the brutal persecution of practitioners in China, including the atrocity of state-sanctioned organ harvesting from practitioners incarcerated for their faith. Large numbers of people signed a petition demanding that the Chinese regime immediately stop the persecution of Falun Gong.
The organizer of the fair was amazed to learn about the healing power of Falun Gong. She expressed interest in learning the exercises from practitioners in her area.
A man was shocked to learn that practitioners are arrested and tortured for their faith in China. A woman said that she understood the teachings of Falun Gong. "I know Falun Dafa (Falun Gong) is good, and I will introduce it to my daughter. I hope she can be more patient as she raises her children," she said.
As the activity came to an end for the day, a staff member of the fair came over to the practitioners' booth and asked for some origami lotus flowers that the practitioners were giving out. She adored those flowers and said, "It's a good symbol for me." She also learned the Falun Gong exercises from the practitioners.
As the practitioners were getting ready to leave, another staff member came over to thank them for their participation in the day's event. She told the practitioners that Falun Gong brought people hope. "Our lives are full of pressure, and we need a way to relax and calm down. I hope to see you again next year," she said.