New York: Falun Dafa Parade Warmly Received in Manhattan Chinatown
October 26, 2017 | By a Falun Dafa practitioner in New York
(Minghui.org) About 450 Falun Dafa practitioners in New York held a grand parade in Manhattan's Chinatown on October 22.
The parade brought the beauty of Falun Dafa's Truthfulness-Compassion-Forbearance to area residents, both Chinese and Westerners, as well as tourists from around the world. Practitioners also raised awareness of the 18-year persecution of this ancient spiritual practice by the Chinese Communist Party (CCP) in China, and celebrated the 287 million Chinese people who have taken a stance against the CCP and have withdrawn their Party membership.
Spectators were receptive and offered positive comments: "Beautiful!" "Fantastic!" and, "This is something we can't see in China." Many people took photos and videotaped the spectacular procession.
The parade was comprised of three sections, each with a different focus: "Falun Dafa Is Good," "Stop the Persecution of Falun Dafa," and "Quitting the CCP."
The procession stepped off from Pike Street and East Broadway, marched through a retail area of shops owned by Chinese immigrants from Fuzhou and Guangdong, and ended at Chatham Square.
The Tian Guo Marching Band leads a parade through Manhattan's Chinatown on October 22, 2017.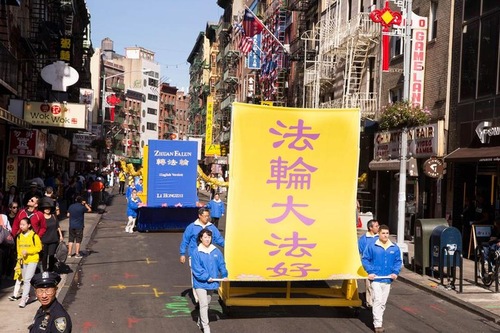 "Falun Dafa Is Good."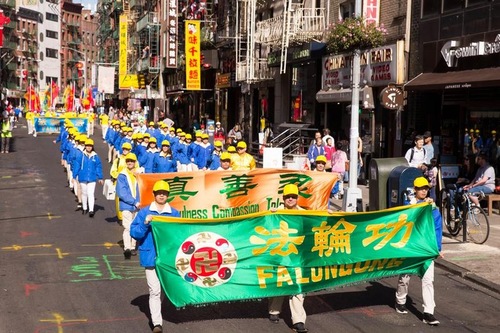 Falun Gong exercise demonstration.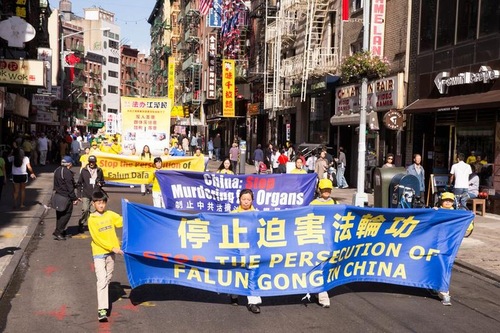 "Stop the Persecution of Falun Gong in China."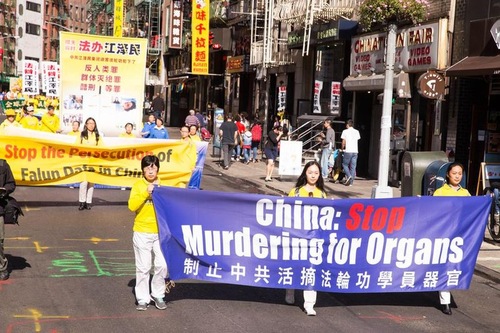 "Calling for the CCP to stop the state-sanctioned killing of Falun Dafa practitioners for their organs."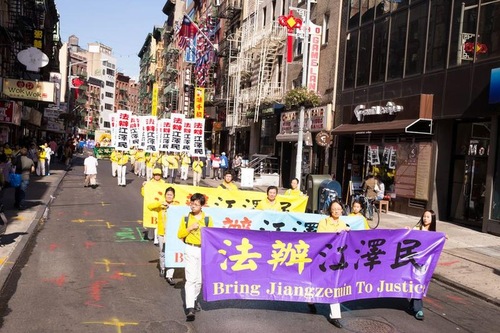 "Bring Jiang Zemin to Justice." Jiang, former head of the CCP, initiated and directed the persecution of Falun Dafa in China.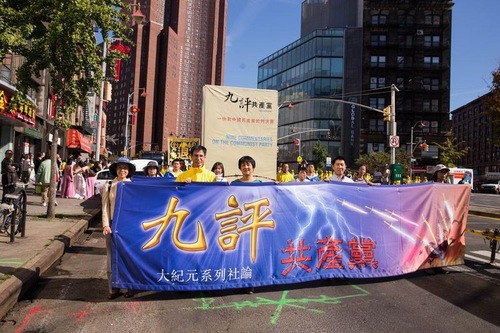 Nine Commentaries on the Communist Party.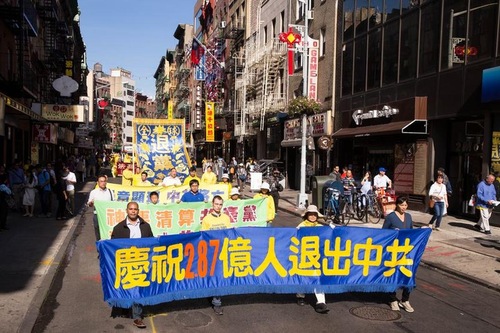 Celebrating 287 million Chinese people who have quit the CCP and its affiliated organizations.
The Tian Guo Marching Band, composed of more than 200 Falun Dafa practitioners, led the procession. Their resounding music radiated positive and powerful energy, permeating the neighborhood.
Following the band was large model of Zhuan Falun, the main book of Falun Dafa. The book has been translated into 40 languages. Falun Dafa has been embraced in more than 100 countries and regions throughout the world since its first introduction to the public in 1992 in China.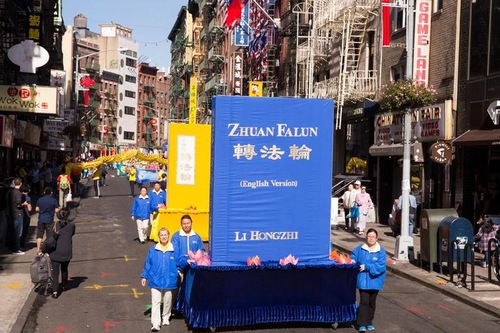 Large scale models of Zhuan Falun, in both Chinese and English.
Behind the Zhuan Falun float came the "Delivering Blessings" flower boats team, followed by a Falun Dafa exercise demonstration team, flag team, banners, and a group of waist drummers.
The dragon and lion dance groups were children's favorite. Many parents took photos of their kids with the golden dragon.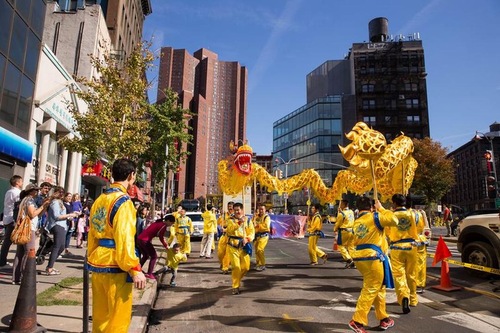 The dragon dance group was a big hit with children.
Positive Public Reaction
The parade was especially noteworthy for people recently from China, where Falun Gong has been brutally suppressed for more than 18 years.
"This is so good! This is the first time in my life to see this," said a Chinese spectator.
"They are in such good spirits. I've been standing here watching and enjoying," echoed another Chinese spectator.
John Wu said, "It's good that they try to let people know what is going on [in China]. I've read the news and know that the CCP persecutes them; that's wrong."
"Wonderful! the lineup is huge, and they are in such amazing unison," said Mr. Tan.
"There are many non-Chinese in the parade. They also take part in our Chinese culture," noted an amazed Chinese spectator.
Ms. Guo kept taking photos of the parade. "I want to show this to my children and to my friends," she said.