Slovakia: Falun Gong at the Traditional Market "Trnavsky Rinek" in Trnava
October 22, 2017 | By practitioners in Slovakia
(Minghui.org) Falun Gong practitioners were given the opportunity to participate in a traditional local market in the old streets of Trnava on October 14. A number of booths, including those featuring different foods, refreshments, and handmade products, were complemented by the Falun Dafa booth (Falun Gong is also known as Falun Dafa), where practitioners introduced the traditional Chinese meditation system. People also had the opportunity to sign a petition calling for an end to the 18-year-long persecution of this meditation practice in China.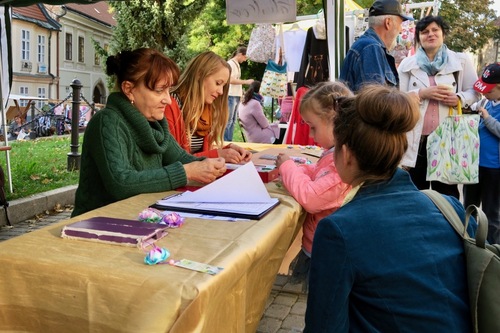 Many people took brochures and then stopped to talk a bit or sign the petition. A number of people had heard about Falun Dafa, so they went directly to the petition and signed it. Children were particularly interested in the hand-made lotus flowers and enjoyed the opportunity to learn how to make them.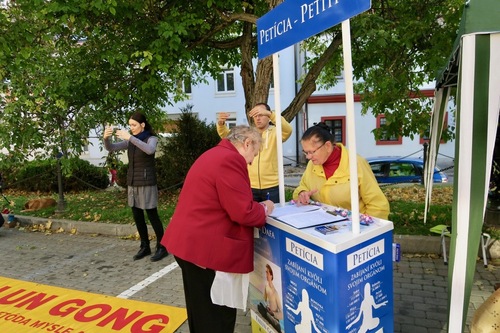 One older man who already knew about the persecution stopped at the stand. He was interested in learning more about the reasons for the persecution, and besides signing the petition, he also made suggestions for more ways to help bring about its end.
A young man was interested in learning more about Falun Dafa, and said he planned to visit the website listed in the brochure.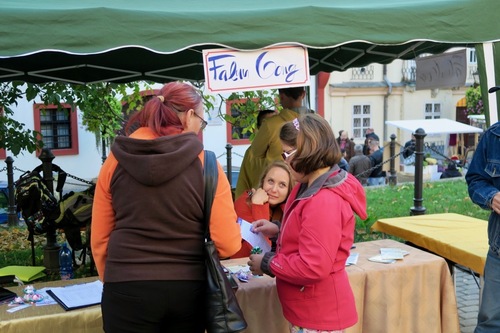 At the end of the day, a young salesman from another booth came over and said that he'd wanted to sign the petition but had not been able to get away from his booth, so he was glad that he finally managed to do it.