University of Minnesota Campus: Falun Gong Participates in Painting on the Bridge Event Over the Mississippi River
October 20, 2017 | By a Falun Gong practitioner in Minnesota
(Minghui.org) The Falun Gong Twin Cities Club participated in the annual painting event on the campus bridge at the University of Minnesota-Twin Cities on October 6, 2017. It was their fourth time participating in this event.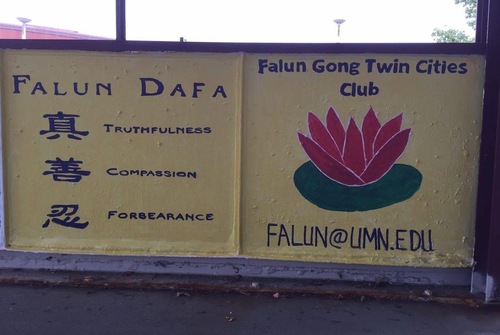 Painting of 2017
The University of Minnesota-Twin Cities is located in Minneapolis-St. Paul. The Mississippi River runs through the Minneapolis campus, and the Washington Avenue Bridge spans the river.
The bridge painting has been held for over ten years. Student organizations and university departments are allowed to paint on the bridge to promote and present their ideas.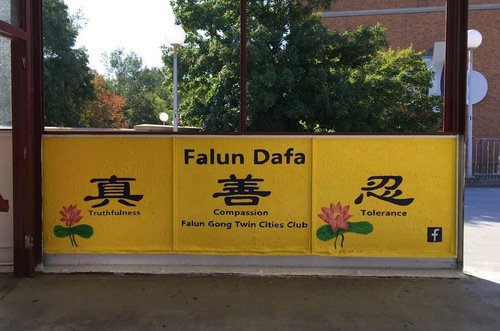 Painting of 2016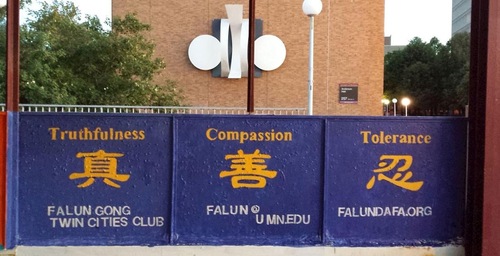 Painting of 2015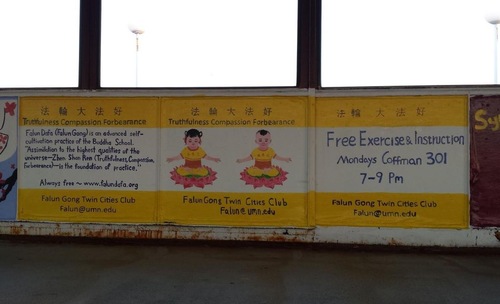 Painting of 2014
Washington Ave. Bridge
Many international students and scholars attend the university, including many from China. Hundreds of students cross this bridge every day. Many stopped to view the paintings and learn about the Falun Gong Twin Cities Club, and some came to join.
The Super Bowl will be held in a stadium not far from the university on February 4, 2018. More people will be able to see the paintings when they visit the campus.