Bulgarian Practitioners Educate Public During World Confucius Institutes Day
(Minghui.org) Confucius Institutes have opened throughout the world and are often affiliated with institutes of higher learning. The Confucius Institute bills itself as "a non-profit, public educational organization affiliated with the Ministry of Education of the People's Republic of China, whose aim is to promote Chinese language and culture..." In reality, these institutes serve as a mouthpiece for the Chinese Communist Party (CCP) to promote their ideology, not the traditional values of China.
A World Confucius Institutes Day celebration took place on September 30, 2017 in Sofia, Bulgaria. The event was held at the Institute's premises, located in downtown Sofia and inside the oldest Bulgarian University of Eastern languages and Culture, St. Kliment Ohridski.
Falun Dafa volunteers organized two information stands near the entrance of the Sofia Confucius Institute to inform its guests of ongoing human rights abuses in China, where the traditional spiritual discipline of Falun Dafa (also known as Falun Gong) has been brutally persecuted for the past 18 years.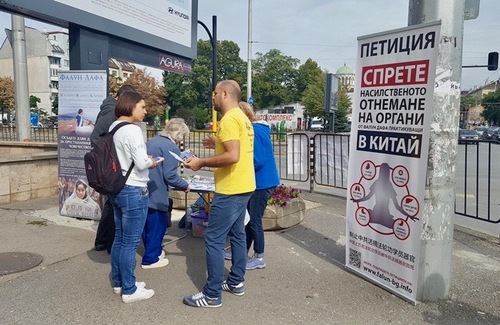 Immediately after leaving the Confucius Institute event, one young lady stopped by the practitioners' stands to learn more about Falun Dafa and the persecution in China. In response to a question from a practitioner about her experience at the Institute, the young woman said, "By no means did I understand anything about the teachings of the Chinese philosopher Confucius, nor did I get a sense of Eastern philosophy, but rather felt…the Party spirit."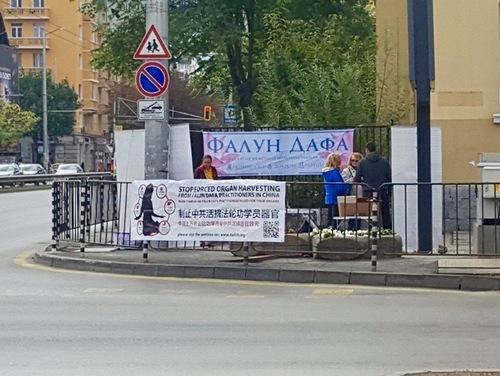 In line with the official CCP position, the Confucius Institute's event organizers expressed their disapproval of the Falun Dafa information stands and asked for police involvement. A few minutes later, two patrol cars arrived. A routine check showed that all permits were in order and that the practitioners' presence and dissemination of informational materials, as well as their human rights petition, had received prior approval from the Sofia Municipality.
Since 2015, over 16,000 Bulgarian citizens from nearly 50 cities have signed the petition to bring former Chinese dictator Jiang Zemin to justice for his role in initiating the persecution of Falun Dafa.