Taiwan: Falun Gong Performance Highlighted in Tamsui Environmental Arts Festival
October 11, 2017 | By Minghui correspondent Su Rong
(Minghui.org) Falun Gong practitioners were invited to the Ninth Tamsui Environmental Arts Festival in New Taipei City on October 7, 2017. This was the first day of the four-day-long National Day celebration, which attracted over 100,000 people.
Spectators were impressed by the practitioners' performances, including the Tian Guo Marching Band, flag team, and waist drum troupe. Many of them took pictures and asked for informational materials.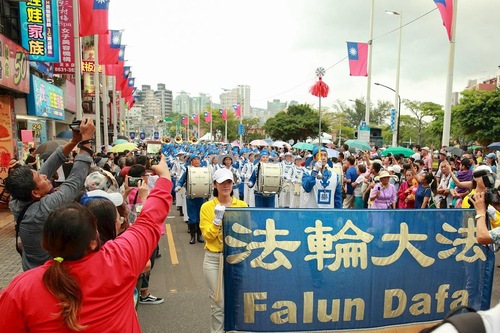 Falun Gong practitioners' Tian Guo Marching Band.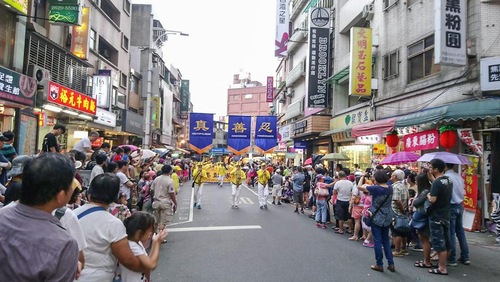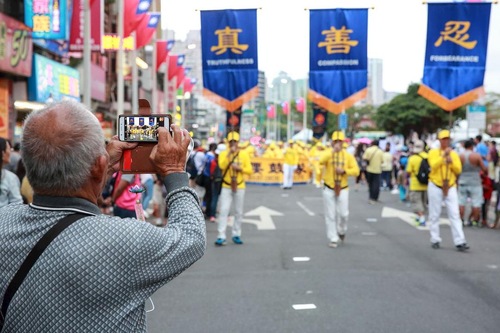 People applaud the performance and take pictures.
The host highlighted Falun Gong's principles of Truthfulness-Compassion-Forbearance and said, "It improves both physical health and moral values."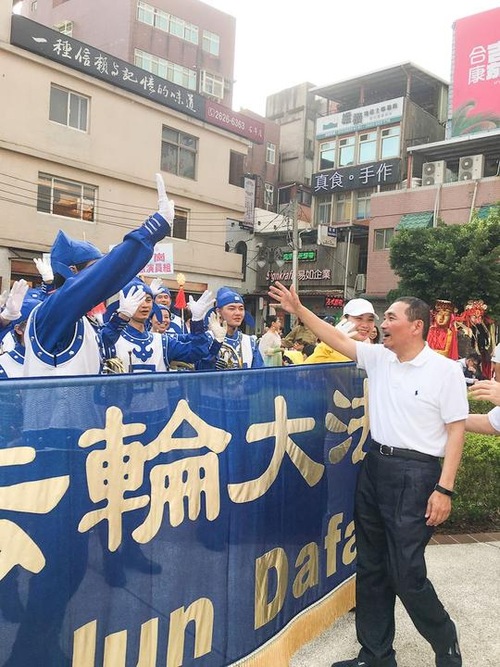 Vice mayor of New Taipei City, Hou Youyi, greeted practitioners.
Hou Youyi, the vice mayor of New Taipei City, said he was honored that the Tian Guo Marching Band and waist drum troupe could attend the event. He talked with practitioners and thanked them for their efforts. Wu Zongren, mayor of Tamsui, agreed, "Both the Tian Guo Marching Band and waist drum troupe have busy schedules. We are so happy they could make it today."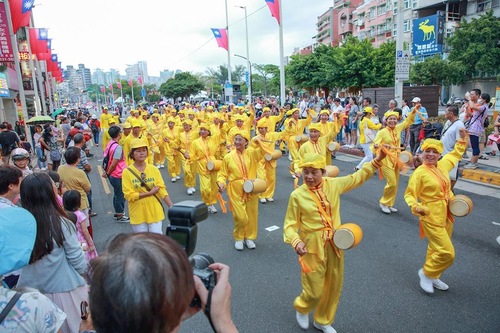 Waist drummers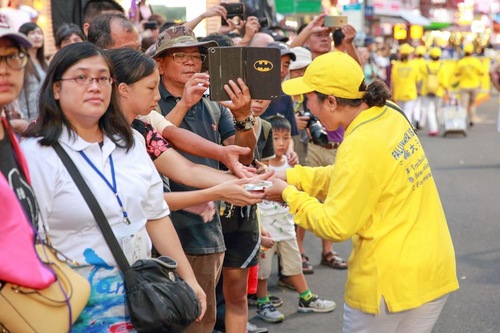 Many people took printed materials and handmade paper lotus flowers from practitioners.
Mr. Zhang, who works in an IT firm, said, "The music is great, and the march of the band members is so synchronized and beautiful." He said he was especially interested in the musicians' distinctive uniforms.
At dusk, the waist drum troupe was invited to conclude the event. The golden color of their uniforms lit up the venue, and the music drew warm applause from spectators.
Wu thanked the practitioners after the event. "Falun Dafa is great," he said. "You bring us energy, and I hope you will come again next year."