Ontario, Canada: Spectators Learn Falun Dafa at Norfolk County Fair and Horse Show
October 10, 2017 | By a Falun Dafa practitioner in Toronto
(Minghui.org) Toronto Falun Dafa practitioners were invited to participate in the Norfolk County Fair and Horse Show on October 7, 2017. A large number of spectators were glad to see the practitioners and learn about the peaceful exercises.
Located in the town of Simcoe, Ontario, this event is held just prior to Canada's Thanksgiving Monday. It is considered be the 88th best festival in Canada, and attracts hundreds of thousands of people each year.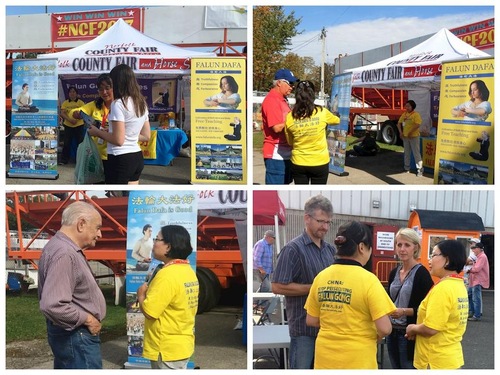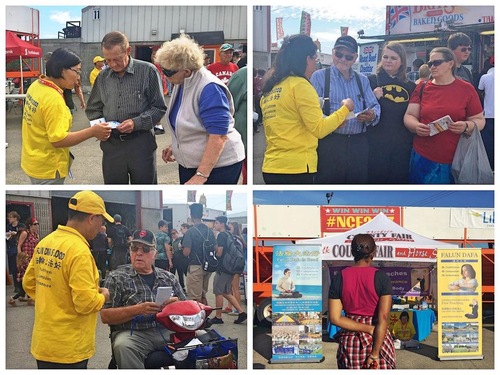 People lean about Falun Dafa during the Norfolk County Fair and Horse Show on October 7, 2017.
Local Resident: Is There a Group Exercise Site Close By?
Bob watched as his wife Deb learned the exercises.
Bob and Deb, husband and wife, live not far away from the fair. After reading a Falun Dafa pamphlet she received from a practitioner, Deb immediately wanted to learn the exercises. A practitioner taught her the movements while Bob watched.
After Deb learned the exercises, Bob said he would like to give a try too. "I am afraid I cannot keep up just on my own," he said, "Is there any group exercise close by? That would help me a lot." His son had planned to send the granddaughter to learn Taekwondo. "But now, it looks like Falun Dafa is so graceful and I think she should do this one."
Having not heard about Falun Dafa previously, the couple was very upset to hear about the suppression in China, including the detention of Canadian citizen Sun Qian. They said they hoped the persecution would end soon, and both signed petitions to help.
"This Is What I Have Been Looking For"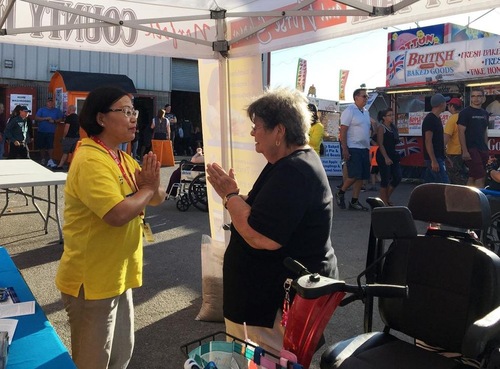 Karen stood up from a wheelchair to learn the third exercise set.
Karen came in a wheelchair and watched the practitioners do the exercises for a long time. While talking with a practitioner, she said she had been in a wheelchair for three years. Nonetheless, seeing the beautiful meditation, she wanted to try it. With encouragement from practitioners, she stood up from the wheelchair and learned the third exercise set.
Karen then talked with the practitioners for a long time, about the benefits of Falun Dafa as well as the harsh suppression in China. She said with excitement, "This [the principles of Falun Dafa] is what I have been looking for. And I know some of my friends are looking for a spiritual practice too." In the end, she left her contact information with a practitioner so that she could follow up later.
"What You Are Doing is Great"
Bill and his children stopped at the booth to read the posters. He had watched a television program about forced organ harvesting in China. "I did not know it was related to Falun Dafa. How could someone kill such peaceful practitioners for their organs?"
Seeing the gentle movement of practitioners, he was impressed that practitioners could maintain a positive attitude despite the harsh suppression in China. "What you are doing is great," he commented. His daughter, on the other hand, had begun to learn the second exercise set from a practitioner.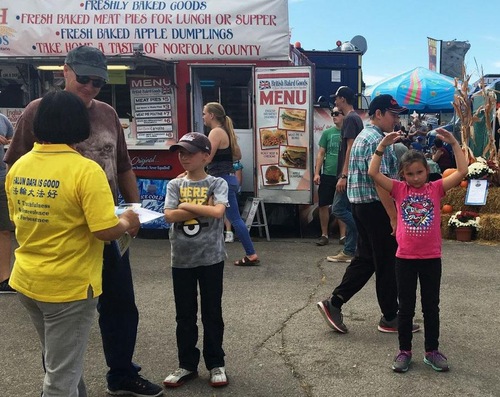 Bill said Falun Dafa benefits the society at large.
One woman said she liked the principles of Truthfulness-Compassion-Forbearance, "If everyone follows them, this world would be wonderful."
She said the meditation also helps reduce stress. She said, "I think many people will benefit from it. I know I will definitely check it out."