First Falun Dafa Class of 2017 Begins at Tianti Bookstore
January 15, 2017 | By Minghui correspondent Shan Guo
(Minghui.org) Tianti Bookstore holds free classes for those who wish to learn Falun Dafa. The first nine-day class of the new year at the store's New York location began in the evening of Friday, January 13.
The Tianti Bookstore and Cafe in the United States moved to its mid-Manhattan location and continued to offer the nine-day classes every other month. The South Korea branch opened in July 2015 and recently offered two classes a month–one in the daytime and the other in the evening.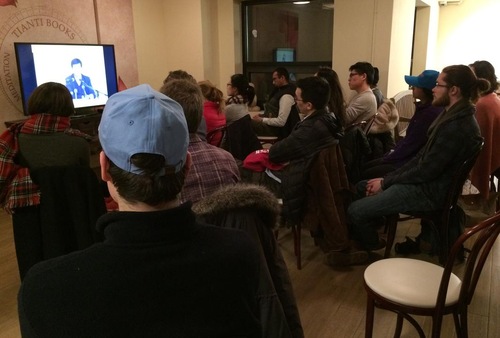 The New York bookstore's first nine-day Falun Dafa instruction class of 2017 begins in the evening of Friday, January 13.
In the busy, fast-paced metropolis, it is not easy to attend the session for two hours and 15 minutes for nine consecutive days. Determination and will are needed to finish the class.
One can learn Falun Dafa by reading the books by oneself and then learning the exercises, or learning from a volunteer at a group practice site. Attending the nine-day session is the most systematic way to learn the practice.
Falun Dafa was first taught to the public in 1992 by Master Li Hongzhi, who held 52 lecture series within two years–each ranging from seven to ten days. Practitioners have since held classes in which participants watch the lecture videos and learn the exercises.
White udumbara flowers were spotted at Tianti Bookstore in South Korea on the last day of the 13th nine-day session in September 2016. The udumbara flower is said in Buddhist legend to bloom once every 3,000 years, with the previous occurrence preceding the birth of Buddha. This was the third time the flowers have bloomed at the bookstore.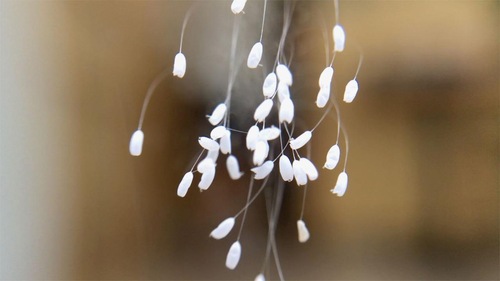 Udumbara flowers at Tianti Bookstore in South Korea
Tianti Bookstore in New York:
535 8th Avenue,
New York, NY 10018
-Between 36th & 37th Streets, near Times Square, between Penn Station and the Port Authority Bus Terminal
TiantiBooks.org
+1 888 842 6845
+1 201 897 8788
Tianti Bookstore in South Korea:
Yongsan District,
Seoul, South Korea.
+82 02 504 0860