Washington D.C. Resident Calls for Release of His Mother Detained in China for Her Belief
January 10, 2017 | By Minghui correspondent Li Jingfei
(Minghui.org) Washington D.C. resident Du Haipeng stood in front of the Chinese Embassy on a freezing winter day, saying that his goal was clear. He is calling for the release of his mother, who was recently imprisoned in China for practicing Falun Gong. In his hands was a poster with a picture of his mother, Ms. Yuan Xiaoman.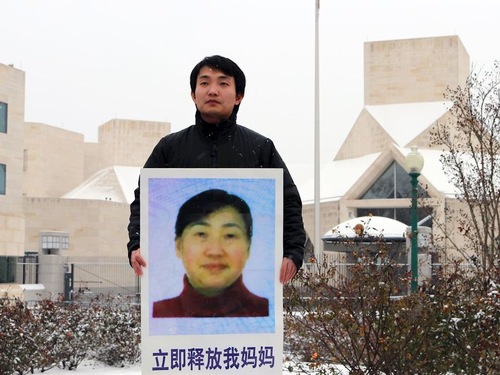 Du Haipeng calls for the release of his mother in front of the Chinese Embassy on January 7, 2016.
Ms. Yuan, who lives in Dalian City, Liaoning Province, was arrested on May 12, 2016. She was tried on November 14, two days after Du went to the Chinese Embassy requesting her release. One month later, on December 23, she was sentenced to 3.5 years in prison and fined 5,000 yuan.
The prosecutor charged Ms. Yuan with Article 300 of the Criminal Law. Her attorney argued that the article did not apply to Ms. Yuan. There is, in fact, no legislation that bans Falun Gong in China. He also pointed out that the evidence brought against Ms. Yuan was not valid.
Du has come to the the embassy several times since learning of his mother's arrest, and called for her release. He is now contacting elected officials and human rights organizations for more help.
Despite cold weather, some Falun Gong practitioners go to tourist sites on a regular basis to tell passersby, including Chinese tourists, the facts about Falun Gong and the persecution. Among them is Ms. Li, who stood for several hours at the National Mall on January 7. She said, "I come here two or three times a week." She has practiced Falun Gong for many years, and does not want Chinese people to be deceived by the defamatory propaganda from the Communist Party. She added, "I tell them my own story using words from my heart."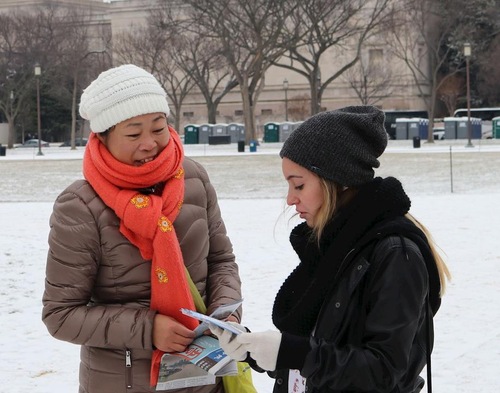 Ms. Li tells a passerby about Falun Gong.
Nicholas Zifcak, who has practiced Falun Gong for 11 years, said he likes Falun Gong because of the health benefits and inner peace. He said, "Falun Gong should not have been suppressed in China in the first place, let alone for almost 18 years."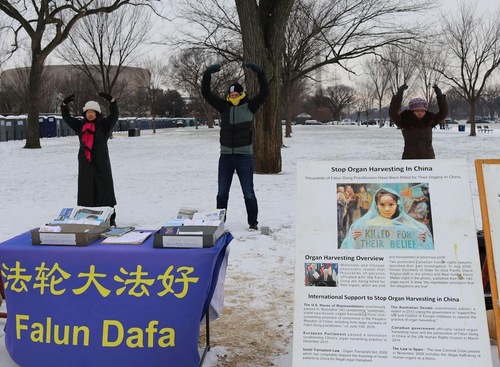 Nicholas Zifcak (middle) has practiced Falun Gong for 11 years.
Du agrees, "As long as my mother is detained. I will come here to raise awareness about it."
Related article in Chinese:http://www.minghui.org/mh/articles/2017/1/9/华府法轮功学员冒严寒传递真相(图)-340644.html