Practitioners Benefit from Australian Falun Dafa Experience Sharing Conference
September 09, 2016 | By Minghui correspondents in Australia
(Minghui.org) Attendees of the Australian Falun Dafa Experiencing Sharing Conference in Melbourne on September 4, 2016, said that they learned a lot from the conference to help them make more progress in their cultivation practice.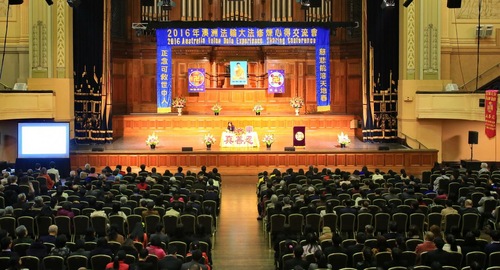 The Australian Falun Dafa Experiencing Sharing Conference was held in Melbourne on September 4, 2016.
Improving Ourselves
Ms. Chen said that she was touched by all who shared their experiences, "Because each of them looks deep within their heart, instead of focusing on things at the surface." For example, one coordinator's story made Ms. Chen realize how she could improve in her cultivation. "In the past, I was always thinking of our coordinator's issues and waited for her to change. Now I no long think that way, because it is critical to cultivate ourselves well anyway." She said that many of her previous words and actions seemed to stem from Party culture, which she realized she should eliminate.
Ms. Rui, another practitioner, agreed, "One practitioner talked about how she looked within when she was helping wash clothes for a practitioner with an illness tribulation. She talked in great detail, and I remember it clearly." She said she would pay more attention to cultivation practice from now on and become a genuine practitioner.
Pure Heart
Western practitioner Mark was impressed by the stories shared from the heart by practitioners at the conference. "Cultivation practice is sacred, and working on the projects to save people also requires a pure mind." He said he could feel that the practitioners were very sincere, and that by finding his true self, he would gain more wisdom from the Fa and do better in his cultivation.
After hearing the experiences shared by another practitioner, Ms. Yang said she was very touched. "There was one older practitioner who got cancer and then came to know Falun Dafa. He was grateful to Master for saving him, which made me cry." The talks by some of the other speakers, including the coordinator, also brought her to tears.
Saving More People
Newton, a western practitioner, said he could now see many gaps in his cultivation practice. "First of all, I have to do the three things well, so that I can do better in cultivation and save more people." In particular, he said he needs to let go of selfishness, and oppose arrangements by the old forces.
Ms. Su said she learned a lot from the practitioners who often go to tourist sites to tell Chinese tourists about the persecution in China. "Because of the hate propaganda from the Communist Party, many Chinese tourists are hostile towards Falun Dafa and refuse to listen. When that happened, these practitioners were able to look inward, improve themselves, and change the situation for the better."
Considering this part of cultivation, Ms. Su said that she needed to be more compassionate and patient in such situations. "I think I will do better at tourist sites and when making phone calls to China," she said.