Canada: Members of Parliament Call on Prime Minister to Stand Up for Falun Gong in China
September 04, 2016 | By Ying Zi, Minghui correspondent in Ottawa
(Minghui.org) Canadian Coalition for Human Rights in China, a league of human rights organizations including Amnesty International, hosted a press conference at Parliament Hall on August 30, urging Prime Minister Justin Trudeau to discuss human right violations with Chinese leaders.
Trudeau was to meet Chinese leaders on August 30, the first day of his official visit to China.
Lu Hongyan, a Canadian Falun Gong practitioner, talked about her mother, who is currently held in a detention center for practicing Falun Gong (also known as Falun Dafa).
The day before the press conference, three Members of Parliament from the opposition party issued a statement calling on the Prime Minister to stand up for human rights and religious freedom in China.
David Anderson, Member of Parliament for Cypress Hills–Grasslands and Official Opposition Critic for Human Rights and Religious Freedom; the Official Opposition critic for Foreign Affairs, Hon. Peter Kent, Member of Parliament for Thornhill; and Vice-Chair of the Sub-Committee on International Human Rights, David Sweet, Member of Parliament for Flamborough–Glanbrook, have issued a statement ahead of Trudeau's visit to China from August 30 to September 6, 2016.
The statement said, "He [the Prime Minister] must remember that this is a dictatorship that continually attempts to stifle the free expression of its citizens by repressing and nationalizing minority religions..."
"For decades, practitioners of the Falun Dafa spiritual practice have been harassed, killed for their organs, or imprisoned. We note that Chinese prisons currently hold hundreds of thousands of Falun Dafa prisoners of conscience, including 12 family members of Canadians. This needs to stop."
"The Chinese human rights record is an insult to Canadian values."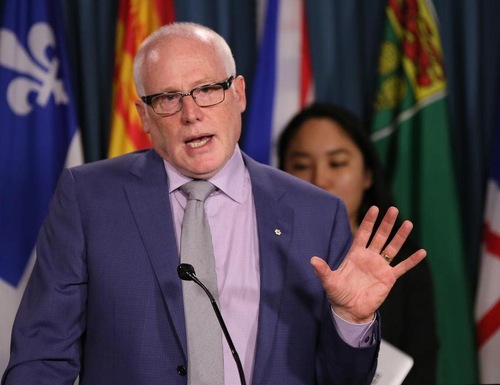 Secretary General of Amnesty International, Alex Neve, speaks at the press conference.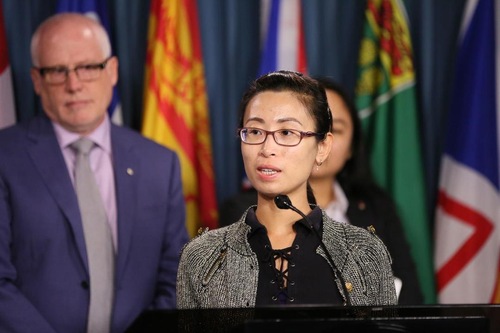 Practitioner Lu Hongyan talks about how her mother is persecuted by the Chinese communist regime for her belief.
Addressing the media, Lu Hongyan, a Canadian Falun Gong practitioner, said her mother is still held in Shijiazhuang City No. 2 Detention Center. Ms. Lu said, "The detention center is notorious for torture. I am very concerned about her situation."
"The authorities don't allow us to hire a lawyer for her. We can't get any updates about her recent situation."
Lu's mother had previously been tied to an iron striped bench for long periods of time, immobilized, and deprived of sleep as authorities attempted to force her to renounce Falun Gong.
Mr. Alex Neve added that two-thirds of torture victims in China are Falun Gong practitioners, according to a United Nations report. Canada, the U.S., the European Parliament, and other members of international society have expressed concern and condemned the Chinese regime's killing of Falun Gong practitioners and harvesting their organs for transplants.
Li Xun, the president of the Falun Dafa Association of Canada, said, "We want to send a message to the current Chinese leaders: Bring Jiang Zemin to justice, who had ordered and orchestrated the persecution of Falun Gong."
"We encourage the Canadian government to speak up for the Chinese people and bring the message to the Communist regime," added Li.
Representatives from the Falun Dafa Association of Canada presented more than 50,000 signatures to the Office of the Prime Minister on August 26. In addition, about 70,000 postcards have been mailed, calling on the Prime Minister to help stop the Chinese regime's harvesting of organs from prisoners of conscience, most of whom are Falun Gong practitioners.
The Office responded on August 26 that the Prime Minister would raise the Falun Gong issue as a core part of human rights violations during his visit to China.