Seoul, South Korea: Falun Dafa Seminar Held at Tianti Bookstore
September 20, 2016 | By a Falun Dafa practitioner in Seoul
(Minghui.org) A recent session of the Falun Dafa nine-day lecture series concluded on August 31 at Tianti Books in Seoul, South Korea. Dedicated to the teachings of Falun Dafa, the bookstore opened in July 2015, following the establishment of branches in Manhattan, New Jersey, Toronto, and Sydney.
Easy to Learn
Mr. Suh, 70, was always on time at each meeting, despite his age and the challenges of transportation. "It is difficult to come across something this good. I have to work hard," he commented after watching the video lectures.
He heard about Falun Dafa from a neighbor who practices it, which led him to the workshop at Tianti Bookstore. "That man goes to a nearby park to do the exercises every morning. He leaves pamphlets next to him with a sign that says, 'Free! Please take one.' That's how I learned about Falun Dafa in the first place," he recalled.
Mr. Suh said he was impressed that the exercises were so easy to learn. On business trips to China in the past, he used to see people doing different types of qigong exercises. "Compared to them, Falun Dafa is easy to learn and it is free. That's why I wanted to find out more."
At the workshop, the students watched video lectures given by Mr. Li Hongzhi, the founder of Falun Dafa, and were then taught the exercises. Mr. Suh said he was a little sleepy the first four days when listening to the lectures. But after that, his mind was clearer than ever.
"I will continue to do the exercises," he said. "I will also tell more people about it."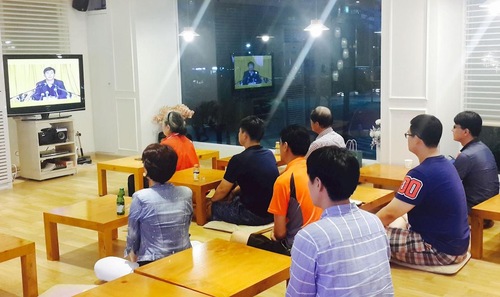 The recent Falun Dafa Nine-Day Lecture seminar concluded on August 31.
Profound Principles
Jung Yulie, in his 40s, was pleased to learn that Falun Dafa is open to the public and that the materials are available for free on the Internet.
After studying qigong for decades, he said Falun Dafa was very profound, from the principles to the exercises themselves. He noted that the exercises open up all the energy channels and enhance the energy mechanisms.
Another thing that amazed him was that the exercises can be done in such a small space. "The practitioners who taught us the exercises are nice people. And the bookstore is full of harmony and energy—a good place to be."
With a group exercise location near his home, Mr. Jung said he plans to continue in the practice.
Achieving Serenity
Yoo Fuzi, in her 40s, said that Falun Dafa miraculously calmed her mind. "One day I came to the bookstore with a friend. I just wanted to have a cup of tea, but somehow I liked this place very much, so I stayed longer," she recalled.
Through talking with a staff member, she learned more about Falun Dafa. That same day, she got a text message from another friend about the nine-day lectures. "I felt this was my destiny," she said.
Having tried meditation in the past, Ms. Yoo said she'd always had difficulty calming her mind. After beginning to study Falun Dafa, she had a new understanding, and many of her distracting thoughts disappeared like a miracle.
Not only that, her health improved, too. "My leg cramps disappeared without taking medication. And I became stronger, too." One day when she visited her father, a factory owner, she was able to carry heavy equipment that usually only strong men could lift. "It makes me so happy," said Ms. Yoo.
Understanding the Purpose of Life
Lee Shunzi saw Chinese people doing qigong on television many times. "It looked very beautiful, and I always wanted to learn it," she said.
Recently, she ran into Falun Dafa practitioners at Myeong-dong shopping district and began to learn the exercises. "I was given a pamphlet that directed me to the bookstore here."
Mr. Yeom participated in a nine-day lecture session two months ago after hearing about Falun Dafa at a Shen Yun performance. While attending the seminar a second time, he encouraged newcomers to continue with the practice.
"From this practice, I have come to understand the purpose of life. I believe you will benefit a lot, too" he said.
A nine-day-lecture-workshop is held every month at this location. The next one will start on September 20. For further information, please contact +82-01-8232-0860 (international) or 02-504-0860 (inside South Korea).