Queensland, Australia: New Practice Site Welcomed in Gold Coast
September 19, 2016 | By Australian Falun Dafa practitioners
(Minghui.org) Visitors to Harley Park were inspired to learn Falun Dafa after seeing the exercises at a new practice site at this popular park in Gold Coast, Queensland on September 10, 2016.
Harley Park is one of northern Gold Coast's busiest recreation areas and attracts walkers, cyclists, and other active people.
One woman said that she was looking for an outdoor activity that she could do regularly and decided that Falun Dafa was for her. Others saw practitioners doing the standing exercises and sitting meditation, and stopped to read the information poster and take flyers. Some inquired about how they could learn the exercises.
At one point, a small group gathered around the poster and asked how to learn Falun Dafa. Practitioners described the exercises and told them that they are taught free of charge to anyone who wants to learn.
City of Gold Coast Councilor (Cr) Kristyn Boulton joined the very first practice session, taking the opportunity to learn all five sets of exercises. She later encouraged others to learn the exercises, too, and experience the many benefits first-hand, including "stress relief, increased energy and better quality of life."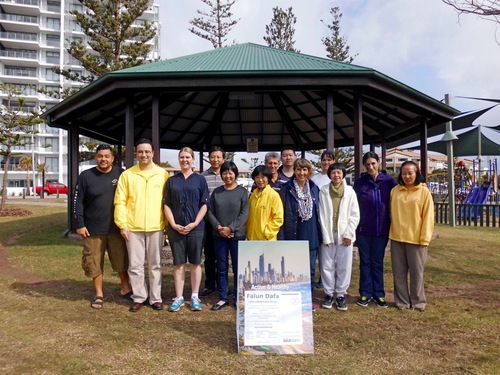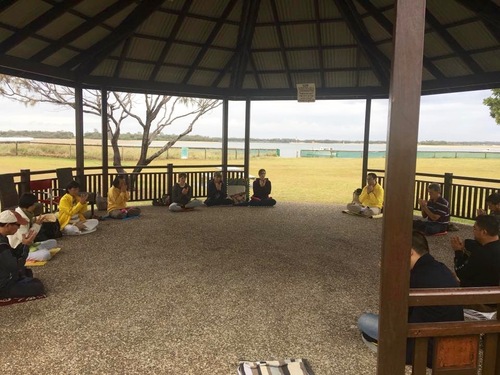 Ms. Boulton said, "[I] very much appreciate you providing this great free service to our community. I'll be there for your very first class. I'm going to give it a go!"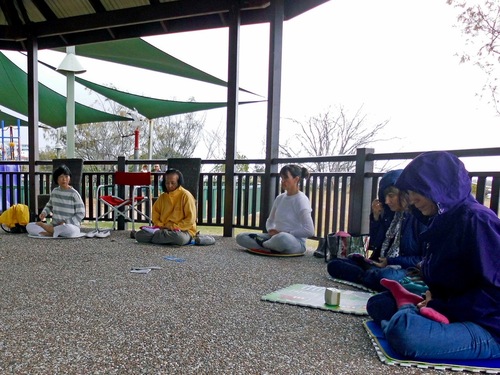 Ms. Boulton noted, "Bad weather couldn't dampen our spirits for today's first Falun Dafa class in Harley Park Labrador. What a success! Well done... They're a good bunch, for sure."
Dafa practitioners extended their gratitude to Cr Boulton, her staff, and others from the City of Gold Coast's Active and Healthy Program for helping to make the new practice site a success.