Falun Dafa Information Days Held in Sweden and Austria
September 01, 2016 | By European Falun Dafa practitioners
(Minghui.org) As summer draws to a close, Falun Dafa practitioners in both Sweden and Austria held an information day to update the public on the ongoing persecution in China.
Stockholm, Sweden
At Norrmalmstorg, the intersection of shopping streets in central Stockholm, Swedish practitioners set up a table, put up banners, and performed exercises on August 27, 2016, to introduce the meditation practice to passersby.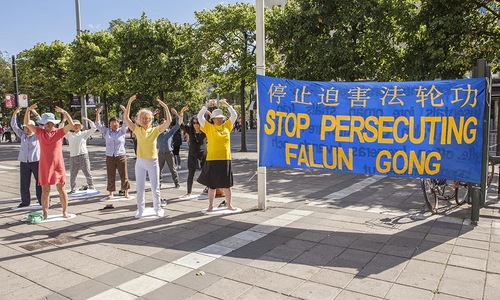 Falun Dafa practitioners demonstrate the exercises on August 27 in Stockholm, Sweden.
Drawn by the peaceful scene and gentle movement, two women stopped and talked with practitioners for a long time. Upon hearing that the 17-year-long persecution was still continuing, and learning about the update on forced organ harvesting from Falun Dafa practitioners in China, they immediately signed petitions calling for an end to the brutality.
They were also interested in learning the exercises. After one practitioner told them about a nearby group practice site, they wrote down the information and said they would go there the following day.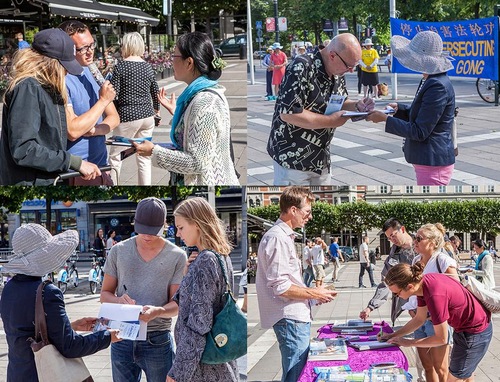 People learn about the persecution in China and sign petitions to help end the brutality.
Another passerby who signed the petition was from Eastern Europe. Having witnessed how communist regimes had suppressed people in the past, he knew of their vicious nature. "This is horrible and it must stop!" he remarked when signing the petition.
Bregenz, Austria
Falun Dafa practitioners set up a booth on August 27, 2016, in Bregenz, Austria, and many tourists, including some from Switzerland and Germany, came up to learn more about the practice and the persecution.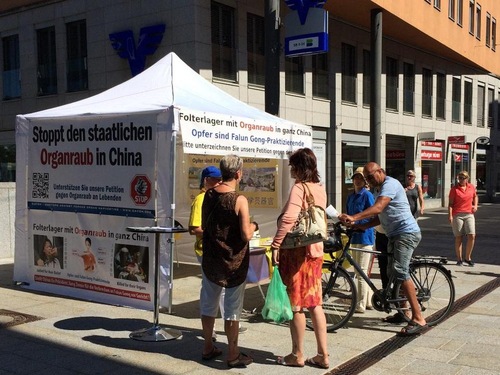 Passersby stop at the practitioners' booth to obtain information.
One freelance journalist was curious to learn more about Falun Dafa, and he asked many questions. After reading information on the pamphlet, he remarked that those sources were credible, and he said he believed that the forced organ harvesting was consistent with communism's brutal history.
Working in the news media industry, he was disappointed that there had not been much news coverage on this atrocity. "It is wrong to place financial trade with China in front of human rights issues," he explained, "Thank you for raising awareness of this."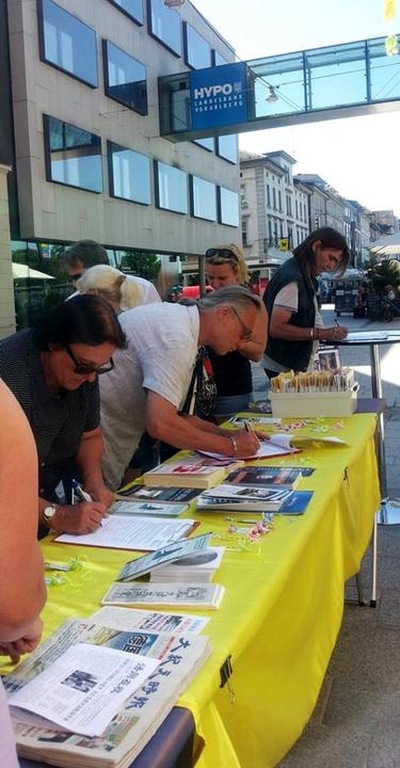 Many tourists sign the petition urging more actions by the European government and human rights organizations.
Michellella, a young woman from Romania, said that people in her country knew of the bad deeds perpetrated by communist regimes very well. She was glad that Falun Dafa practitioners had stepped forward to protect their faith despite the pressure.
Another tourist praised the practitioners' efforts and encouraged them not to give up. "Constant dropping wears away a stone," he explained, "and the righteous will prevail."
Related article in Chinese:http://www.minghui.org/mh/articles/2016/8/30/333739.html