Canada: A Successful Minghui School Summer Camp
August 26, 2016 | By Minghui correspondent Zhang Yun
(Minghui.org) The Minghui School Summer Camp in Toronto, which ran from July 4 to August 19, 2016, was a productive experience for campers, counselors, and parents.
Dave, 13, said what impressed him the most during the seven-week program was the kindness of other campers. "They're nice to each other and trust each other. They don't gossip about others. As kids, we like to play a lot. But once a camper makes a mistake, he or she would always apologize immediately."
A Critical Time in Life
The older campers are either preteens or teens. "Their minds are between an adult and a child," explained counselor Jane. "On the one hand, they want to have their own ideas and independence; on the other hand, their thoughts show they are still kids." Because many of the children at this age are attached to video games and reluctant to listen to their parents, this is a critical period of time in their lives.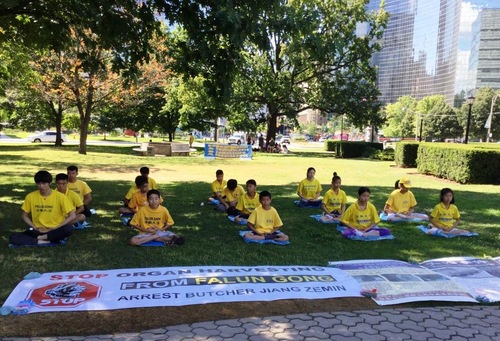 Campers meditating at Queens Park.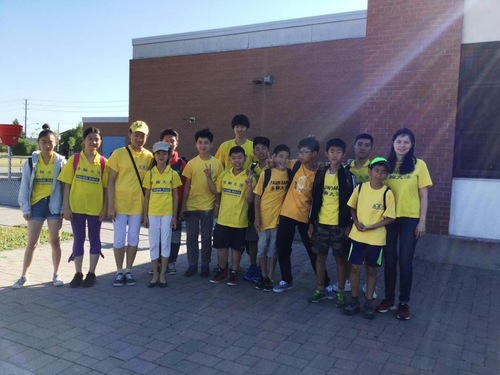 Older group and counselor Jane (first from right).
To guide their cultivation practice and to follow the Falun Dafa principles of Truthfulness-Compassion-Forbearance, the counselors played documentaries showing how practitioners in China remained steadfast in their belief despite the violent suppression. They talked with practitioners, such as Zenon, about his trip to China in 2001 to tell the Chinese government the real story of Falun Dafa in an effort to end the persecution.
The campers also talked with senior practitioners regarding how they practiced in China and improved themselves, and how they made phone calls to China debunking hate propaganda from the Chinese communist regime.
With this background information, the campers learned to tell others about Falun Dafa and the persecution in China. Some wrote letters to Canadian officials urging them to help stop the suppression in China.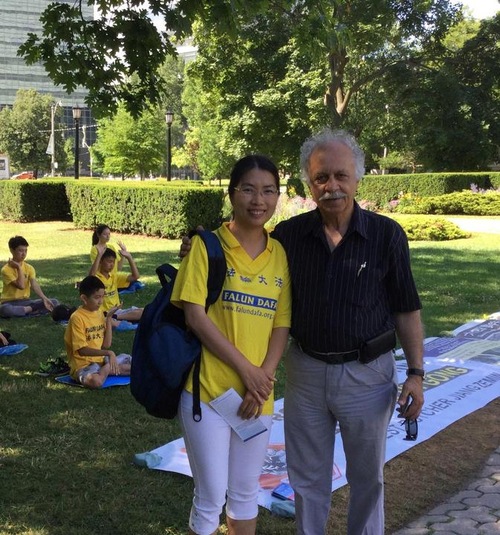 Artist Iraj from Vancouver (right) was very happy to see the meditating campers.
Counselor: A Rewarding Experience
Jeffrey Lu, 18, was a former student of Minghui School and has been a volunteer counselor for several years. He said he learned a lot from these young practitioners. "We can study the Falun Dafa books and do the exercises every day. These campers often look inward to find their shortcomings, in accordance with the principles of Falun Dafa, and apologize to each other when they run into conflicts. They are less likely to do so if they are not practitioners."
Another challenge Jeffrey had with the campers was that they used to treat him like a child. Therefore, they played with him instead of listening to him. After setting a higher standard for himself and by doing things more seriously and patiently, he found the students were willing to listen to him, and things went well.
"There was a kid who didn't follow instructions at the beginning, and I didn't know what to do," Jeffrey recalled. From the Falun Dafa principles, he learned to be considerate of others. "Thinking the student did so probably to attract attention, I talked with him to find out what was on his mind and how I could help him. In the end, he became much better and even helped me to organize the camp activities."
Doing the Right Thing
Dave emigrated from China two years ago and said he had heard a lot of propaganda in China against Falun Dafa. "After coming here, I realized those were lies from the communist government to attack Falun Dafa. So I no longer believed it and then I started practicing [Dafa]," he said.
His parents were also happy for this change. They said Dave has become more open-minded, more focused in the classroom, and likes to talk to people about Dafa.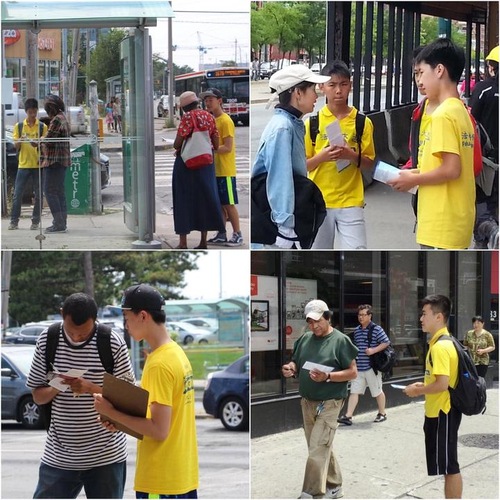 Campers collect signatures against the violent persecution of Falun Dafa in China.
Tommy, 11, attended a signature drive one day before the camp ended. "In the beginning I felt bad when someone didn't want to sign the petition that raises awareness about the persecution," he recounted. Later, he looked inward and tried to do better. As his mind became purer, he was able to explain things better and found that more people were willing to sign the petitions.
"It was hot, and I could hardly bear it. After a while, things went better once I realized that what we do is so important," he said. "In fact, I'm really happy for those who signed the petitions, because they did the right thing."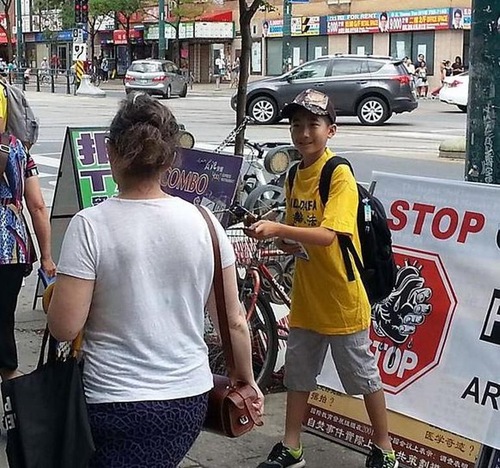 Dave started practicing Falun Dafa after emigrating from China.