Bulgarian Administrative Court Rules in Favor of a Falun Dafa Practitioner Against the Ministry of Foreign Affairs
August 26, 2016 | By Bulgarian Falun Dafa practitioners
(Minghui.org) The administrative court in the city of Sofia, Bulgaria, decided in favor of a Bulgarian Falun Dafa practitioner on May 26, 2016, after he filed a complaint against the Bulgarian Ministry of Foreign Affairs for refusing to give him information about his illegal detention in Serbia in December 2014.
Georgi Pleshkov and six other Falun Dafa practitioners from Bulgaria, with two from Russia were detained in Belgrade immediately upon their arrival on December 14, 2014 at their hotel, before they could even check in. They were held at the Center for Refugees, "Padinska Skela," for 72 hours before their release following protests by Member of European Parliament Eduard Kukan and international human rights organizations, including Amnesty International.
Shortly after their release, several of the practitioners including Mr. Pleshkov decided to sue the Serbian government for the illegal detention. In order to provide evidence that their human rights had been violated, they required information from the correspondence between the Bulgarian and the Serbian Ministries of Foreign Affairs during their detention. The Bulgarian Foreign Ministry refused, on the grounds that the correspondence was "too sensitive" to be made public.
According to the decision of the administrative court however, there were no grounds for the refusal. The final ruling will be made after the Ministry's appeal of the decision.
The arrest of the nine Falun Dafa practitioners in Serbia shows how the Chinese communist regime, which has been brutally persecuting Falun Dafa since 1999, exports its oppressive policies abroad. Their influence can reach even to countries which aspire to join the European Union.
International Voices of Support for Falun Dafa
Just a year before the practitioners were detained, on December 12, 2013, the European Parliament voted for a resolution condemning China for harvesting organs from prisoners of consciousness (most of whom are Falun Dafa practitioners).
Several weeks ago, more than half of Members of the European Parliament (MEP) have co-signed Written Declaration (2016/WD48) including 11 MEPs from Bulgaria. The written declaration calls for the European Parliament to have an independent investigation and to take action to stop state-sanctioned forced organ harvesting in China. The U.S. Congress passed a similar Resolution on June 13, 2016 (H.Res.343).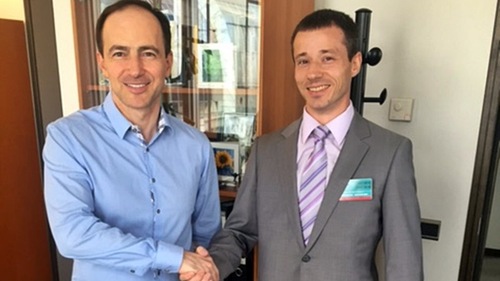 Bulgarian Falun Dafa practitioner Georgi Pleshkov (right) with Bulgarian Member of the European Parliament Andrey Kovatchev (left) in July 2016.
In July 2016, Georgi Pleshkov met with Bulgarian Member of the European Parliament Andrey Kovatchev. As a member of the Subcommittee of the European Parliament and a fellow Bulgarian, Kovatchev and his assistants were very interested in Pleshkov's story of detention in Serbia, a country that is in the process of joining the European Union. They were also interested in Falun Dafa and wanted to know more about the practice, including the exercises and the main principles of Falun Dafa – Truthfulness, Compassion, Forbearance.
Background: En Route to Protest Persecution in China, Falun Gong Practitioners Removed from Belgrade Ahead of CEE-China Summit in Serbia