San Francisco: Protest at Chinese Consulate Condemns the CCP for Preventing Prominent Falun Gong Practitioner from Visiting Daughter in the U.S.
August 13, 2016 | By Minghui correspondent Li Ruoyun
(Minghui.org) Nearly 200 Falun Gong practitioners rallied in front of the Chinese Consulate in San Francisco, California, at noon on August 10, 2016, to condemn the Chinese Communist Party (CCP) for preventing Mr. Wang Zhiwen, a well-known Falun Gong coordinator in China, from visiting his daughter in the U.S.
Mr. Wang was released from prison in 2014 after serving 15 years of a 16-year sentence simply for being known as a Falun Gong coordinator in Beijing. The Chinese government did not allow him to leave China even though he had a valid passport and a visa. His daughter, Danielle Wang, a U.S. citizen, and her husband returned from China Tuesday empty-handed.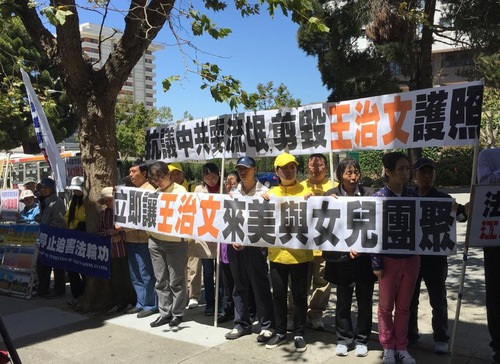 Falun Gong practitioners protest in front of the Chinese Consulate in San Francisco on August 10. The upper banner reads "We Protest the CCP Revoking Wang Zhiwen's Passport." The lower banner says "Immediately Allow Wang Zhiwen to Come to the U.S. to Visit His Daughter."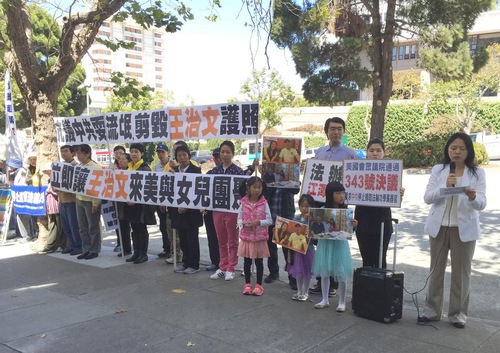 A practitioner speaks in the rally.
The large banner reads "Bring Former Leader Jiang Zemin to Justice for Persecuting Falun Gong."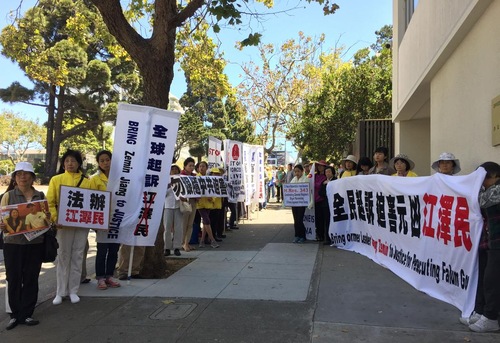 Protest banners
Mr. Wang was arrested on July 20, 1999, when Jiang Zemin, the former head of the CCP, initiated the persecution of Falun Gong out of paranoia. Mr. Wang was imprisoned for nearly 15 years and frequently tortured. He lost his teeth and had toothpicks jammed under his fingernails. He was deprived of sleep for seven days straight. He was handcuffed and shackled with 50 pound shackles while confined in a solitary cell.
When he was released on October 18, 2014, he was escorted directly to Changpin Brainwashing Center. Responding to international pressure, the regime allowed him to return home on October 25. He has been monitored and harassed by uniformed and plainclothes police ever since.
His daughter and son-in-law went to Beijing recently to bring him to the U.S. They helped him get a visa. But the border patrol in Guangzhou, Guangdong Province, revoked his passport and refused to allow him to leave the country.
Zhen Wenbiao, a representative of the San Francisco Quitting the CCP Service Center, note, "This was engineered by one of Jiang Zemin's factions. He has been charged in over 20 countries for his crimes in the persecution of Falun Gong. His followers in the government continue to carry out his policy to persecute practitioners in China."