Australia: Candidates for Public Office Across Queensland Lend Support for Human Rights
July 07, 2016 | By Falun Dafa practitioners in Australia
(Minghui.org) Dozens of political candidates for the upcoming 2016 Australian election have given their support for the fundamental freedom to practice Falun Dafa without fear of persecution, and expressed their outrage about the ongoing killing of Falun Dafa practitioners for their organs in China.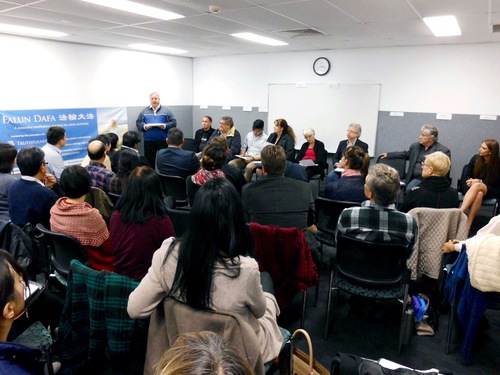 Political candidates express their positions on the ongoing persecution of Falun Dafa in China.
On the Gold Coast in Queensland, a total of nine candidates for the Senate and House of Representatives met with Falun Dafa practitioners at their weekly study group and shared their priorities for the election. They gave their positions on the detention, torture, organ harvesting, and deaths of Dafa practitioners in China over the past 17 years.
The candidates heard personal accounts from two practitioners who have been persecuted in China. One practitioner named Ming was discharged from the Chinese military because he refused to renounce his belief in Falun Dafa. Another practitioner, Lizhu, appealed at Tiananmen Square but was attacked by police, who pulled her hair and forced her to surrender all her money, which she never saw again. Both were granted refugee status by the United Nations and were allowed to stay in Australia thanks to the Federal Government.
Political Candidates Call to End Organ Harvesting Crimes
Ken Stevens
Australian Progressive Party Senate candidate Ken Stevens spent many years living in Asia. Since returning to Australia, he has devoted much of his time to encouraging Queensland communities to be a driving force behind social change. After hearing first-hand accounts from victims of the persecution, he publicly called on the Australian Government to support the United States' latest House resolution by condemning the killing of prisoners of conscience in China for their organs.
Mr. Stevens said, "This is a horrendous attack on human rights, to say the least. If I'm elected to the Senate, one of my first actions will be to raise this issue and bring it to a vote by negotiating with MPs in the House of Representatives. And, if I am not elected, I'll be actively working to empower communities to be a driving force behind action and change."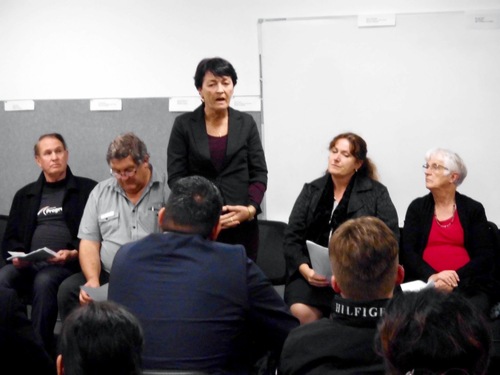 Deb Lynch
Drug Law Reform Australia Senate candidate Deb Lynch, a former health care professional, praised Dafa practitioners as a "group of wonderful people" who were victims of "deplorable" organ harvesting in China. She encouraged all to raise awareness of this hidden human rights atrocity.
Ms. Lynch said, "Being a patient advocate, I put people first. Please, please take the time to consider what organ transplants have become and take whatever steps you can, to support and share information … along with everything else, people and now their organs are not only coveted, but stolen in ever increasing numbers – sometimes while they are still alive."
Christian Candidate Who Was Detained in China Condemns Persecution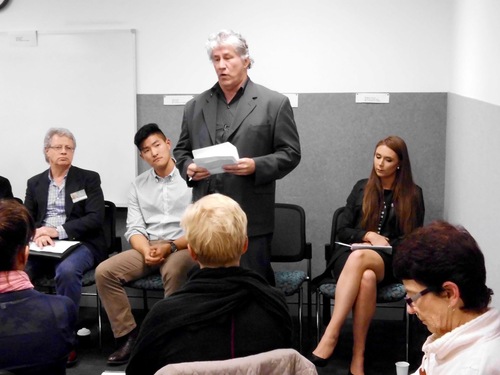 Sean MacNamara
Sean MacNamara, Veterans Party candidate for Fadden, was briefly detained in a Chinese prison because he is a Christian Pastor and was carrying a copy of the Holy Bible.
Mr. MacNamara said, "I was detained for a CCP [Chinese Communist Party] member's entertainment. I had to use a squat toilet, but I never let anyone stand over [or bully] me. The Veterans Party finds the persecution of any person abhorrent. As such, we believe that the full force of the law should be applied to any act on sovereign soil that is in contravention of this."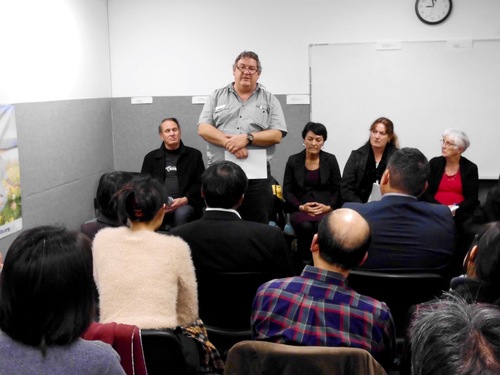 Darryl Hodkinson
Fellow Veterans Party Senate candidate Darryl Hodkinson served the Australian Defense Force for nearly 20 years. He said he does not like seeing peaceful groups, like Falun Dafa, being persecuted.
"Human life has more value than trade. If I am elected, I will take the Chinese Ambassador to task and have him do an appraisal," Mr. Hodkinson said.
Brenden Ball, One Nation candidate for Fadden, recently heard about Falun Dafa and the persecution, and already has plans to pressure the Chinese regime into ending the persecution and organ harvesting.
Mr. Ball said, "The organ harvesting is terrible. If I were elected, I would push for trade with China to be put on hold until the CCP fixes its human rights problems."
Major Political Party Takes an Interest in the Plight of Falun Dafa Practitioners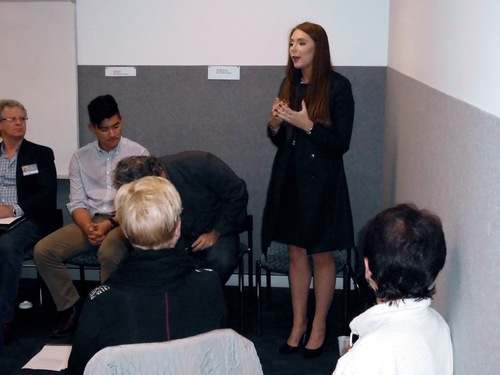 Meaghan Scanlon
Meaghan Scanlon, Australian Labor Party candidate for Fadden, has taken an interest in the plight of Falun Dafa practitioners, especially since she works as an attorney for a small Brisbane firm that advises on human rights matters.
Ms. Scanlon said, "The Labor Party has supported Falun Dafa before. We have helped your group before through Fremantle MP Melissa Parke, and also former Prime Minister Kevin Rudd. The organ harvesting issue is outrageous. Trade should not come at the expense of human rights."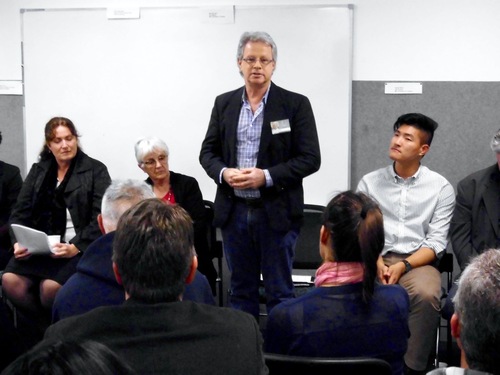 Michael Kaff

Independent Senate candidate Michael Kaff expressed concern regarding local incidents in which the Chinese regime has extended its persecution to Australia by trying to exclude Falun Dafa practitioners through leveraging on their sponsorship of Gold Coast Chinese community events.
"Contrary to the 1980s movie Wall Street, I think greed is not good; it should be people before profit always. If the government puts trade before people, then we need a new government," Mr. Kaff said.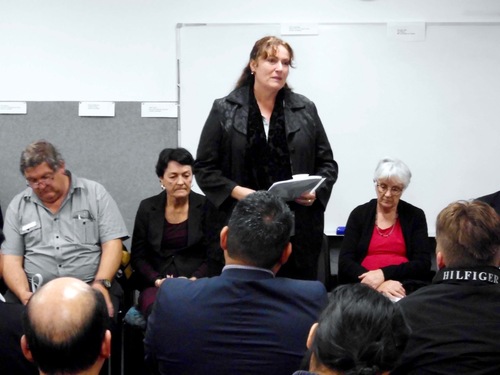 Karin Hanbidge
Derryn Hinch's Justice Party Senate candidate Karin Hanbidge believes it is important for people to be a voice for common sense in keeping the elected government honest.
"If we put trade above life, what does it say about us?" Hanbidge asked.
Candidates Commend the Principles of Truthfulness, Compassion, and Tolerance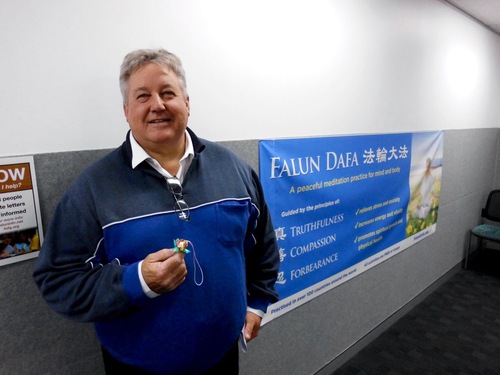 Gary Pead
Independent Senate candidate Gary Pead commended Falun Dafa's tenets of Truthfulness, Compassion, and Tolerance.
Mr. Pead said, "I support the Australian Government's criticism of your persecution in China, and I would never let that happen within Australia."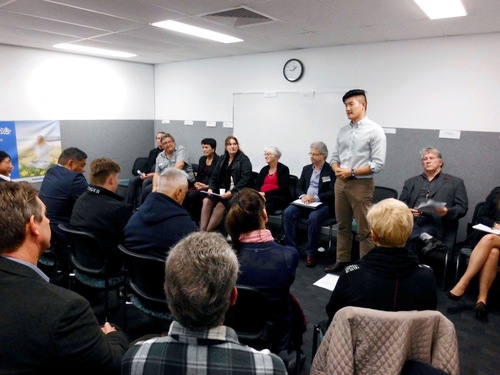 Daniel Kwon
Daniel Kwon, Greens candidate for Fadden, said he could feel the positive energy of the Falun Dafa practitioners, and actually lives by the same principles of Dafa – Truthfulness, Compassion, and Tolerance.
"They are a wonderful group, and it is a very peaceful practice," Mr. Kwon said.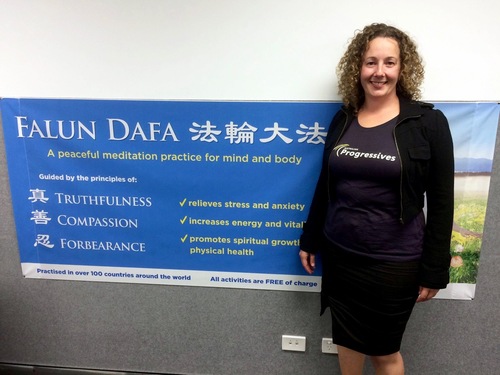 Jo McCormack
Australian Progressives Senate candidate Jo McCormack said she felt privileged to meet Dafa practitioners, and expressed concern about the growing influence of Confucius Institutes and their silencing academic dissent against the CCP.
"What a lovely group of people. I am disappointed that the Tourism Confucius Institute is allowed to operate at Griffith University," Ms. McCormack said.
Support for Falun Dafa Practitioners Received from Across the Sunshine State
Queensland is the second largest state in Australia. Many candidates live in different cities or even in remote parts of the state. Practitioners used technology and local contacts to overcome the geographic divide and reach out to political candidates who could not meet with the practitioners in person.
In Brisbane, Liberal National Party Senate candidate Dan Ryan said he was very familiar with the issue of human rights in China, including the situation of Falun Dafa practitioners.
"I have lived and worked in China for over ten years, and read and speak Mandarin Chinese. I am [currently reading] Ethan Gutmann's recent book, The Slaughter. I found [it] particularly well-researched," Mr. Ryan said.
Sunshine Coast independent Senate candidate Marshal Anderson expressed his strongest opposition to human rights crimes in China and the rest of the world, including Australia.
Mr. Anderson said, "I support people whose beliefs are of peace and tolerance to their fellow human beings. And I oppose what is happening in Tibet. I have a Chinese friend in Australia who now lives here because of the way the Chinese Government operates. I have my concerns over the free trade agreement that currently exists with China. But you can be assured that I will be supporting all human rights concerns."
Candidates Find Persecution "Unacceptable"
Rise Up Australia Party candidate for the Senate Paul Taylor in Brisbane had also heard of the persecution, and said he finds it "unacceptable."
"Tragically, China is a nation that at most times ignores the opinions of the international community at large. The Chinese community plays a very important and constructive role in the Australian economy. Falun Gong is part of that community; to be treated the way the Chinese Government treats their followers, that is something I find abhorrent," Mr. Taylor said.
As a health care professional with an interest in human rights, Rise Up Australia Senate candidate Neroli Mooney had heard a lot about Falun Dafa, and watched documentaries on the organ harvesting and persecution in China.
Ms. Mooney said, "I am a registered nurse and find these acts deplorable. Questions and pressure do need to be applied to the Chinese Government for answers … you should not be persecuted in any way and should be free to practice your peaceful meditation exercises."
Independent Senate candidate David Bundy in the Lockyer Valley said he supports every citizen group's right to democracy.
"If I am elected, the other Senators will have to watch out. I will be a modern-day David vs. Goliath, and I will not be silenced by political donors or big Chinese developers. I am very familiar with the organ harvesting happening in China and other parts of the world, and am disappointed to learn Fairfax and News Limited have allowed the China Daily to cover newspapers with CCP propaganda out of commercial reasons," Mr. Bundy said.
Animal Justice Party Senate candidates Paul Bevan and Zade Watson in Brisbane have worked for many years on the human rights issues concerning Falun Dafa practitioners in China.
"We do still very much support human-based social justice issues, and we definitely supported the Senate motion calling on the Australian Government to raise the issue of the continued detention of Falun Gong practitioners with close family ties to Australia," Bevan and Watson said.
Independent Senate candidate Terry Jorgensen in the Longreach area expressed strong opposition to the persecution.
Mr. Jorgensen said, "I am against what they are using mental health [facilities] for in China to persecute Falun Dafa practitioners … I am still concerned about shock treatment used against Falun Dafa, and it is a bit like the electric chair. It is passing DC power through the brain and frying sections of the brain. It is just barbaric they are doing this in this age."
Sunshine Coast independent Senate candidate Greg Beattie was very "disturbed" to hear about the ongoing persecution.
"This is a matter which must touch the heart of every decent person," Mr. Beattie said.
Nick Xenophon Team's candidate for Groom Josie Townsend said it seems Falun Dafa is receiving a lot of support in the Toowoomba area, after hearing that the group had won two awards at the annual Spring Carnival of Flowers parade.
Pastor Andrew Evans, founder of Family First, and who has retired from politics, said the CCP reminds him a lot of the former Soviet Union that collapsed one day without warning. He predicts that when the same thing happens in China, the persecution of Falun Dafa and other spiritual groups will also end.