Forced Organ Harvesting Is a Pressing Issue, Says Former Minister of Health and Welfare in South Korea
July 06, 2016 | By a Falun Gong practitioner in South Korea
(Minghui.org) When the Joint World Conference on Social Work, Education, and Social Development (SWSD) 2016 was held in South Korea between June 27 and 30, Falun Gong practitioners explained to conference attendees how practitioners were mistreated in China for their belief, including becoming victims of forced organ harvesting.
About 2,500 people from 80 countries attended the conference in Seoul. Under the theme "Promoting the Dignity and Worth of People," they discussed topics including disability, violence, human trafficking, and so on.
Maria Cheung from the University of Manitoba brought up the topic of forced organ harvesting in China committed by the communist regime. Additional information was presented by the International Association on Ethical Organ Transplant (IAEOT)'s booth in the lobby.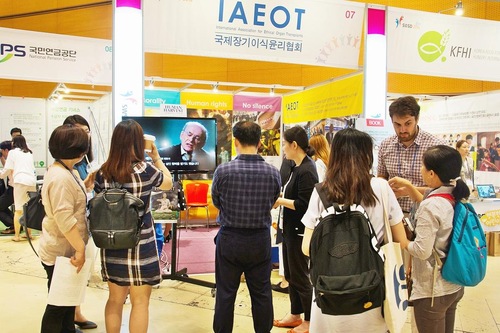 Conference attendees learn about forced organ harvesting in China.
Critical Issue that Needs Immediate Attention
Mun Hyeong Pyo, Former minister of Health and Welfare, came to the conference on June 28. He was shocked to learn of the organ harvesting atrocities, saying, "It is a critical issue that needs immediate attention. Everyone should be informed of this." He then signed a petition on this issue addressed to the Office of the United Nations High Commissioner on Human Rights (OHCHR) at the United Nations.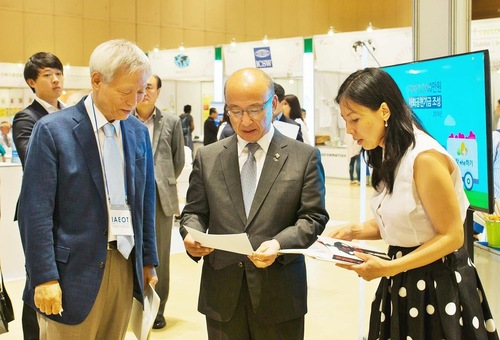 Former minister of Health and Welfare, Mun Hyeong Pyo, was shocked by the organ harvesting atrocities in China.
Many attendees from the US, UK, Canada, United Arab Emirates, Philippines, Hong Kong, New Zealand, and other countries signed the petition. Some offered to host joint activities with IAEOT to raise awareness of this issue.
Fulfilling the Responsibility
IAEOT representatives and Cheung also met Nigel Hall, Human Rights Commissioner of the International Federation of Social Workers (IFSW). After discussing options that could help improve the situation in China, Hall said the social worker industry should be actively involved in efforts to stop forced organ harvesting.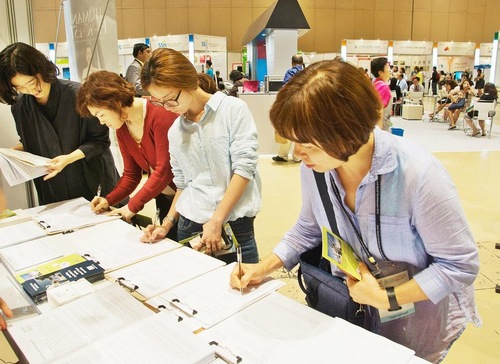 Many people signed petitions addressed to OHCHR of the UN.
Human Harvest: China's Illegal Organ Trade, a documentary examining the illegal organ harvesting industry in China that received the Peabody Award last year, was screened at the conference. Many conference attendees were moved by the film and discussed future screenings.
"I think this documentary will help educate us on what is really going on," said an attendee from Hawaii. "I will arrange screenings at my university."