Additional Activities in Germany, Northern Ireland, and France Mark the 17th Anniversary of the Persecution
July 30, 2016 | By Minghui correspondents in Europe
(Minghui.org) Under orders from former leader Jiang Zemin, the Chinese government banned Falun Gong on July 20, 1999.
To commemorate the 17th anniversary of the nationwide suppression, Falun Gong practitioners in many countries have reached out to government officials and communities to raise awareness of the severe human rights violations in China.
Falun Gong activities were held in Germany, Ireland, and France over the past weekend.
Germany
Outside St. Paul's Church, a landmark in central Frankfurt, Falun Gong practitioners put up posters and did the mediation to draw attention to the ongoing suppression in China.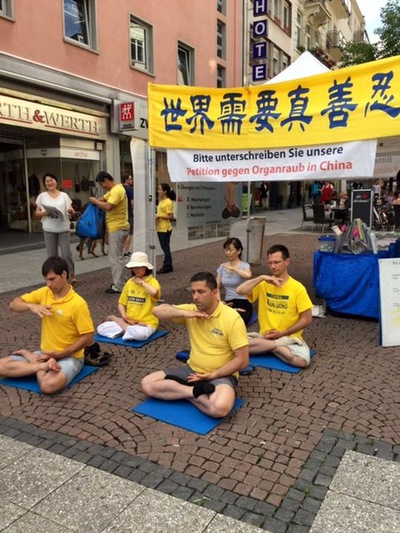 Doing the exercises next to St. Paul's Church in Frankfurt on July 23, 2106.
One tourist said to a practitioner, "I am from Hong Kong and I support you. But do you know that the Communist Party you are dealing is very powerful?"
"That's all right. We are doing this based on our conscience—for humankind—that's where our real strength comes from," replied the practitioner.
The woman nodded and smiled.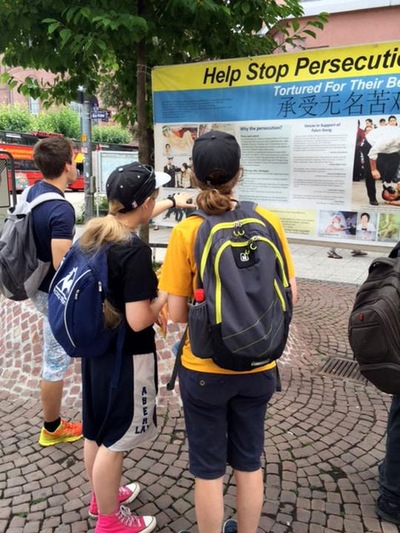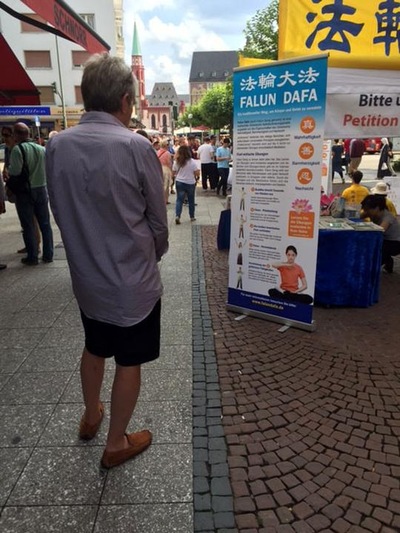 Passersby read posters about the persecution in China.
At peak travel season, a large number of tour buses arrive every day. The tourists, including many from China, like to walk around, shop, eat, and sightsee. One of the first things they often see as they get off the bus is a banner that says, "The World Needs Truthfulness-Compassion-Forbearance."
Pointing to the practitioners doing the exercises, one Chinese tourist said to the others in his tour group, "Hey, look! There's Falun Gong!"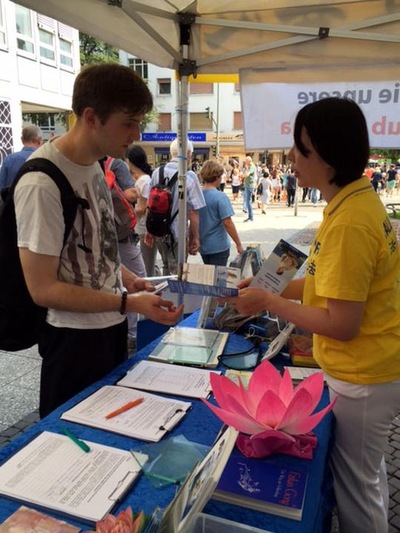 A pedestrian learns about the practice of Falun Gong.
Other passersby were very supportive. Local resident Ms. Moschel-Spohr was disturbed to hear about the brutal persecution taking place in China, especially organ harvesting from living Falun Gong practitioners. "It is a very sad situation. I will always support you."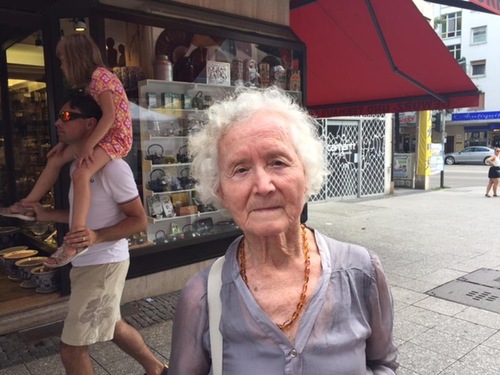 Ms. Moschel-Spohr said that the torture of practitioners, especially forced organ harvesting, was unacceptable.
Vojtech Heidelberg, a young man, had never heard of Falun Gong before. He signed a petition calling for an end to the persecution after learning about the situation in China. "I really hope there is something that I can do to help you," he said.
Northern Ireland
Following a march on July 23, Falun Gong practitioners in Northern Ireland held a rally at Arthur Square in Belfast that afternoon. Both events attracted much attention.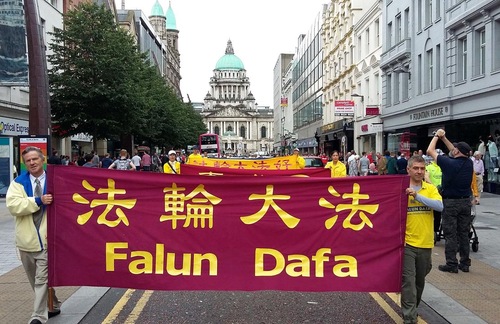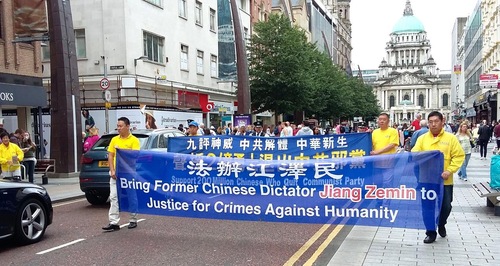 Falun Gong practitioners marched from City Hall, down Donegall Place, Royal Avenue, and Castle Place, and returned to Arthur Square.
A group of Italian students were shocked to hear about forced organ harvesting from Falun Gong practitioners in China. All 23 students signed a petition to support practitioners.
Mr. and Mrs. Williams, a couple from the United States, said they had taught in China and had witnessed practitioners being mistreated. "In the face of an atrocity like this, everyone needs to do his or her part to stop it."
Group practice at Arthur Square in Belfast.
Pmair, local resident in Belfast, said it was too bad that something like forced organ harvesting could occur in this day and age. "I think the British people and the British government must pay attention this. Transplant tourism should stop, because we cannot get involved in killing."
France
Practitioners met in front of the Chinese Embassy in Paris on July 22 to do the exercises and tell people about the persecution in China.
"The persecution of Falun Gong is a state crime launched by Jiang Zemin in 1999," explained by Tang Hanlong, director of the French Falun Dafa Association. "This persecution includes arrest, detention, torture, slave labor, and forced organ harvesting."
Jiang Youlu, a human rights advocate, said he admired practitioners' courage. Because the Chinese Communist Party has done horrible things for decades, he recommended that the Chinese people separate themselves from the communist regime for a better future. "I am 81 years now, and I have seen enough to know the Party is going down. And you do not want to sink with it."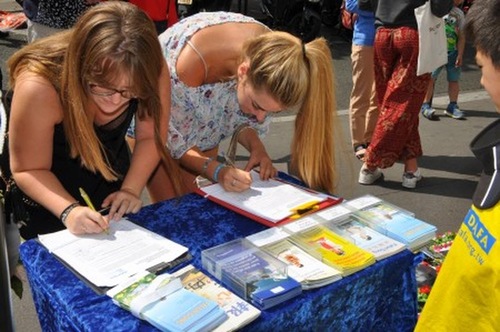 Two passersby sign petitions at the event near the Chinese Embassy in Paris on July 22.
Isabelle Brunot said she pays attention to human rights issues but was surprised by what she learned. "I did not know about this. It is hard to imagine that people are killing others for their organs in the 21th century. To make things worse, there are not many reports about this important issue." She encouraged the practitioners to continue their efforts to tell more people about it.
Jerry Normal, a young man from Togo, said no one should neglect this issue. "I have seen human rights violations in my home country, too. And we cannot let them continue."
As he signed a petition calling for an end to forced organ harvesting, Normal said he was doing it "with his heart:" "This is basic humanity—something we should all care about."
Following a resolution in 2013 to condemn forced organ harvesting in China, the European Parliament issued a written declaration recently, urging further actions to stop the atrocity.
More than half of the Members of the European Parliament (MEPs) co-signed the Written Declaration, among them Tomáš Zdechovsk from the Czech Republic, who said basic human rights cannot be ignored: "Be careful. All countries strive for democracy now, but China is a problem. The next time it could be another problem in another country."
Related articles in Chinese:法国七二零反迫害集会-民众支持法轮功(图)
北爱尔兰民众-残酷的迫害一定要立即制止(图)