Hong Kong: Participants in Falun Gong Activities Share Their Stories
July 29, 2016 | By Zheng Yuyan, Minghui correspondent in Hong Kong
(Minghui.org) On July 17, 2016, Falun Gong (also called Falun Dafa) practitioners in Hong Kong held activities to mark 17 years of peaceful resistance to the Chinese Communist Party's (CCP) persecution. Practitioners from surrounding areas also joined the activities. Some of them shared their personal experiences in the practice.
Young Man: Dafa Awakened My Good Side
Mr. Ye came to support the activities from Japan. He said had been misled by the CCP's propaganda about Falun Gong. But after he went to Japan for school in 2008, he had a classmate who practiced Falun Gong who was outstanding in many ways. He found out Falun Gong is righteous and beneficial. He started practicing Falun Gong himself in 2010.
The principles of Falun Dafa brought him a huge change. He quit smoking and drinking. He became respectful to his parents. His parents were touched and amazed by his changes.
Ye told the reporter, "Chinese parents look forward to seeing their children to be well established. But they usually find their influence ineffective. It's not the parents' fault. There are too many temptations nowadays after all. I used to be rebellious and disrespectful. But after learning Falun Dafa, the first change I had was becoming respectful to my parents. They have raised me and done the hard job of taking care of me. If any parent wants to see their children behave, I would recommend Falun Gong to their children."
Ye said the reason he came to Hong Kong for the activities was to tell Chinese tourists that Falun Gong wasn't like the CCP portrayed.
From Short-tempered to Happy and Easy Going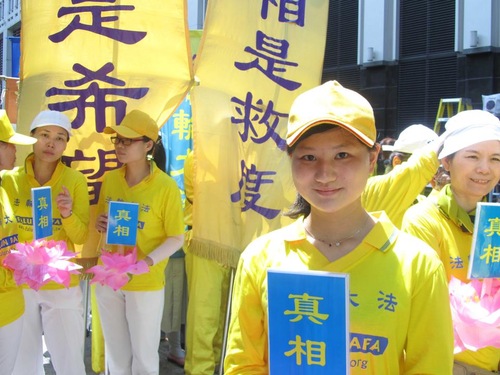 Ms. Gong Youyi at Falun Gong activities in Hong Kong
Ms. Gong Youyi had known about Falun Gong since she was young, because her mother is a practitioner. She didn't start practicing Falun Gong until had problems with her knee and neck while she was going to school in Singapore. She had tried both Western and traditional Chinese medicine, but the problems wouldn't go away. Remembering her mother's improved health from practicing Falun Gong, Youyi decided to try it.
She was overjoyed to find that her pain was completely gone after she began practicing Falun Gong. She experienced other positive changes as well. She used to be pessimistic and lacked confidence. If her grade wasn't the top in her class, she would be depressed. The principles of Falun Dafa, Truthfulness, Compassion and Forbearance, gave her a greater sense of purpose and peace of mind. She went from being short-tempered to happy and easy going.
Regarding her participation in the event, she said, "I would like make my little contribution, and tell people, especially the Chinese people, not be deceived by the CCP's lies."
Wife Benefits from Husband's Practice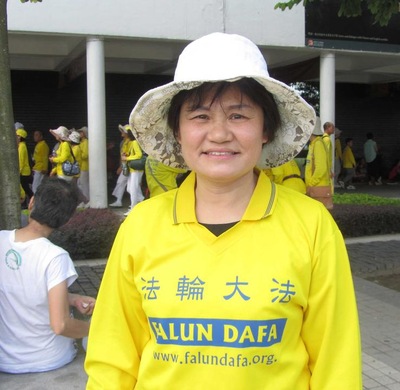 Mrs. Li at the Falun Gong activities in Hong Kong
Mrs. Li from Taiwan had benefited from her husband's cultivation. When her husband heard about the persecution of Falun Gong in the mainland China, he pondered, "What the wicked chose to suppress must be something good." On April 25, 2001, a Falun Gong parade happened to pass their house. Her husband caught up with the parade procession and asked where to learn it. A Falun Gong practitioner living in the same neighborhood told him there would be a nine-day Falun Gong workshop on the next day. That's how her husband started practicing Falun Gong.
Mrs. Li had uncontrollable bleeding one day because of a lingering illness she got when she had her baby. She went to the hospital, but medical treatment could only help her temporarily. She had severe bleeding for three months in a row. On thinking what her husband had told her, "When one person obtains the Fa, the whole family will benefit,"* she decided not to go to hospital. The bleeding stopped after she had this thought. She started practicing Falun Gong herself in 2002. She often participated in activities in Hong Kong, to tell people not be influenced by the CCP's propaganda.
(*Passage from: "Teaching the Fa and Answering Questions in Jinan" Zhuan Falun Fajie - The Law of Zhuan Falun Explained)
Introducing Falun Dafa Principles to Autistic Children and Their Parents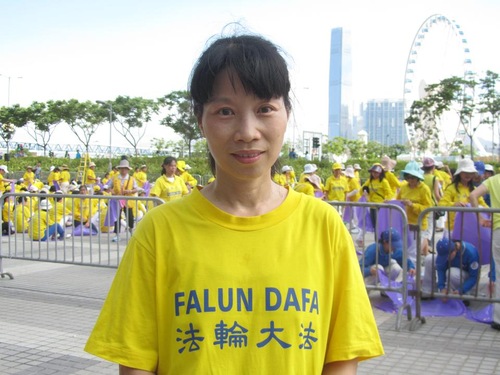 Ms. Lin Peifen
Ms. Lin Peifen, a teacher of special education from Hong Kong, used have hepatitis B. It was completely gone three weeks after she started practicing Falun Gong. She followed Truthfulness, Compassion and Forbearance in her job, and taught her Autistic students the principles of Falun Dafa. Some of her students dramatically improved their communication skills and cognitive abilities as a result and some of their parents were inspired to learn Falun Dafa.
Ms. Lin sincerely hopes the persecution will end, and more people will benefit from Falun Gong.