Australia: Rally and March in Sydney Condemn Horrors of 17-Year Persecution
July 29, 2016 | By Minghui correspondents in Sydney
(Minghui.org) Falun Gong practitioners gathered at Martin Place in Sydney, Australia, on July 20 for a rally and march marking 17 years since persecution began in China.
One of the Most Barbarous and Heinous Crimes
Lucy Zhao, president of the Australian Falun Dafa Association, explained how much innocent Falun Gong practitioners had suffered for their belief. "Organ harvesting from living Falun Gong practitioners highlights the severity of the nationwide suppression," she said.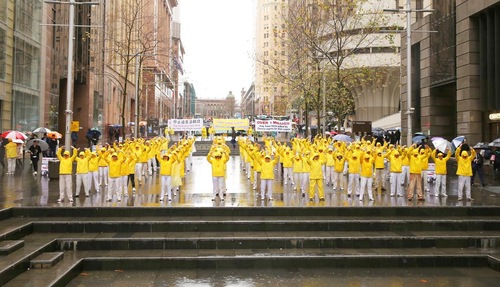 Doing the Falun Gong exercises on the morning of July 20.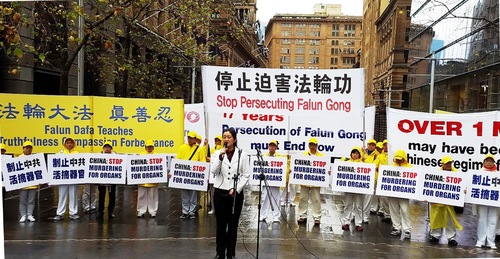 Lucy Zhao, president of the Australian Falun Dafa Association, urges the Australian government to take further actions against the atrocity.
In her letter of support for the event, Lee Rhiannon, Greens Senator for New South Wales who could not attend the event due to a schedule conflict, wrote that labor camps, long jail sentences, mistreatment, and hundreds of thousands of deaths and disappearances have drawn condemnation from around the world and that one of the most heinous crimes occurring to followers of Falun Gong is organ harvesting.
She thanked practitioners for their consistent efforts bringing awareness to the public, "The world is starting to listen. In Australia in 2006, several Queensland transplant hospitals stopped transplant training for Chinese surgeons and banned joint research programs with China into organ transplantation. However, more needs to be done on this issue here in Australia."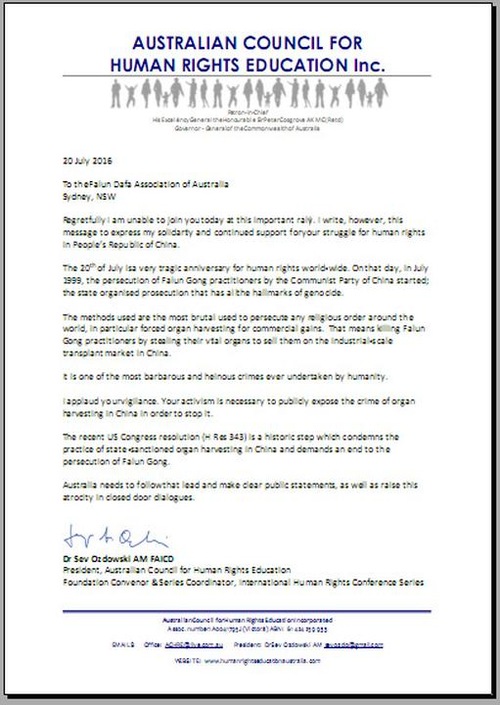 Former Australian Human Rights Commissioner, Dr. Sev Ozdowski, wrote a letter to the event.
Dr. Sev Ozdowski, former Australian Human Rights Commissioner, referred to July 20th as a "very tragic anniversary." He wrote, "The methods used are the most brutal used to persecute any religious order around the world, in particular forced organ harvesting for commercial gains. That means killing Falun Gong practitioners by stealing their vital organs to sell them on the industrial-scale transplant market in China."
"It is one of the most barbarous and heinous crimes ever undertaken by humanity," he stated.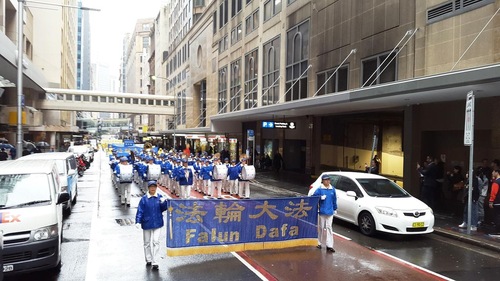 The Divine Land Marching Band led the march on July 20.
Legislative Actions
Greens MP and Justice Spokesperson David Shoebridge said The Greens have legislation in NSW Parliament that would make it illegal for someone from this state to go overseas and receive an organ which has been either removed forcibly or unethically trafficked. "We will be bringing this legislation on for debate in the next session of Parliament."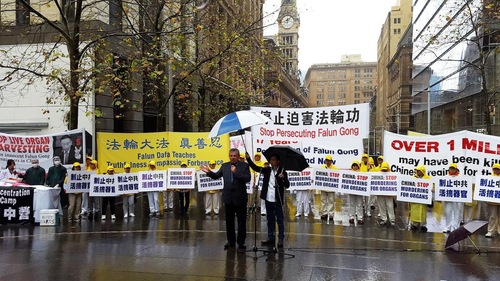 Radio host Stephen Sim urges practitioners and passersby to contact government officials on this important matter.
Stephen Sim, radio program host, said at the event, "I and my colleagues are appalled by the horrendous and ongoing persecution of the Falun Gong, the illegal and immoral harvesting of organs for sale and the unbelievable inability to practice their faith in safety. We are distressed that this continues today and remains unaddressed on the world stage for so many years."
He continued, "We urge the Australian authorities to remain diligent in their opposition and install penalties for any of our citizens who participate willingly and to provide information to travelers to ensure they are aware of the disgraceful and inhumane treatment of China's citizens."
Human rights advocate Bob Vinnicombe said evidence from numerous sources had confirmed the existence of the forced organ harvesting in China. In addition, the United States House of Representatives passed H.Res. 343 last month to condemn the brutality.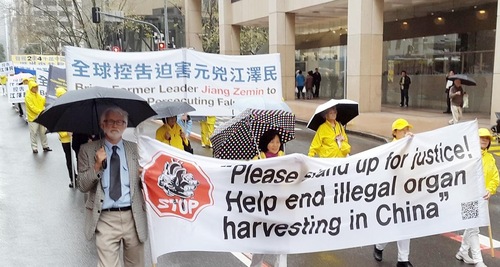 Human rights advocate Bob Vinnicombe walked with entire march with practitioners.
Paul Toth, a spectator who works in a nearby firm, thanked practitioners for their efforts raising the awareness. He said he could not imagine anything more vicious than forced organ harvesting, and this reminded him of what Hitler did decades ago.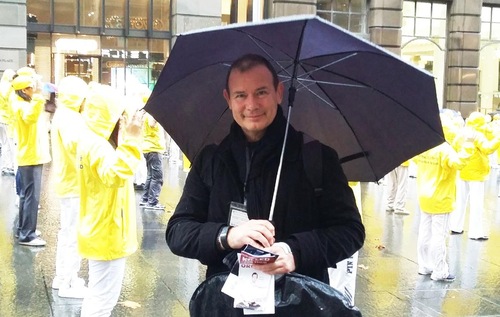 Paul Toth said he fully supports Falun Gong practitioners.
Toth said he had heard about the persecution for a long time and sometimes also told coworkers about it. "What you are doing is very important and many people support you," he said. "Please keep it up till the suppression ends."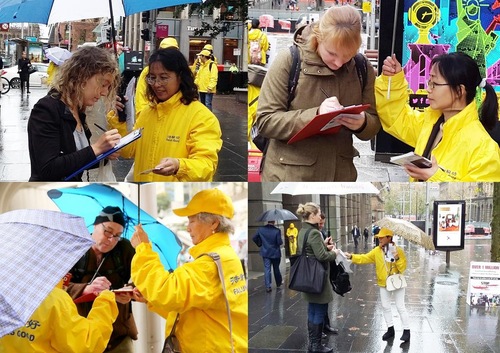 Many people signed petitions to support Falun Gong.
Related article in Chinese:http://www.minghui.org/mh/articles/2016/7/23/悉尼反迫害集会-澳洲政要致信声援(图)-331794.html