Mexico City: Over 600 Police Officers Learn Falun Dafa
July 26, 2016 | By a Falun Dafa practitioner in Mexico
(Minghui.org) More than 600 police officers attended the Falun Dafa workshop in Mexico City on July 18-22, 2016. Mexico City policemen assigned to school safety learned the practice and performed the Falun Dafa exercises. The workshop was incorporated as part of the officers' summer training courses.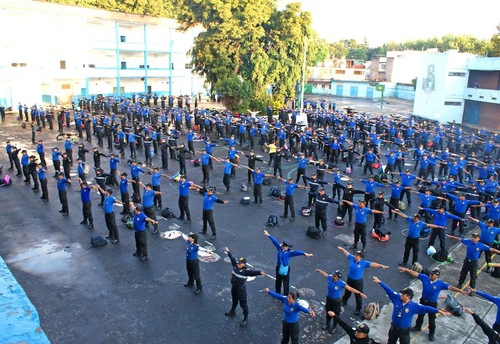 More than 600 police officers learn Falun Dafa exercises in Mexico City.
"I like it very much because it makes me relaxed," said officer Adrian Garcfa, "It gives me energy."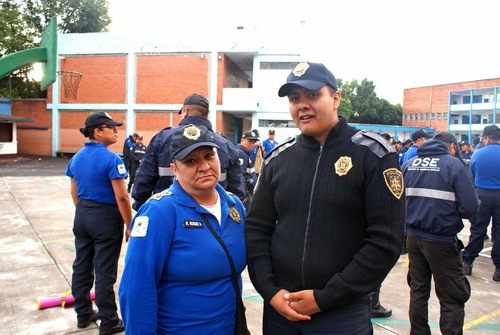 One of the officers, Adrian Garcfa (right) said Falun Dafa gives him energy.
According to information from the Mexico Public Safety Department, bullying has been a serious problem in schools, which is one of the primary reasons for suicide among young people.
The Falun Dafa practice will not only help police officers prepare for their duty, but the principles of Truthfulness-Compassion-Tolerance will also help them to impart values among students and prevent crimes in these areas.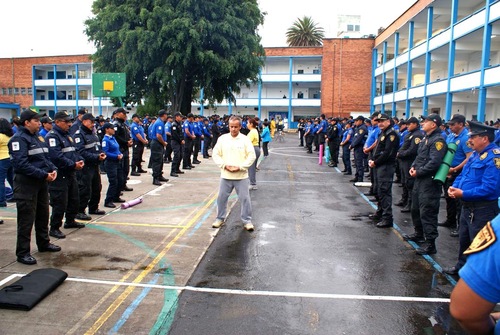 Police officers learn Falun Dafa exercises from practitioners.
The connection between Falun Dafa and police forces started with the group exercises at Alameda Central, a public park in Downtown Mexico City, where practitioners hold group exercises and meditation, and tell passersby about the 17-year-long suppression in China.
After one police commissioner saw the peaceful meditation and heard about the principles of Truthfulness-Compassion-Forbearance, he invited practitioners to help incorporate the exercises into the summer training program.