Israel: At July 20 Rally in Rishon LeZion, Leaders Protest Forced Organ Harvesting in Sister City Tianjin, China
(Minghui.org) The city of Rishon LeZion in Israel has a "Sister City" agreement with Tianjin, where the mass murder of innocent people is taking place – forced organ harvesting from living Falun Gong practitioners. They are being held as prisoners of conscience and are executed on demand for their vital organs for transplant operations.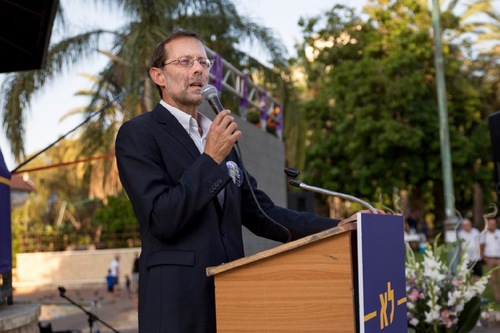 Former Member of Knesset (Israeli Parliament) Moshe Feiglin
At a rally on July 20, marking 17 years of the persecution of Falun Gong in China, former Member of Knesset (Israeli Parliament) Moshe Feiglin said that Israel should serve as a beacon for the whole world on this issue. He recalled an event he organized at the Knesset in 2014, in which people testified to the persecution of Falun Gong and forced organ harvesting in China: "When God is taken out of the equation in the communist regime, man becomes nothing more than an object. And so – why not sell vital organs as a commodity?"
In a video broadcast at the rally, City Council Members Shimon Trabelsy and Eyal Moshayov spoke out. Trabelsy said, "It is very serious that our city, the fourth largest city in Israel, has signed an alliance with a city whose leaders surely know that these brutal crimes are taking place." Trabelsy thinks that the citizens of Rishon LeZion should protest and demand that the mayor cut off all relations with Tianjin until these crimes are ended altogether.
Moshayov said that he had heard about what was going on in Tianjin twice. The second time, he realized just how bad it was, and delved deep into the subject. He said the least he could do now was to raise the subject for debate before the city council.
Rabbi Michael Melchior, formerly a member of the Knesset, sent a letter of support to the rally that said, in part: "The evidence has reached the point that no man or government in the world that wishes to be counted among those who respect humanity can remain indifferent or silent."
The Notorious Transplant Center in Tianjin
Prof. Jacob Lavee, director of the Heart Transplantation Unit at one of the largest Hospitals in Israel, verified in an interview projected at the rally that the crime of forced organ harvesting on a large scale is indeed taking place in China today, mainly from Falun Gong practitioners.
"In addition," said Lavee, "in Tianjin, China, is one of the largest transplantations centers where we know for sure, based on research lately published, over 5,000 transplant operations are conducted each year. In this single center. While official Chinese government figures show that all over China there are seemingly only 10,000 transplant operations annually. The transplantation center in Tianjin is one of the largest, and its name has become notorious in the entire transplant community."
"We do not wish to maintain an alliance with criminals"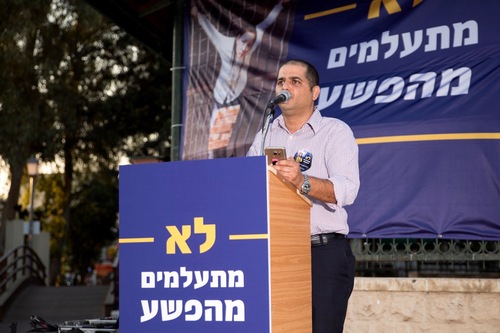 Avi Arazi - chairman of Meretz Party branch in Rishon LeZion
Avi Arazi, chairman of Meretz Party branch in Rishon LeZion, addressed the mayor from the podium: "Mr. Mayor, as the son of holocaust survivors – of all people, we would expect you to understand!
"...Whoever keeps silent while knowing of a crime is an accomplice! ...We do not wish to maintain an alliance with criminals!
"...You know, when this persecution ends, the only question will be, 'On which side were you on – on the side of those who acted, or on the side of those who kept silent?'"
Itamar Vagner from the youth branch of the "Yesh Atid" party said that China, which considers itself a great nation, should understand that military and economic power should go hand in hand with freedom of expression and freedom of faith. His message for the mayor: "Rishon LeZion should at least express its discontent to its [sister] city, Tianjin."
Turning a Quarter of a Million Israelis into Accomplices to Murder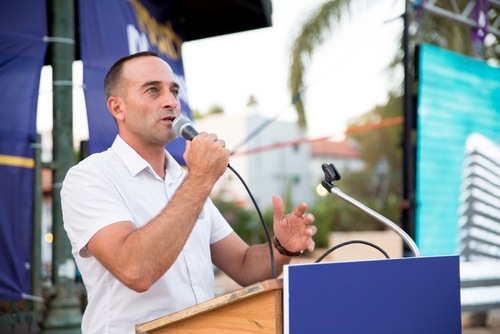 Roy Bar-Illan, director of a large youth organization
Roy Bar-Illan, director of a large youth organization, calculated that Tianjin murders 14 people each day. He said to the mayor, "You saw an opportunity for trade here, but ask yourself why China would be interested at all in having a sister city agreement with Rishon LeZion, and you will realize that what they seek is legitimacy. China pours a lot of money into sister cities worldwide, but faced with so much well-based information, would it be right to turn a quarter of a million Israeli citizens (residents of the city) into a 'fig leaf' [metaphor for "cover-up"]?"
"They didn't use any anesthetics. They cut her chest open with a scalpel"
A Chinese military policeman's testimony was read on stage. He was present at a live organ harvesting in 2002. His testimony was given in 2009 to an organization that investigates the persecution of Falun Gong: "(Her) heart was carved out first, next were the kidneys. When they cut her cardiac vessels with the scissors, she started twitching. It was horrible."
"We stand here today because we will not ignore this crime"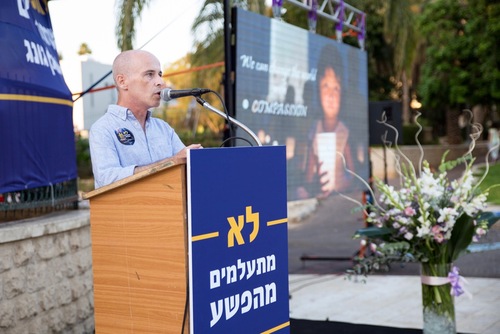 Vadim Berestetsky, chairman of the Falun Dafa Association in Israel.
Vadim Berestetsk, chairman of the Falun Dafa Association in Israel, shared a testimony that shook him. A soldier recalled a mass transfer of Falun Gong practitioners from Tianjin by train in December. He was shocked to see that the train car he secured was actually a cattle car open to the cold. The soldier recalled: "…Once we got in the car, we were shocked by what we saw. It was a train for transporting domestic animals, and the cars were open at the top. However, it was not carrying animals, but Falun Gong practitioners. There were men and women, young and old. We were told that they had been arrested because they went to Beijing to appeal for Falun Gong. They were handcuffed, and the cuffs were attached to a metal bar at the top of the car. My companion and I were frozen with fear. We were afraid to say a word."
Need a Heart? Kidney? In Tianjin you can get them with two weeks' notice!
Given the fact that in China there are almost no voluntary organ donations, and that up until 2000 there were very few transplant operations in Tianjin, how can the Tianjin Transplant Center offer on its website transplant surgeries in only two weeks' time, on demand?
The Epoch Times, an international magazine with authentic resources in China, recently conducted an investigation that focused on the hospital in Tianjin.
"We suspected," said Eyal Levinter, chief editor of the Epoch Times Hebrew edition, "that the hospital in Tianjin was hiding one of the best kept secrets in China – that on its premises, organs are being harvested from innocent people, and these organs are being sold to tourists who arrive at the hospital from all over the world."
Levinter mentioned that the investigation "proves in black and white that in the hospital in Tianjin, sister city of Rishon LeZion, something horrible is happening. Up to 6,000 people are murdered each year – innocent prisoners of conscience, who are being held against their wills in forced labor camps and prisons.
"Our investigation also shows that there are ties between the city council of Tianjin and the hospital that operates in its jurisdiction."
He concluded: "Members of Rishon LeZion city council, please contact me so that I can present you with the sources of information and references to the information I presented here, as well as to those included in the full investigation, so you can judge for yourselves and be convinced of their credibility."
Bringing About a Change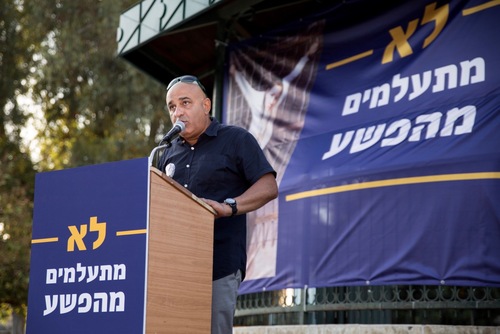 Yoram Levy, principal of a Tel Aviv high school
Yoram Levy, the head principal of a Tel Aviv high school, said, "We, as a nation, should cry out against what's happening in China. As a principal I train generations of children, who should be aware of what's happening in the world outside… if we teach the children about what is happening in the world, I think we can bring about a change."