Falun Gong Activities in Singapore Commemorate 17 Years of Peaceful Resistance
July 18, 2016 | By a Falun Gong practitioner in Singapore
(Minghui.org) Falun Gong practitioners in Singapore held a series of activities at Hong Lim Park on July 11, 2016, to commemorate 17 years of peaceful resistance to the persecution by the Chinese Communist Party (CCP). They exposed the CCP's atrocity of harvesting organs from living Falun Gong practitioners, collected signatures on a criminal report against Jiang Zemin, the chief perpetrator responsible for the persecution, and held a candlelight vigil to mourn for the persecution victims.
People from various countries showed great support for Falun Gong, and signed the criminal report against Jiang.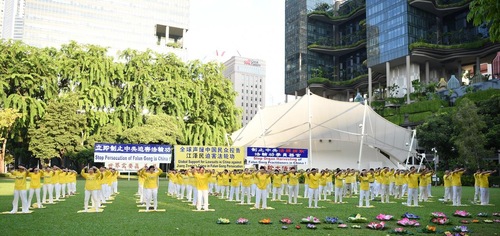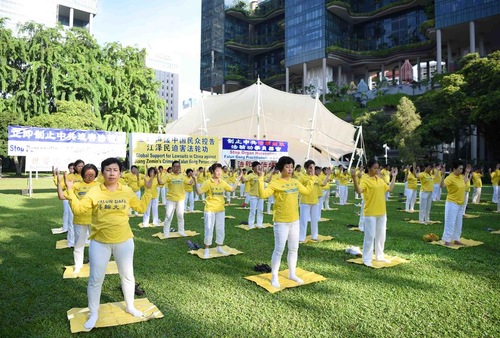 Falun Gong practitioners in Singapore hold group exercise on July 11, 2016.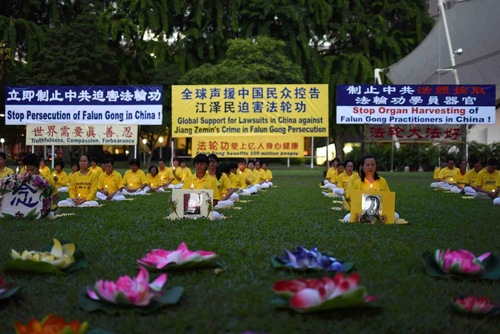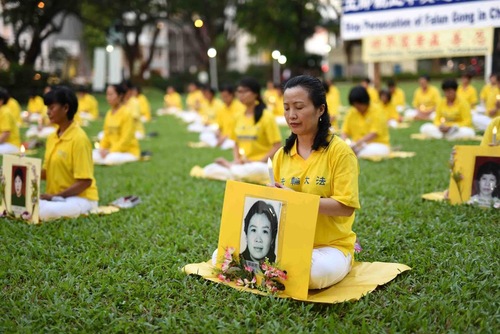 Candlelight vigil in Singapore commemorates fellow practitioners who died in the persecution in China.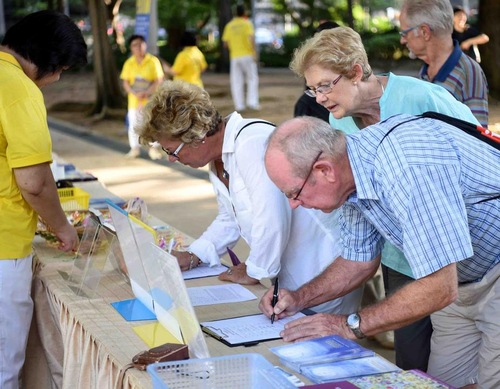 Two couples from South Africa sign a criminal report against Jiang Zemin.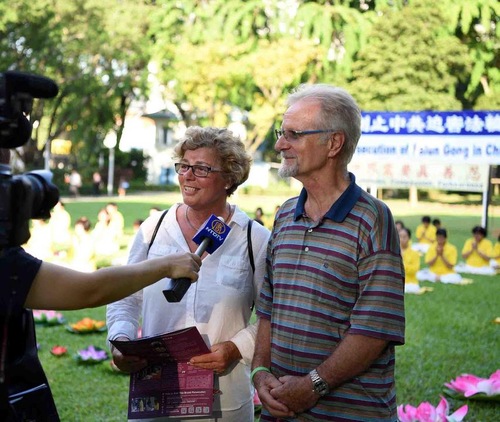 Mr. and Mrs. Gerth from South Africa hope the persecution will end soon.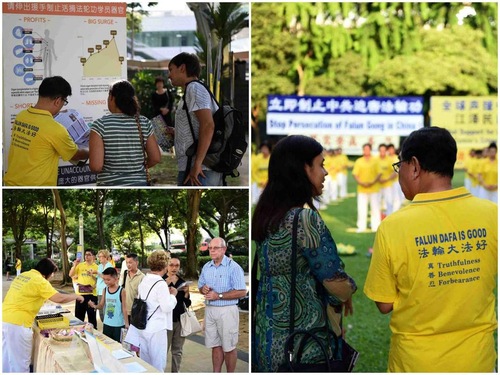 Falun Gong practitioners tell people about the persecution in China.
"A Crime Against Humanity"
While signing the criminal report, Singapore resident Allen said decisively, "I have heard about the persecution of Falun Gong for years. It's anti-human. I'm a Chinese. I will never agree with what the CCP has done...It's wicked to persecute people just because they don't agree with the government. The CCP should immediately stop its atrocity. It's a crime against humanity. I can't tolerate to see good people getting punished. They are innocent. I think Falun Gong is good. All they did was believe in something and their speaking out about the persecution is for all of our benefit."
Allen added, "I think the Chinese government must make a change. They should face the world with an open mind, and give the people more freedom."
Anthropologist: Falun Gong Practitioners Have Right to Practice Their Belief
Professor Shen is an anthropologist. She said, "Falun Gong practitioners have the right to practice their belief." She thought it was a matter of time for Falun Gong to be recognized. She noted that Christianity was originally treated as heresy, but eventually recognized and respected.
Shen is a loyal reader of the Epoch Times newspaper. She said the persecutors had committed crimes for political reasons. "It is like what happened in the era of Jesus and Moses."
Tourist from South Africa: "I Would Like to Join You!"
Two couples from South Africa walked straight to the booth to sign the petition. They had heard about the persecution before. One of them, Mr. David Marshall, said such Falun Gong activities would bring about justice and change the world. Looking at practitioners in their signature yellow T-shirts, he said, "I'd like to get a yellow T-shirt and join you!"
Mr. Uli Gerth thought the CCP's organ harvesting was disgusting. He said, "It's obviously government-sanctioned. If it's underground, it's certainly wrong, but not as shocking as government-sanctioned."
People of All Ethnic Background Support Falun Gong
Khanh and his wife were immigrants from the Vietnam. He had been following up with news about the CCP's large-scale organ harvesting. He thought it would take the collapse of the CCP to stop the persecution. Having grown up in a Communist country, he knew the brutality and tyranny of the Communist Party. That was why he and his family had immigrated to Singapore.
Tourists from Namibia, India and other countries also signed the criminal report, and condemned the CCP's atrocity.
A lady from the mainland China first said signing the criminal report would be political. After a Falun Gong practitioner explained to her why bringing Jiang to justice would help the Chinese and how beneficial Falun Gong was, the lady not only signed the criminal report, but also planned to learn Falun Gong.
The activities ended with a candlelight vigil. Solemn music, twinkling candlelight, and portraits of the martyred Falun Gong practitioners became a reminder of the past 17 years of peaceful resistance to the CCP's brutal persecution, and lit up hope for a better tomorrow.