Freiburg, Germany: Citizens and Tourists Condemn Forced Organ Harvesting in China
July 14, 2016 | By a Falun Dafa practitioner in Germany
(Minghui.org) Pointing to a display board, a boy read a printed price list for organ transplantation surgeries in China: "Cornea 25,000 Euro, heart 120,000 Euro..." His mother interrupted him, "Oh my! This is the devil's price list!"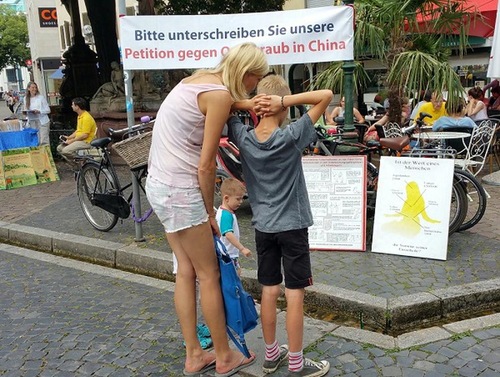 Mother and son reading display boards about state-sanctioned forced organ harvesting crimes in China.
Falun Dafa practitioners organized a signature drive on July 9 in Freiburg, a university town in the Black Forest area, to raise the awareness about the state-sanctioned forced organ harvesting of prisoners of conscience in China, the majority of whom are Falun Dafa practitioners.
Freiburg is a gateway to the Black Forest, a mountainous, heavily forested region of Germany. Its long history and unique natural scenery draw tourists from all over the world. During the July 9 event, many local residents and visitors signed the petition condemning the Chinese Communist regime's organ harvesting atrocities.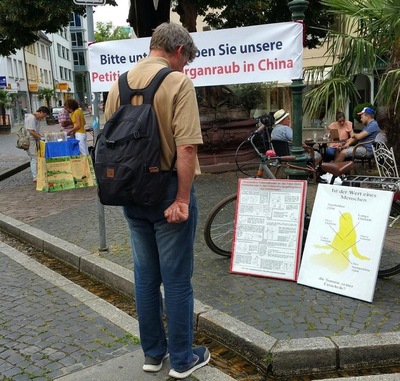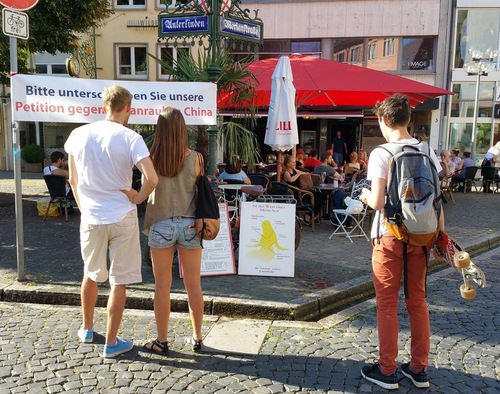 Passersby reading display boards about the Chinese regime's harvesting organs from prisoners of conscience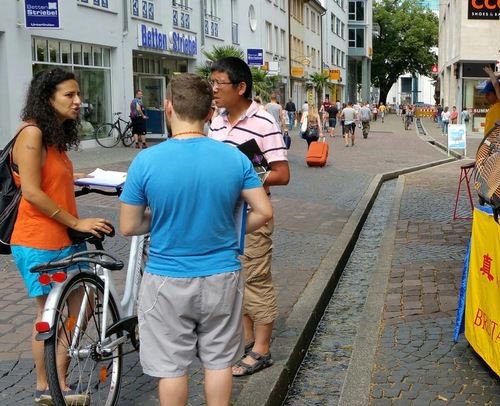 Ms. Khoury, whose parents fled the former Soviet Union, is aware of the human rights violations in communist countries. She signed the petition and suggested that the practitioners go to the medical school of Freiburg University and invite teachers and students to get involved to help stop the organ harvesting.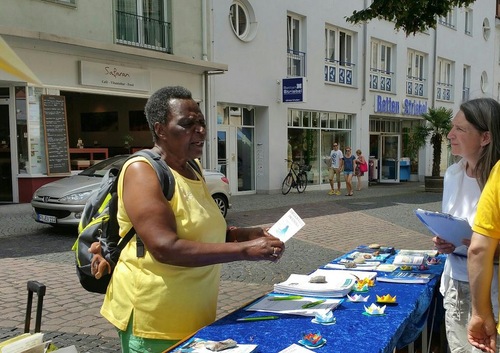 A woman from Kenya said that the human organ trafficking in China is worse than that of Africa because in China it is on a much larger scale and is supported by the government. "This is intolerable! I want to let more people know about it," she said as took some more fliers.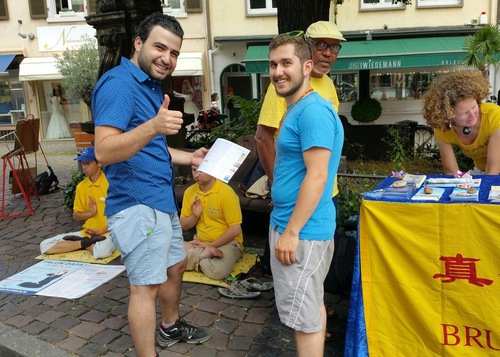 GarZalaen, an Arabic young man, talked to a practitioner for a long time. "Falun Dafa is great! I want to learn the exercises," he said.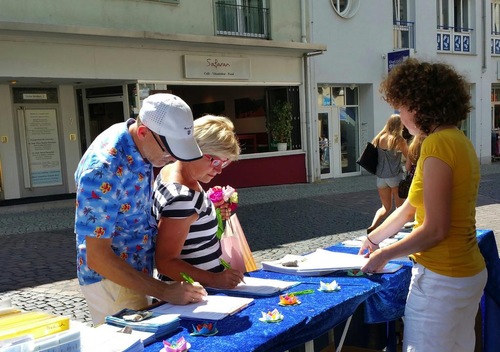 A German couple signed their names to the petition and said that they had signed a similar petition to end the forced organ harvesting in China many years ago. They were upset that the atrocity is still continuing. "Governments [of the rest of the world] must speak up and take action. They can't close their eyes and cover their ears because of economic interests in China," the couple said.
A elderly Chinese man, who was visiting his daughter in Germany, said that he had practiced the Falun Dafa exercises for a short time before the persecution started. "Everyone knows it improves health," he said.
He also said that many Chinese people wanted Jiang Zemin, the former Chinese dictator who started the persecution of Falun Dafa, to be arrested and tried for his crimes.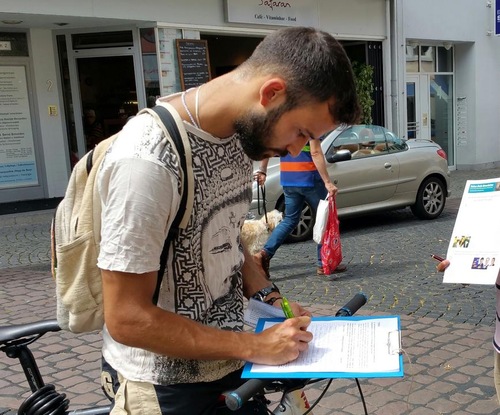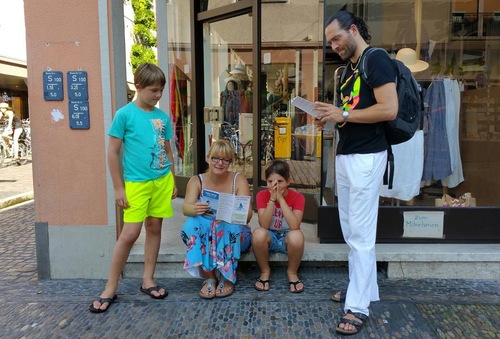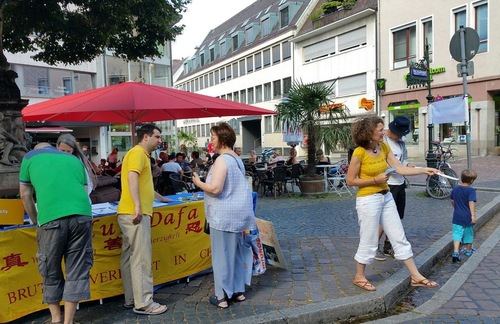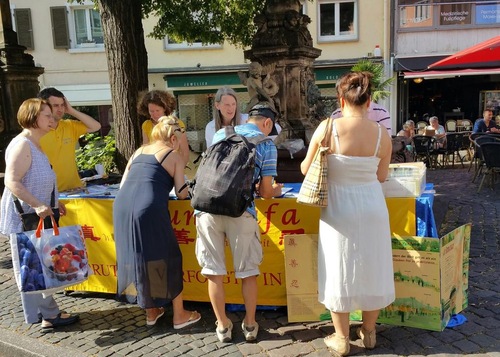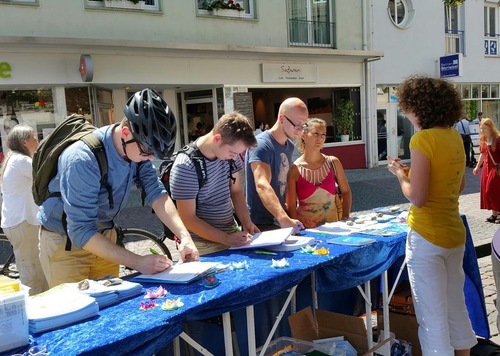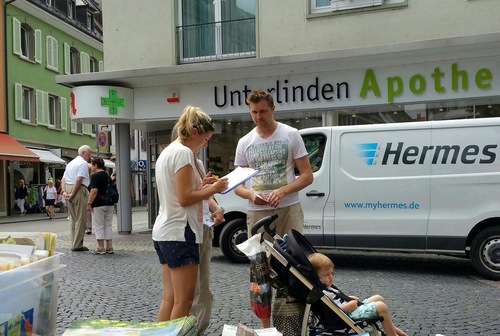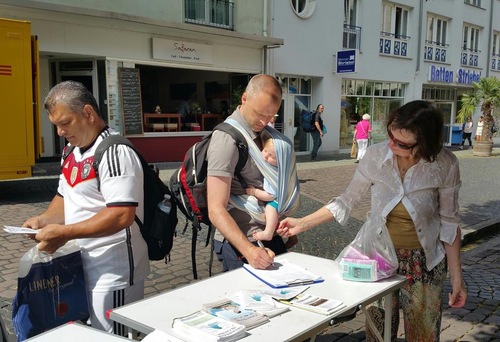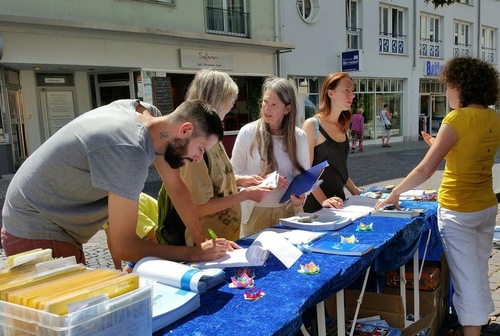 Citizens and tourists in Freiburg sign a petition condemning state-sanctioned forced organ harvesting in China.