Couple from Heilongjiang Province Imprisoned for Seven Years, Ailing Wife Released Early
June 04, 2016 | By a Minghui correspondent in Heilongjiang Province, China
(Minghui.org) After more than seven years in prison, Ms. Sun Lixiang from Mishan City, Heilongjiang Province, was released on November 12, 2014, due to her fragile health, which was caused by abuse. She and her husband Mr. Liu Jinglu were both sentenced to nine years of imprisonment in February 2009. Mr. Liu is still being detained.
Ms. Sun was tortured and made to do forced labor in Harbin Women's Prison. In an effort to "transform" her, both the guards and inmates took turns torturing her. The long-term abuse damaged Ms. Sun's health, and she began to suffer from various ailments. To avoid being held responsible for her condition, prison officials released her before her sentence ended.
Ms. Sun and Mr. Liu began practicing Falun Gong in 1998 and benefited tremendously, both physically and mentally.
Arrested, Tortured During Interrogation
The couple was illegally arrested on June 2, 2008, when they were telling people in Taiping Village about their experience of practicing Falun Gong. Agents from the Jixi City 610 Office and officers from the Mishan City Police Department made the arrest and took them to the Dongshan Detention Center. The officers also confiscated the couple's personal belongings valued at over 400,000 yuan.
In the detention center, the couple was interrogated and tortured by several officers from the Mishan City Domestic Security Division and the Jixi City Domestic Security Division. Ms. Sun was severely beaten and kicked. The officers kept kicking her abdomen until she collapsed and was unable to stand up. One officer told her, "We have many methods to 'treat' you. We can badly damage you internally, but there won't be any bruises."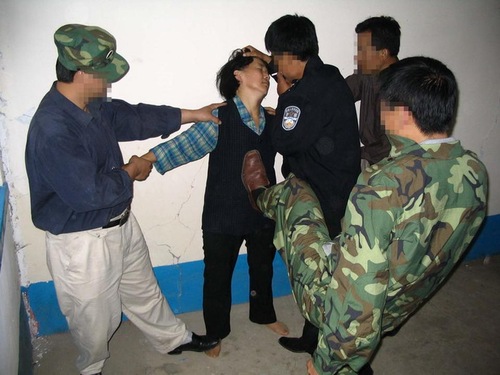 Severe beating and kicking
The interrogation with torture continued until the couple was transferred to the Jixi City No. 1 Detention Center.
Trial and Sentencing
On the morning of October 30, 2008, Ms. Sun and Mr. Liu were tried by the Jiguan District Court in Jixi City. Ms. Sun stated that the police forced her to "confess" by torturing her. The public prosecutor asked the court to adjourn to further investigate her claim.
The court then announced a recess and gave the public prosecutor one month to provide additional documents. When no further documents were ever submitted, the Jiguan Court dismissed the case on December 1, 2008, faxing the decision to the Jiguan District Procuratorate and the couple's attorney.
However, the couple was not released after their case was dismissed. Their relatives then went to the Procuratorate and the police department several times, demanding the couple's release. They received a response a month later, on January 4, 2009, when an official from the Jiguan District Procuratorate told them that the case had been rescheduled because it was "related to Falun Gong."
Ms. Sun and Mr. Liu were illegally detained for nine months, after which they were sentenced to nine years of imprisonment on February 17, 2009. Ms. Sun was sent to the Harbin Women's Prison, and her husband to Mudanjiang Prison.