Sydney, Australia: Falun Gong Activities Draw Compassion
June 24, 2016 | By Hua Qing, Minghui correspondent in Sydney
(Minghui.org) Falun Gong practitioners in Sydney, Australia, have maintained a presence in downtown Sydney, steadily holding activities to raise awareness about the persecution of Falun Gong in China.
In the past few weeks, they set up banners and display boards near the entrance of Hyde Park. Their activities received great support from the public. Many signatures were collected on a petition calling for an end to the Chinese communist regime's persecution and organ harvesting atrocities.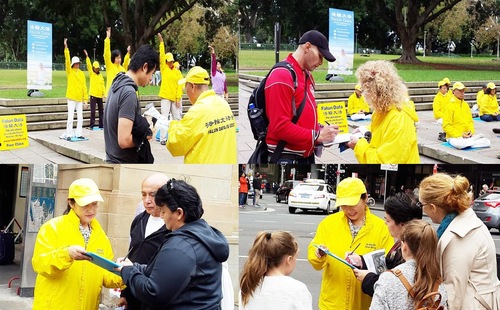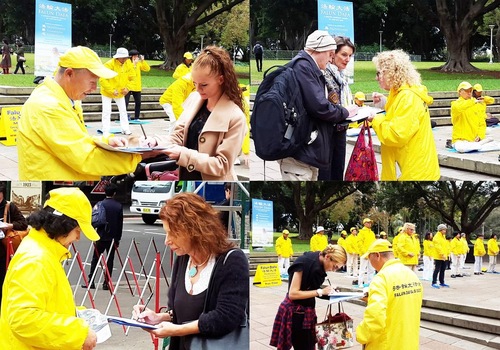 People sign a petition to call for an end to the CCP's organ harvesting from living Falun Gong practitioners in China.
Businessman: "My Friends and I Are Concerned"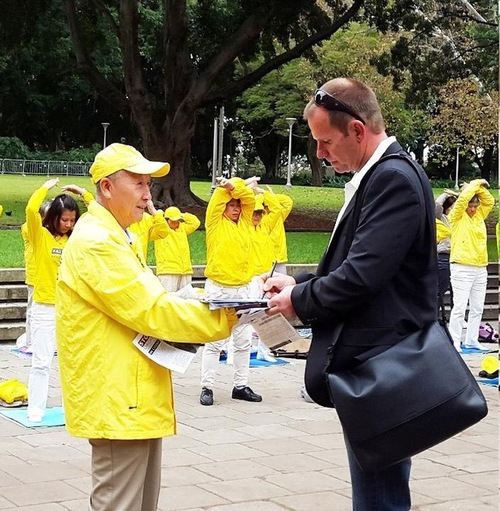 Mr. Glen Donkin signs the petition.
Mr. Glen Donkin, a businessman from South Coast who stopped to sign the petition said he had heard about the persecution and organ harvesting a few years ago.He said, "My friends and I, including those in Canberra, are very concerned. We all hope more forces of justice and conscience will come together to stop the persecution. Organ harvesting from peaceful, innocent people is such a horrible crime!"
"My Brother Won't Go to China for Organ Transplant"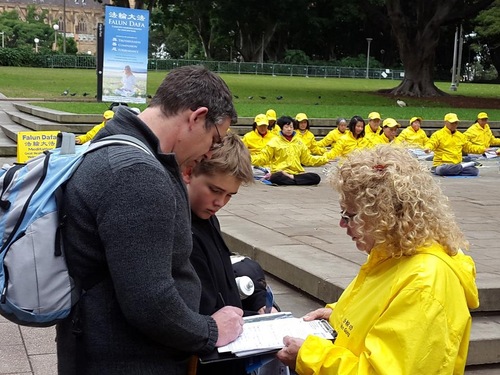 Mr. Andrew Helier signs the petition.
Mr. Andrew Helier and his children happened to pass by the activities. Alarmed by some of the posters, Andrew said, "I knew Falun Gong was persecuted by the Chinese government, but I didn't know how brutal it was. I'm sad to find out their organs are harvested. It's appalling!" Andrew said his aunt donated an organ to her husband and he saw how much pain she had to go through during the process. "It's hard to imagine the kind of pain Falun Gong practitioners suffered when their vital organs were extracted while they were still alive," he said. "I hope the government will do something to stop it. I will tell my friends to come sign the petition."
Andrew mentioned his brother had been waiting for an available organ for five years. He assured, "But my brother won't go to China for organ transplant."
Justice of the Peace (J.P.): "Organ Harvesting Is Genocide"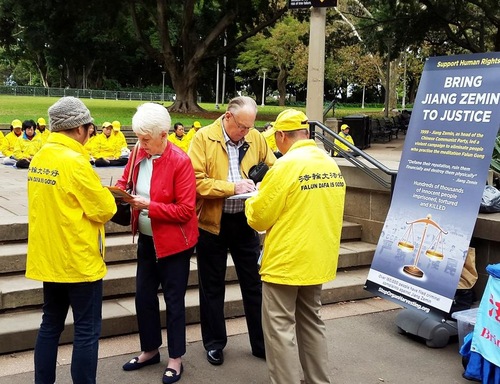 J.P. Lewis and his wife sign the petition.
J.P. Lewis and his wife have heard about the CCP's persecution and organ harvesting. They thought it was an evil crime and a genocide that shouldn't have happened. They hope more people will learn about it and speak out.
"Jiang Should Be Brought to Justice"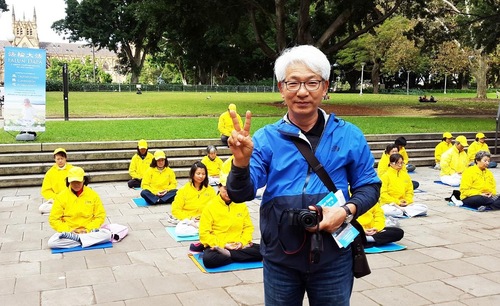 Mr. K Hwan Choi from Korea
Mr. K Hwan Choi, a tourist from Korea, took pictures of Falun Gong practitioners' exercise demonstration. He said, "It breaks my heart to know such great people are brutally persecuted! Seventeen years is too long! The chief persecutor Jiang Zemin is a devil. He has committed monstrous crimes, and should be brought to justice."
"The World Needs Falun Gong's Peaceful Energy!"
Diane Cross and her sister watched the Falun Gong exercise demonstration for a long time. Diane said the energy was so peaceful and wonderful that it made her happy. She felt drawn to it. She thought everyone should learn Falun Gong meditation, because the peaceful feeling would keep them away from violence and anxiety, and dispel their fear and pressure. It would be a beautiful world with people getting along with each other. Diane hoped more young people could learn about the brutal persecution, because it would motivate their conscience, and because they could help spread the news through social media.