The Art of Zhen, Shan, Ren Exhibition Inspires Ukrainians in Kharkiv
June 22, 2016 | By a Falun Gong Practitioner in Ukraine
(Minghui.org) The Art of Zhen, Shan, Ren (Truth, Compassion, Forbearance) International Exhibition traveled to Kharkiv, Ukraine, again from June 8 to June 19, 2016 while on tour. Local residents who visited the exhibition were touched by Falun Gong practitioners' strong faith and unyielding spirit in the face of the brutal persecution by the Chinese Communist Party (CCP).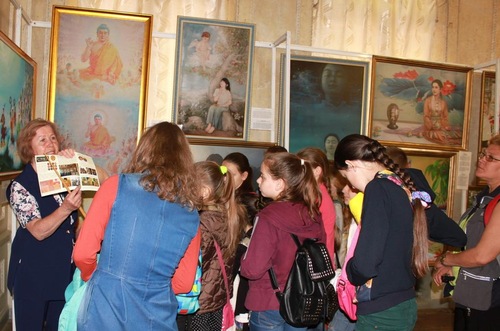 An exhibition guide introduces the artwork to visitors.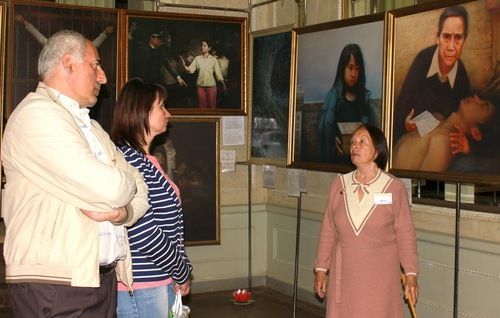 A Ukrainian couple is touched by Falun Gong's principles of Truthfulness, Compassion and Forbearance.
A Ukrainian couple said it was the first time they had heard about the persecution. They were deeply touched by the principles that the artworks conveyed because these principles were "pure, uplifting, and make the world better." They said that society needs Truthfulness, Compassion and Forbearance. They hoped such exhibitions would be held more often, so that people could understand and trust each other more and have fewer conflicts.
Maria, a TV reporter, commented, "Every piece of artwork touches my heart deeply. I know the artists believe in Falun Dafa, which is very profound. But I know little about it. I hope to get more information about this ancient cultivation practice after seeing the exhibition."
Nina, a doctor, told the reporter, "I saw this exhibition three years ago. I was touched then. The persecution portrayed in the artwork is terrible! Even taking a glimpse of it makes me sad. I think more people should see the artworks. It would broaden their perspective, bring out their compassion and endurance, and greatly benefit society."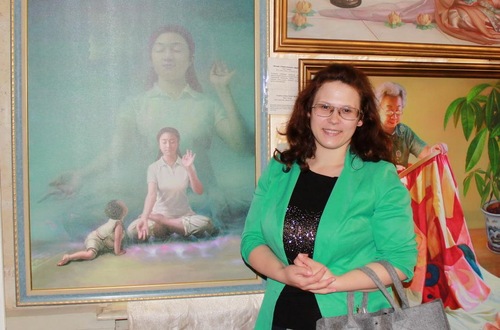 Arina, a reporter, said the artwork speaks directly to the heart.
Arina, a reporter, said no other paintings have impressed her so deeply before. She was stunned by the art exhibition. She said, "You seem to live together with the people in the paintings, and you can understand what is happening and their feelings without any words or music."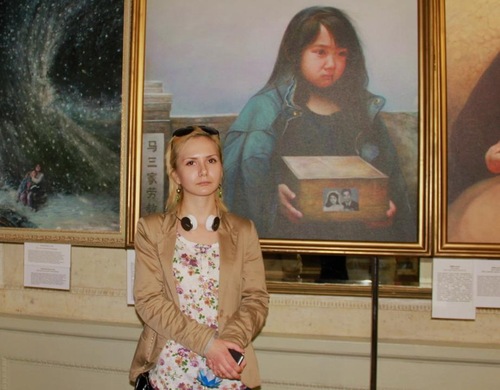 Alina, a college student, was moved to tears by the artwork.
Alina, a college student, said, "I'm so touched by these paintings! I shed tears on seeing An Orphan's Sorrow. I'm sad that almost no one knows this terrible tragedy is happening in China. It's amazing that one would rather die than betray her belief. Only extraordinary people could have such spirit!"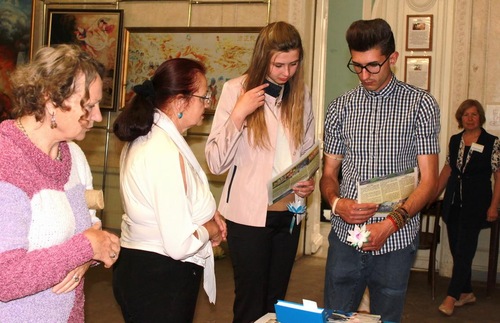 Many exhibition visitors find out information about Falun Gong.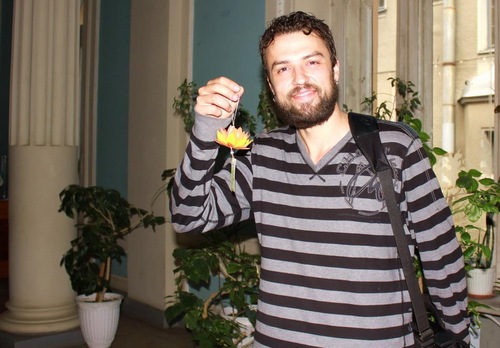 Igor, a lawyer, said he is surprised that he hadn't read about Falun Gong in the news.
Igor, a lawyer, told the reporter, "I learned a lot of new and unexpected information. I have always liked China and its culture. But I didn't know such terrible things are happening in China. This tragedy (persecution of Falun Gong) has been completely hidden from the public view. I follow many major world issues, but it's the first time this tragedy has come upon my eyes." He said he plans to read more about Falun Gong.