Indonesia: 150 Vocational College Students and Teachers on Batam Island Learn the Falun Gong Exercises
May 04, 2016 | By a Falun Gong practitioner on Batam Island
(Minghui.org) Dozens of Falun Dafa practitioners from Batam Island in the Riau Islands Province of Indonesia taught the practice of Falun Dafa (also called Falun Gong) to about 150 students at Tiara Bangsa Vocational College located in Batam on Friday, April 29, 2016.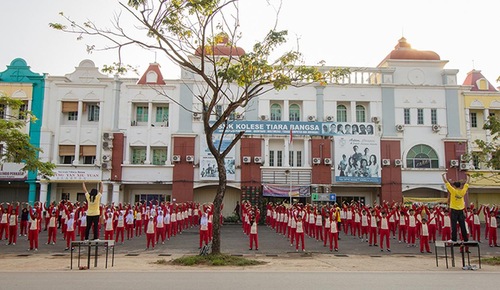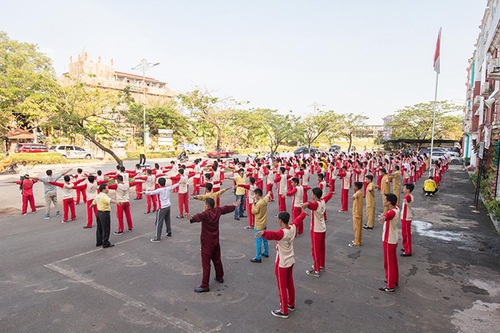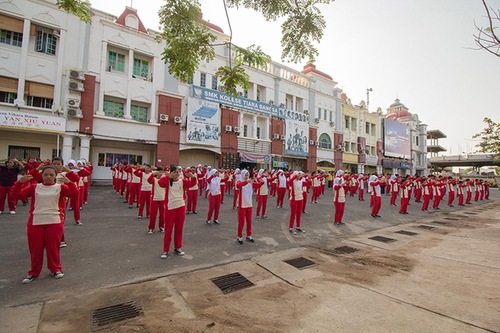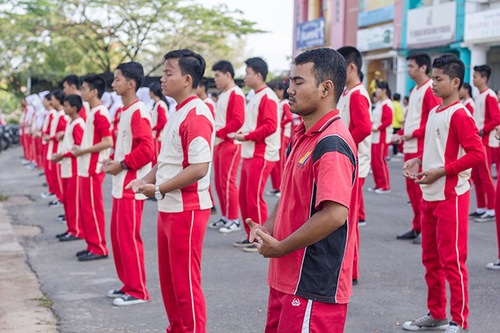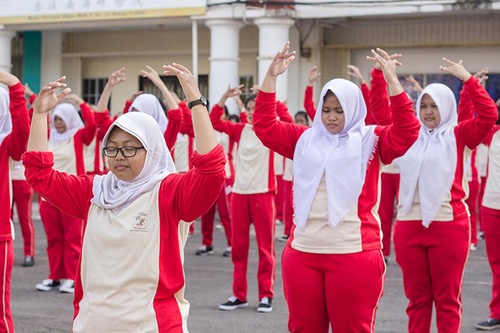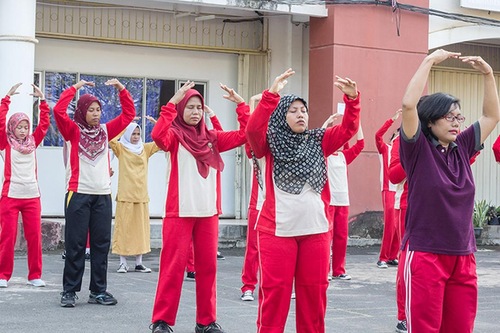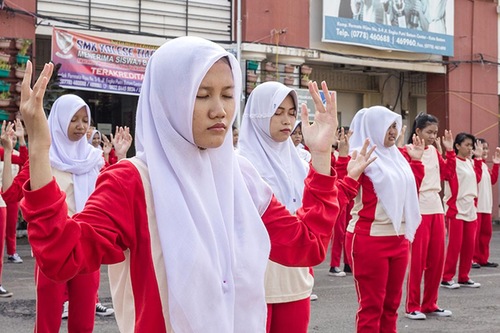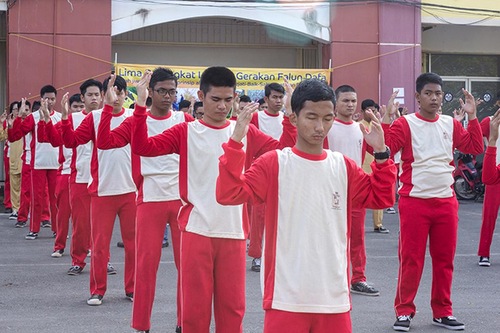 About 150 students and teachers learn to practice Falun Gong.
Both the teachers and students felt a sense of wellbeing after doing the exercises.
Principal Mr. Enjang Suhaedin said that when he started doing the second exercise, "The Falun Standing Stance," he felt nauseous and dizzy, but soon he felt relaxed all over, a feeling that he had never experienced before.
Vice Principal Mr. Antonius said that his shoulder was somewhat stiff, and he was sweaty, but after that his body felt light and comfortable. The exercise music, he said, helped him concentrate and stay focused.
35-year-old Mr. Ronald Efendy, a computer science teacher, said that after practicing Falun Gong, his body felt lighter, he became more open-minded, and he felt something spinning in his abdominal area.
16-year-old Rahma Sarita, an 11th grade accounting major, commented on the relaxing music.
Sarasbianty, an administrative major in 11th grade, said that this was not the first time she'd done the Falun Gong exercises, as she'd already joined a practice site and had done the exercises a few more times. She said Dafa cultivation makes her wiser and kinder. She is more ready to help others. Her friend Laurensia said that she wanted to learn more about the practice because she felt more patient and calm after doing the exercises.
29-year-old Anisma, the computer and accounting teacher, said that, through practicing Falun Dafa, she was able to concentrate, patient, and full of wisdom. She is keen to continue with it.
Signing Petition to Support Prosecuting Jiang Zemin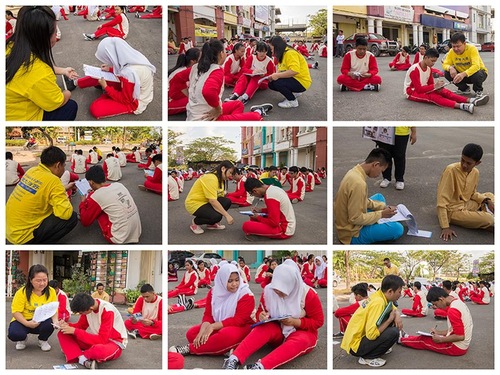 Students and teachers offer support by signing the petition in support of prosecuting Jiang Zemin, the main perpetrator of the persecution of Falun Gong.
A practitioner explained that this practice was being persecuted in his native country, namely China. Practitioners have been persecuted for 17 years and tortured in unspeakable ways, the worst of which is the harvesting of organs from living Falun Gong practitioners for the benefit of the Chinese Communist regime.
As a way to help stop this persecution, the students wrote their signatures on petitions in hopes of bringing Jiang Zemin, the former Chinese dictator, to justice for ordering the persection Falun Gong.