Thailand: Practitioners Celebrate World Falun Dafa Day
May 04, 2016 | By a Falun Dafa practitioner in Thailand
(Minghui.org) Falun Dafa practitioners in Thailand gathered in Lumpini Park in Bangkok on the morning of May 1, 2016, to celebrate World Falun Dafa Day, May 13, and respectfully wish revered Master Li Hongzhi, the founder of Falun Dafa, a happy birthday.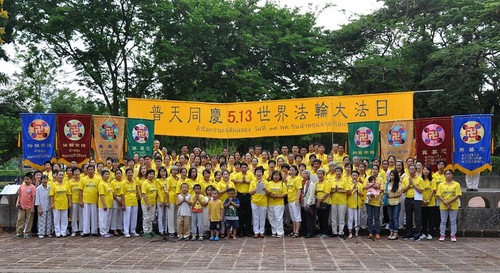 Falun Dafa practitioners in Thailand celebrate World Falun Dafa.
They demonstrated the Falun Dafa exercises, presented artistic performances, including dancing, singing, and playing traditional Chinese musical instruments and waist drums to display the wonderfulness of Falun Dafa and to express their gratitude to Master Li.
Many visitors watched the performances, standing in front of the stage or sitting on the lawn or chairs nearby. Some took videos with their cell phones. Others followed along when the practitioners demonstrated the exercises.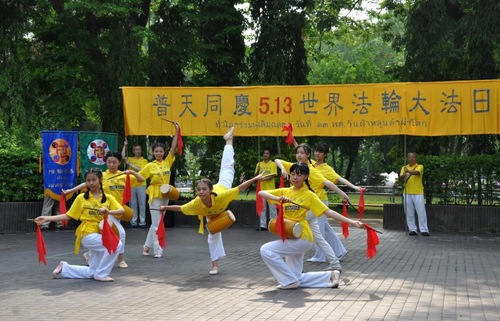 A "Joyous Celebration" dance started the day's festivities.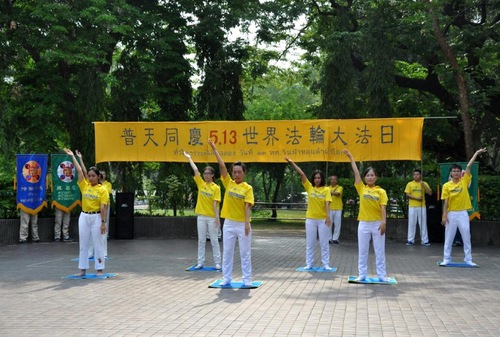 Falun Dafa exercise demonstration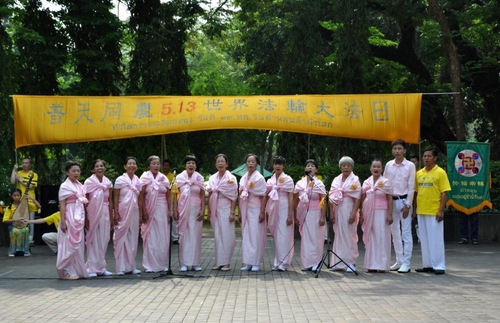 Chorus expressing gratitude to Master's compassionate salvation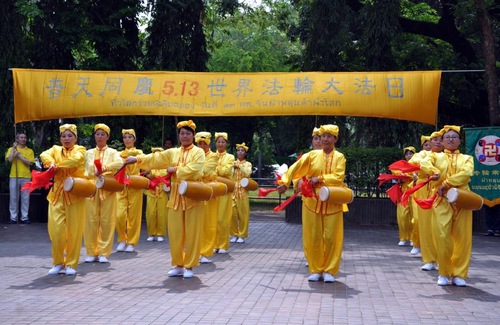 Waist drum performance
At the end of the performance, all the practitioners present stood in five rows on the outdoor stage, with the large banner that said "Heaven and Earth Celebrating Together May 13 World Falun Dafa Day" in both Chinese and Thai in the background.
On either side of the large banner were colorful vertical banners with the Falun emblem and "Truthfulness-Compassion-Forbearance" and "Falun Rotates Continuously" in both Chinese and Thai.
All of them pressed their palms together in a gesture of respect and called out together, "Thailand Dafa Disciples Respectfully Wish Master a Happy Birthday!" "Falun Dafa Is Great, Truthfulness-Compassion-Forbearance Is Great!"
They then sang songs composed by Dafa practitioners, including "Falun Dafa Is Good," "Coming For You!" and "Ode to Master's Grace."