Indiana: Cities of Carmel and Terre Haute Proclaim Falun Dafa Day
(Minghui.org) Mayor James Brianard of Carmel, Indiana proclaimed May 2016 Falun Dafa Month, in honor of Falun Dafa's principles of Truthfulness-Compassion-Tolerance.
The proclamation stated that on May 13th, millions of people across the country will celebrate World Falun Dafa Day, marking the 24th anniversary of the introduction of one of the world's most popular meditation and cultivation practices.
The proclamation noted that over one hundred million people worldwide have become healthier, happier, and more altruistic since 1992, through their practice of Falun Dafa. It stated, "...on World Falun Dafa Day, we hope that you will join in by recognizing the benefits that this great practice has brought to our society."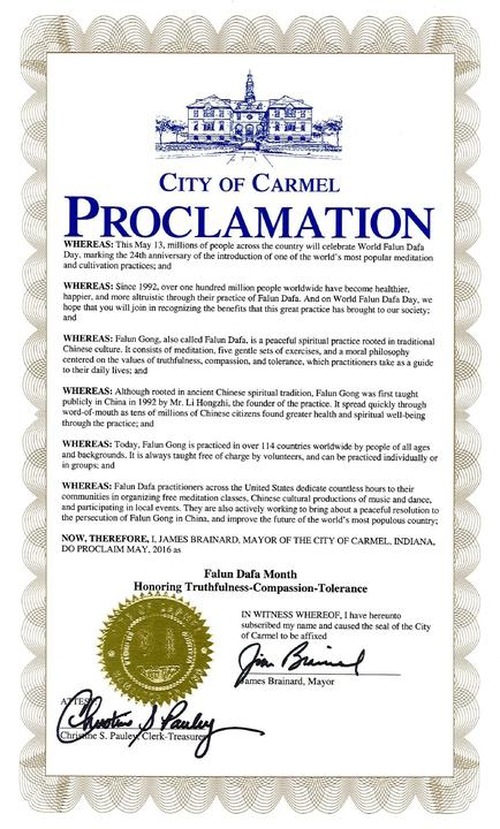 Mayor Duke A Bennett of Terre Haute City, Indiana proclaimed May 2016 Falun Dafa Month.
The proclamation stated that Falun Dafa is an advanced exercise and meditation practice of mind, body and spirit that has brought health and well-being to people across the United States.
It also noted that Falun Dafa practitioners practice the principles of Truthfulness-Compassion-Forbearance and incorporate them into their daily lives, striving to become better people in all environments and situations.
It stated that Mr. Li Hongzhi, the founder of Falun Dafa, is committed to promoting better health and moral living throughout the world.