Hamburg, Germany: Commemorating "April 25" and Calling for an End to the Persecution
May 02, 2016 | By a German Minghui reporter
(Minghui.org) To commemorate the peaceful protest of April 25 in Beijing in 1999, an informational event was held in downtown Hamburg with a vigil in front of the consulate.
On April 23, 2016, Falun Gong practitioners from Hamburg displayed a large banner in Chinese and German to draw attention to the 17th anniversary of Falun Gong practitioners' peaceful protest in Beijing, the largest peaceful protest in modern Chinese history.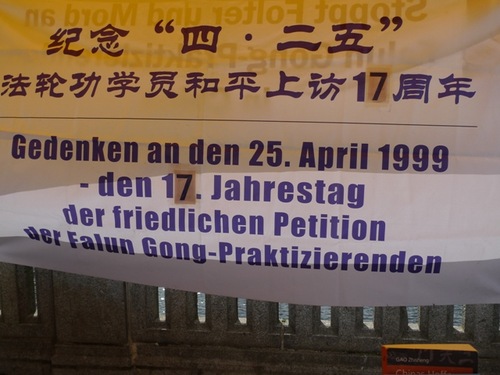 Banners on the Reesedamm-Bridge in downtown Hamburg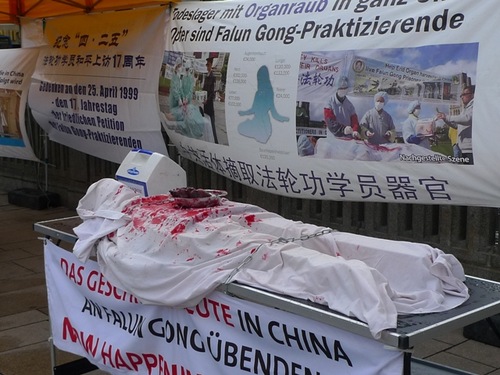 In commemoration of April 25 – Calling for an end to the persecution
Triggered by the unjustified arrests of dozens of practitioners in nearby Tianjin and alarmed by the slanderous coverage of the incident, on April 25, 1999, Falun Gong practitioners from all over China went to Beijing to voice their concerns. Ten thousand practitioners went to the capital of China to report to the authorities that Falun Gong was a peaceful cultivation way that had restored their health and emphasized high moral principles.
They courageously stood up for their belief in the universal principles of Truthfulness-Compassion-Forbearance.
Hamburg: 17 years after the "April 25 Event"
For the past 17 years, Falun Gong practitioners in Hamburg have been committed to informing the public about both the practice of Falun Gong and the persecution of Falun Gong that has gone on in China since July 1999 .
Nina Akbar, from Hamburg has been practicing Falun Gong since 1998 and still remembers the early days in Hamburg after April 25.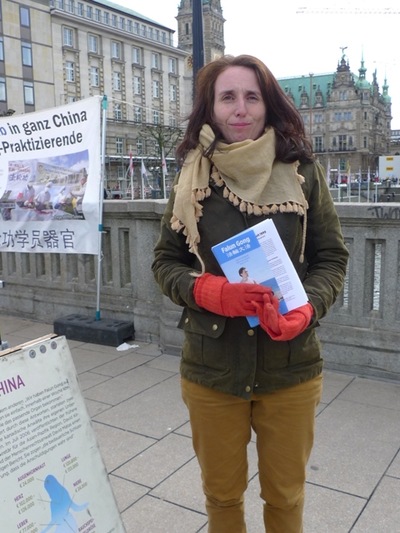 Nina Akbar on the Reesedamm-Bridge in downtown Hamburg
When asked when practitioners in Hamburg first started to draw attention to the persecution, Ms. Akbar replied, "The first thing we did was hold a Germany-wide activity in front of the Chinese Consulate in Bonn. Back then, we just held a vigil and distributed flyers, because we were not as well equipped then with an information table, etc. And we went to talk to the Chinese Consul. That was right after the persecution began in 1999. After that, we held different activities here in Hamburg. We also went to the Chinese Consulate General.
The first two times, the consul even received them.
"The then Consul General himself was very interested in the health benefits of Falun Gong, having read the book, Zhuan Falun, himself. Later, as pressure from the Chinese Communist Party on the consulates grew, we no longer had an opportunity to speak to the Consul personally.
"Then the first media reports were published about what was happening in China and what Falun Gong is. When the first arrests took place in China, reporters from the newspaper Hamburger Morgenpost came to our practice site. That was our first interview. We wanted to show what Falun Gong was, because we had benefited so much from it and because we wanted to clarify the facts to them. Before that, people here and in China only knew what Chinese propaganda said about Falun Gong – that it was a cult, a strange sect, etc.
"Later, we started to hold regular information activities in Hamburg – every week.
"Now the focus is on organ harvesting, the new form of evil. As David Kilgour, a Canadian prosecutor and former Secretary of State for Asia and the Pacific, said, '...people are being killed on demand and their organs are being sold, in order to turn this into a market.'"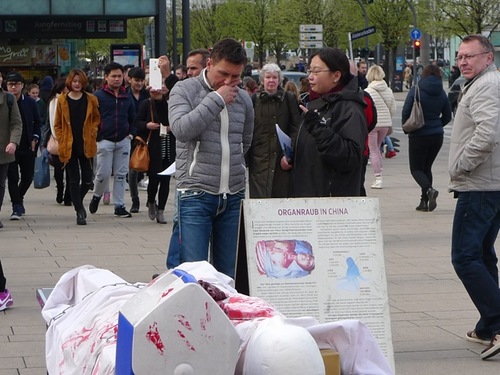 The man in the gray jacket was horrified to learn about forced organ harvesting.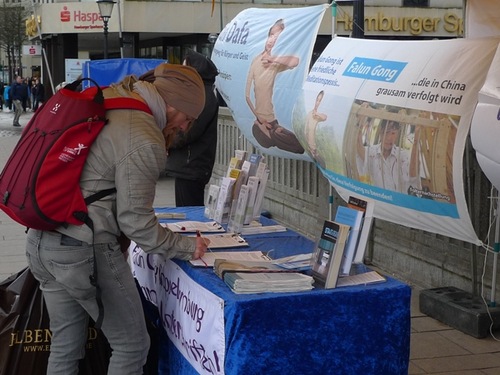 Signing a petition to end forced harvesting of organs from imprisoned Falun Gong practitioners in China.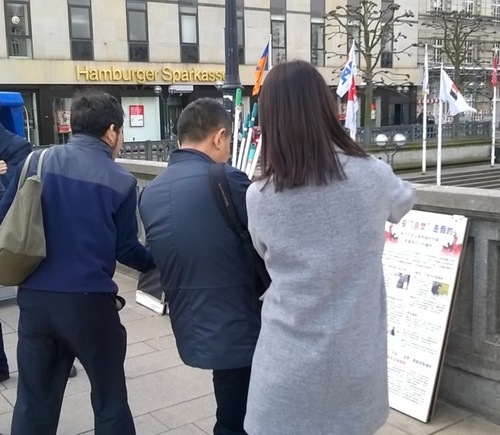 Three people from China take photos of the information about Falun Gong.