424 Arrested in China for Practicing Falun Gong in February 2016
(Minghui.org) According to data compiled by the Minghui website, 424 people are confirmed to have been arrested this February because they refused to renounce their belief in Falun Gong, a spiritual discipline being persecuted by the Chinese communist regime.
The police also ransacked the practitioners' homes, confiscating more than 350,000 yuan in cash.
At the time of writing, 242 of the arrested remain in detention.
Some of the arrests were coordinated ahead of time. Around 20 practitioners were at a private gathering in Jieyang, Guangdong Province when they were arrested. The police had been monitoring the host of the gathering for some time.
The targeted include both young and old, as well as people from different professions. College professor Ms. Song Zhanbiao from Hebei University was removed from her teaching position after her arrest.
The arrests were spread out all across China, covering 26 provinces and centrally-controlled municipalities. Ms. Tang Yuhua, a Canadian citizen originally from Shaanxi Province, was also arrested while visiting her parents. Her whereabouts remain unknown.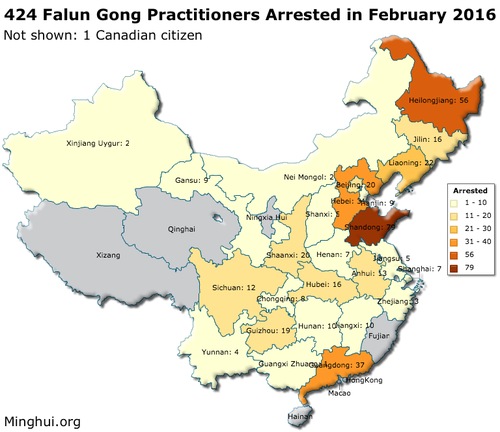 Ten cities in six provinces registered double-digit arrests of practitioners in February.
Harbin, Heilongjiang Province: 18Yantai, Shandong Province: 18Baoji, Shaanxi Province: 17Qiqihar, Heilongjiang Province: 15Weihai in Shandong Province: 13Shenyang, Liaoning Province: 11Liupanshui in Guizhou Province: 11Liaocheng, Shandong Province: 11Qingdao, Shandong Province: 10Wuhan, Hubei Province: 10