[Celebrating World Falun Dafa Day] Dafa's Teachings Touch Many People
May 17, 2016 | By a Falun Dafa practitioner in Russia
(Minghui.org) From East to West, Falun Dafa has spread worldwide. Specifically in the West, tens of thousands have benefited from Dafa, and so have their relations and friends who witnessed the extraordinariness of Dafa's principles of Truthfulness-Compassion-Forbearance.
Mihail, a Falun Dafa practitioner in Moscow, shares with us how his two family members benefited from Falun Dafa.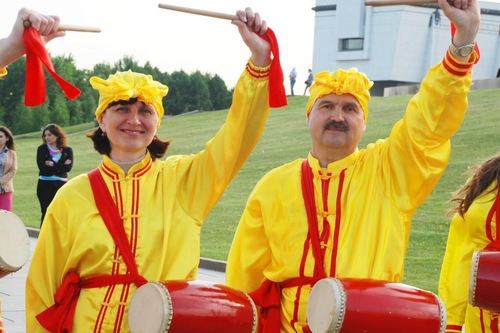 Mihail, a Russian Falun Dafa practitioner, and his elder sister
Free from Chronic Pain after 20 Minutes
My elder sister fell ill in 2001, about two years after I started to practice Falun Dafa. She was diagnosed with an adnexal tumor, growths that form on the organs and connective tissue around the uterus in women. She also had two operations. At the time, I went to work in the morning, looked after my diabetic mother in the evening, and visited my sister at night. She was in great pain and could not sleep at night.
As I practice Dafa, I was sure she would benefit greatly, so I said, "Would you like to listen to Zhuan Falun, the main book of Falun Dafa? If so, I will read Zhuan Falun, a book about the great law of the universe, to you." She agreed to listen.
Master, the founder of Falun Dafa said:
"You can try reading this book to a sick person, and if he can accept its contents, it can heal him, but how effective it is depends on how much karma he has." (The Seventh Talk from Zhuan Falun)
While listening, she fell asleep very quickly. After a while, she woke up and said, "I slept so well three days must have passed. And I'm no longer in pain."
"You've only slept for 20 minutes," I replied.
Cultivating Instead of Taking Medication
My mother is an Orthodox Christian who goes to church every Easter. She went during Easter 2001 and fasted as required by her religion.
As a diabetic, the fasting weakened her health. On her return home from church, she fell and became unconscious. Emergency medics said that her health had deteriorated and she should see a neurologist.
The neurologist prescribed many types of medications, some of which were not to be taken by a diabetic. Therefore, I did not buy the medications, but decided to teach her the Falun Dafa exercises and read Zhuan Falun to her. She practiced Dafa and recovered within six months.
Master said,
"Buddhists believe in saving oneself and saving others, saving all sentient beings, so you don't just need to cultivate yourself, but you also have to save other beings. Other people benefit along with you, and you can adjust other people's bodies and heal other people without even meaning to, and other things." (Zhuan Falun)
My mother also benefited a lot from my practicing Falun Dafa. After her recovery, she told me that she could stand again only because of my practicing Falun Dafa. I know that it was Master who helped her recover.
Zhuan Falun: "The Book Emits Powerful Energy"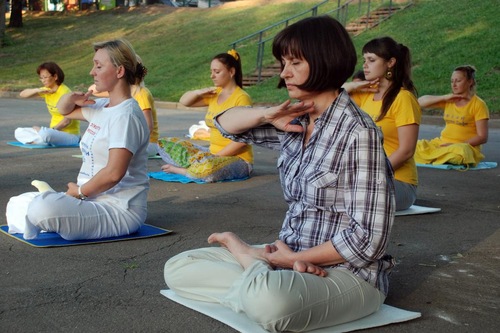 Zoya, a Russian Falun Dafa practitioner in Moscow
Zoya, 55, is a Russian practitioner from Moscow. She began her journey of Dafa cultivation in 2004.
Zoya followed Dafa's requirements and the principles she learned from studying. Consequently, others around her benefited.
"It is not easy to look after children," she said. "Teaching children requires lots of patience. I used to look after a three-year-old boy, an only child. His parents spoiled him and he was disobedient. He would try anything to get what he wanted.
"I told his parents that I practiced Falun Dafa and followed the principles of Truthfulness-Compassion-Forbearance, which are taught in the book Zhuan Falun. The mother asked that I bring her Zhuan Falun.
"She held the book and said, 'The book emits powerful energy. I felt a warm current going up to my elbows. It is amazing.' After reading the book, she asked to keep it.
"To her, I seemed to be different from the two prior babysitters. She thought that this was because I practiced Falun Dafa.
"I was not only patient with the little boy, but also with his parents. Gradually, the parent-child relationship turned for the better. He became more independent and they trusted me more and more.
"The mother had studied psychology and we discussed quite a number of issues concerning life. As Falun Dafa gave me wisdom, I could often advise them wisely.
"The boy learned the Falun Dafa exercises and did them even during their annual holiday trip.
"The boy is grown up now and I no longer work in this family. Nonetheless, the boy calls me and tells me about his activities, still showing great interest in Falun Dafa.
"Disciplining myself in line with Truthfulness-Compassion-Forbearance helped me pass many tests and make correct decisions under complex circumstances."