Chinese Tourists Amazed by Falun Dafa Day March in Hong Kong
(Minghui.org) Falun Gong practitioners from Hong Kong held a grand march on May 8 to celebrate the 17th World Falun Dafa Day and the 65th birthday of Master Li Hongzhi, the founder of Falun Gong.
The 3-hour long march, which took off from Cheung Sha Wan and ended at Star Ferry Pier, made a deep impression on the many tourists visiting Hong Kong, especially those from China.
Three Ph.D. candidates from Tsinghua University, the top college in mainland China, took a lot of pictures of the march. One of them remarked, "It is really amazing. We are so lucky to see this march on our first trip to Hong Kong. I heard about Falun Gong's marches in Hong Kong, but I had doubts. Today, I witness it. To see it live is really an amazing experience."
Ms. Liu from Xi'an, mainland China, echoed. "You cannot see this in China. People have freedom of speech and belief in Hong Kong."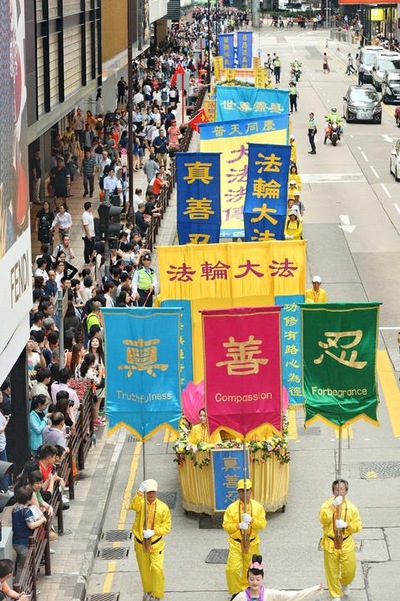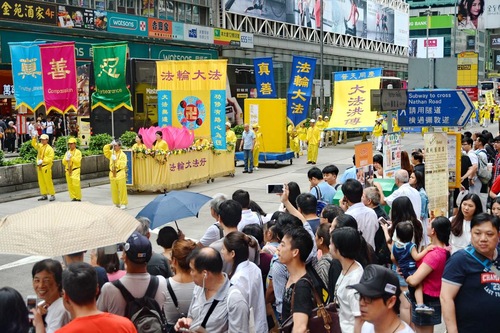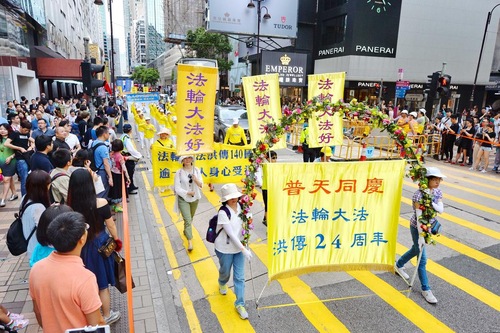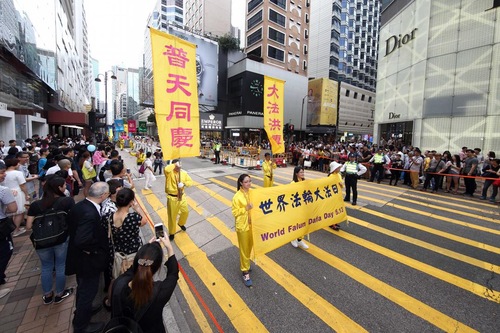 Tourists and Hong Kong residents take videos and pictures of Falun Gong practitioners' grand march.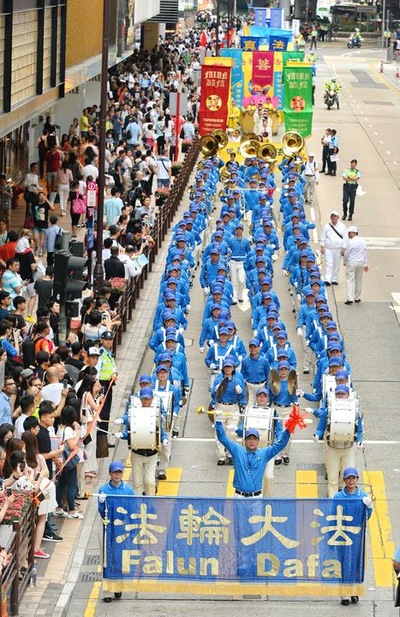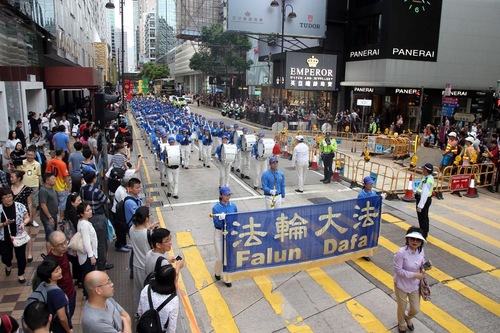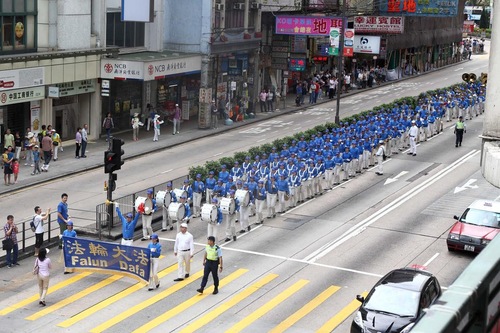 The Divine Land Marching Band leads the march.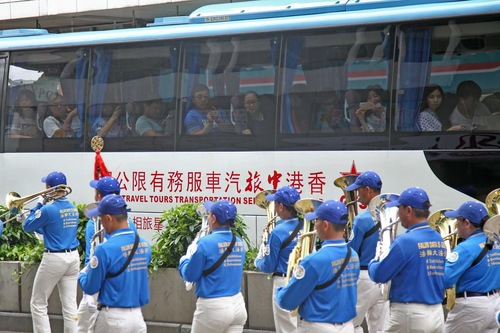 Chinese tourists on a tour bus take pictures as the Divine Land Marching Band passes by.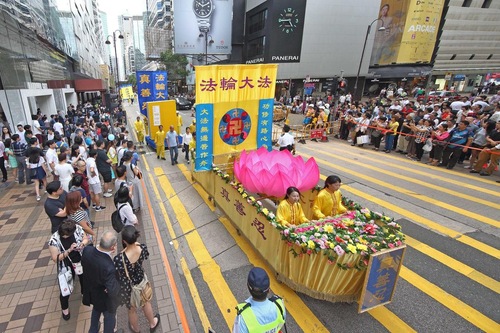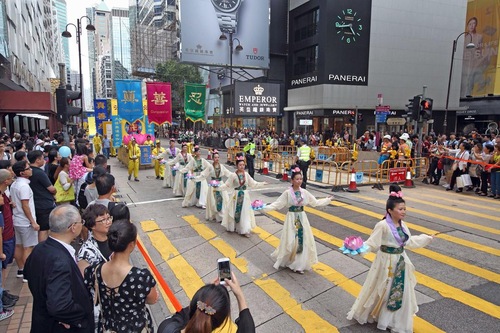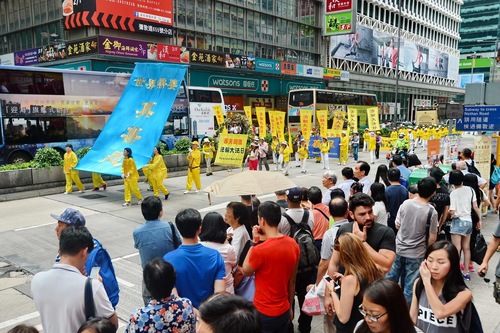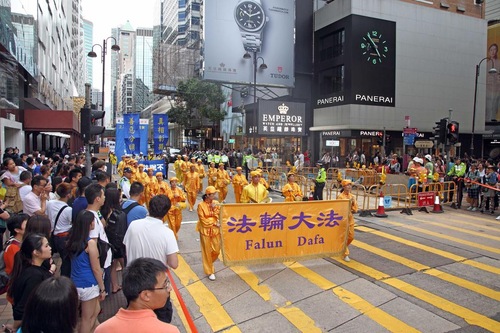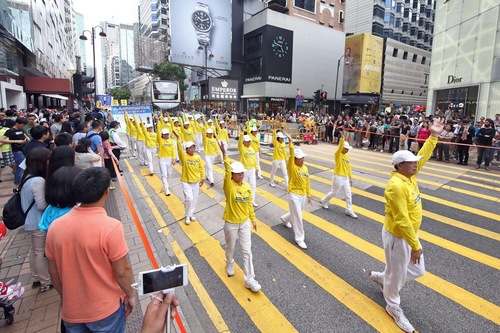 Spreading the message of "Truthfulness-Compassion-Forbearance" to the public
The march consisted of five themed sections interspersed with traditional dancing, a waist drum group, a beautifully decorated float, and Falun Gong exercise demonstrations.
The first themed section introduced the spread of Falun Gong in the world; the second exposed the brutal persecution of Falun Gong in China; the third section revealed the evil nature of the Communist Party, and told the public about the worldwide trend of quitting the Party; the fourth section called for bringing the perpetrators of the persecution to justice; and the fifth called upon the public to learn more about Falun Gong.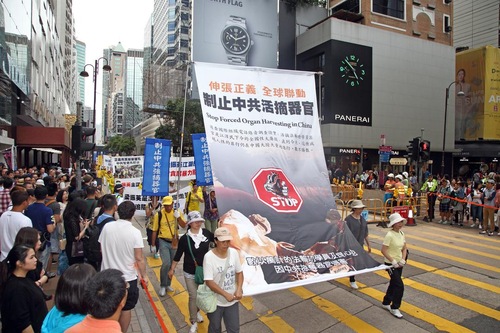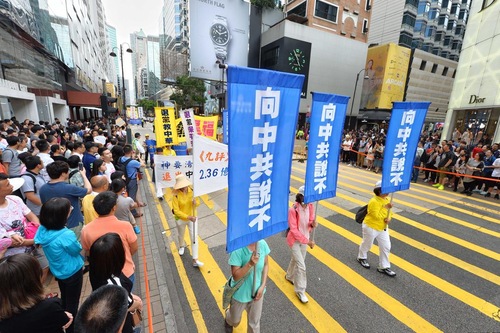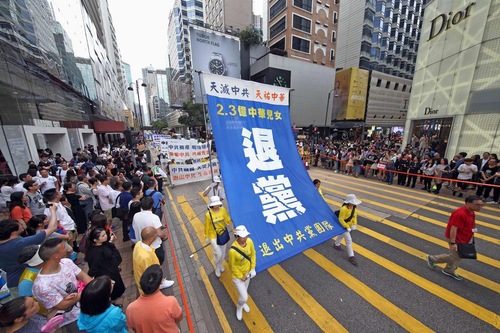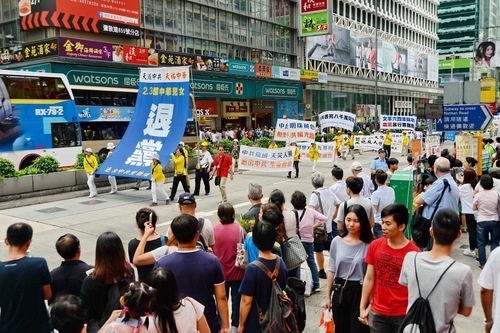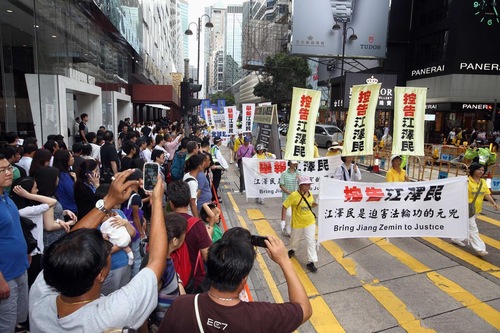 Banners in the third and fourth sections of the march, exposing the persecution and calling on the Chinese people to abandon the communist party.
Many Hong Kong residents warmly welcomed the march and expressed their support. Some people shouted out, "Falun Gong is great!" "Falun Gong, keep up the good work!"
Spectator Mr. Chen said, "This is such a large scale march, yet it is very peaceful. It is so different than other marches I've seen. The Falun Gong practitioners all look so sacred."
A Chinese tourist noted, "Falun Gong teaches Truthfulness-Compassion-Forbearance. I support them."