Houston: Early Celebration of World Falun Dafa Day
May 11, 2016 | By Shu Jing, a Minghui correspondent in Houston Texas
(Minghui.org) Falun Dafa practitioners in Houston did the exercises together on May 7, 2016, to celebrate the upcoming 17th World Falun Dafa Day in Hermann Park.
May 13 this year marks the 17th World Falun Dafa Day and the 24th anniversary of Falun Dafa's public introduction in China, as well as the 65th birthday of its founder, Mr. Li Hongzhi.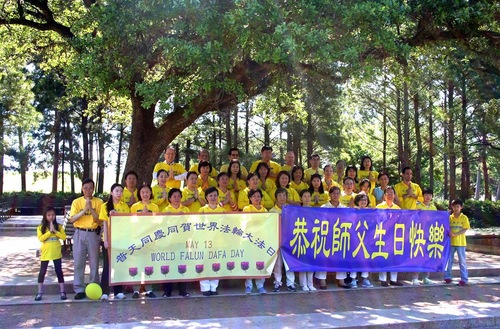 Houston Falun Dafa practitioners wish Mr. Li Hongzhi a happy birthday.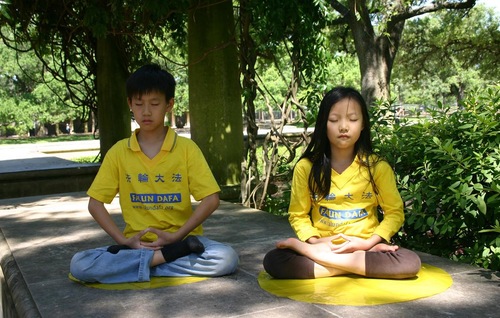 Falun Dafa exercise demonstration in Hermann Park Houston
It was the Saturday before Mother's Day, and the park was full of visitors participating in Mother's Day activities and dragon-boat racing.
Falun Dafa practitioners demonstrated the five exercises in the park. Passersby took photos of them.
Millions of people have take up the practice of Falun Dafa since its public introduction in 1992, and practitioners all over the world have witnessed its transformative power.
Ms. Guo is one of these who experienced the power of Falun Dafa in person. A researcher in a medical center, Guo started practicing Falun Dafa in 1999.
Though still young at the time, she had hereditary hypertension. Six months after she started to cultivate, her blood pressure returned to normal.
When the persecution of Falun Dafa started in July 1999, Ms. Guo's parents believed the propaganda put out by the Chinese state-run media and held a negative view of Falun Dafa.
Ms. Guo was not swayed by the Communist Party pressure or her family. She continued to be obedient to her parents and truly cared for them. Occasionally, she shared some of her experiences of practicing Falun Dafa with them.
Seeing the merits of Falun Dafa through their daughter, her parents commented, "Falun Dafa is great! Truthfulness-Compassion-Forbearance is great!"
Guo, her husband, her son, and her parents-in-law are all Falun Dafa practitioners, and the entire family gets along well.
To Ms. Liao, the benefits of practicing Falun Dafa is as much mental as physical. Already in her 70s, she said the exercises changed her from a pessimistic and unhappy person to a happy and energetic one.
She had wondered about the meaning of life for a long time. She visited temples and churches but was still troubled with many questions about life.
Her husband saw a notice about a free Falun Dafa teaching class in the Epoch Times newspaper in 2002. After he took the classes, he began to practice Falun Dafa.
When he played the audiotapes of Mr. Li Hongzhi's teachings, she listened and thought it was a very good exercise. Wanting to learn more about Falun Dafa, she read Zhuan Falun, which answered many questions for her.
Following the teachings, she learned to look inward whenever there was a conflict and always thought of others before herself. She now enjoys peace of mind and is no longer troubled. Her insomnia disappeared without a single pill. She sleeps well and wakes up full of energy.
Recognizing the merits of Falun Dafa, several elected officials in the state sent proclamations and greeting letters to celebrate World Falun Dafa Day, including Senators Ted Cruz and John Cornyn, and Congressmen Pete Olson, Eddie Bernice Johnson, John Culberson, Marc Veasey, and Ted Poe.
Mayor of Houston Mr. Sylvester Turner proclaimed May 13, 2016, "Falun Dafa Day."