"We Must Stop the Persecution!" - Madrid Residents Sign Petitions to Help Commemorate 17th Anniversary of Falun Gong Protest
April 30, 2016 | By a Minghui correspondent from Spain
(Minghui.org) "I've been to so many places in China, but I had never heard about the horrific crimes being committed against Falun Gong practitioners. [The Chinese regime] is persecuting innocent people for their faith. This is absolutely unacceptable! We must stop the persecution!"
These were heartfelt words from a Spaniard as she signed a petition calling for an end to the persecution. Last Saturday, practitioners in Madrid held activities to commemorate the 17th anniversary of Falun Gong's peaceful protest outside the Chinese central government compound.
More than 10,000 Falun Gong practitioners gathered in Beijing on April 25, 1999, to protest the illegal arrest of practitioners and to demand freedom of belief. Former Chinese dictator Jiang Zemin launched a nationwide campaign against Falun Gong three months later.
Since then, practitioners inside and outside China, including those in Madrid, have continued their non-violent protest against the persecution.
Many Madrid residents were shocked to learn on April 23 that practitioners in China could be subjected to arrest, torture, live organ harvesting, or even killed simply for their faith. They condemned the Chinese Communist Party's crimes and signed the petition.
Practitioners in Madrid also helped some Chinese people clear up their misunderstandings of the persecution. Some quit the CCP and its affiliated organizations over the course of the day.

Banners reminded people of the live organ harvesting and torture of practitioners.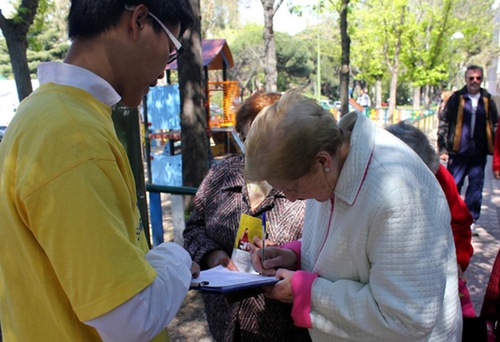 Signing the petition outside the Chinese embassy in Madrid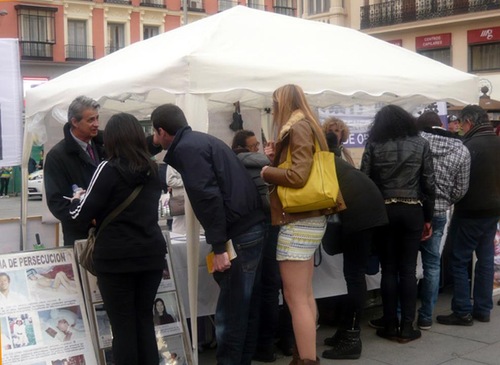 Reading display boards and asking questions at Callao Square
A Mother: "I Hope the Persecution Ends Soon!"
A middle-aged woman signed the petition after learning what has been happening to practitioners in China.
She next gathered her family so that they could sign, too. She said, "I really hope the persecution ends soon, so that the Chinese people can also enjoy freedom of belief!"
A Young Chinese Man's Misunderstanding Cleared Up
A young Chinese man lingered in front of the posters and listened attentively to a practitioner talk about what transpired on April 25, 1999. He had heard about the "4.25" incident but always thought Falun Gong practitioners had "besieged" the central government compound.
The practitioner's explanation cleared up his misunderstanding, and he expressed interest in finding out more about Falun Gong and the persecution.
Visiting Chinese Parents Become Supportive of Falun Gong
A Chinese couple who was visiting their daughter in Madrid were initially a bit apprehensive. The husband appeared very nervous when a practitioner walked up to give them informational materials.
The wife scanned the flyers and asked, "What? The self-immolation was staged?"
The practitioner explained that it was a carefully orchestrated event used to frame Falun Gong and instigate the public's hatred towards the peaceful meditation practice. She shared her own experience: Several of her family members were persecuted to death for their faith. She was lucky enough to emigrate to Spain and felt compelled to inform the public of what was happening in China.
The husband loosened up and gave the practitioner a thumbs-up. He began to ask questions and became very supportive.
A Chinese Tourist Takes Pictures
A Chinese tourist took a lot of pictures of the display boards and said that he planned to share them with his friends. He already knew about the arrest and torture of practitioners but still wondered why Falun Gong "doesn't allow people to see doctors."
A practitioner responded, "Nowhere in the Falun Gong books does it ever say people are prohibited people from seeking medical care. The CCP fabricated that lie to deceive the public."
"I see," he nodded.
A Chinese Student Quits the CCP
As the practitioners were getting ready to leave, a Chinese student ran over, almost out of breath. He asked, "Do you have any more informational materials? I want a few copies to show my classmates." He had heard about the live organ harvesting and wanted to help spread the word.
He also quit the CCP.
Background Info on "4.25 Peaceful Protest"
Video: The Protest That Changed China: - a 21-minute documentary filmThe Peaceful Appeal of April 25, 1999 - a discussion of the topic from many anglesApril 25th Events - coverage of events marking the anniversaries of April 25