From Chicago to Houston, Peaceful Demonstrations in Front of Chinese Consulates Call to End the Persecution
April 28, 2016 | By Minghui correspondent Shu Jing
(Minghui.org) Seventeen years ago, the illegal arrest of 45 Falun Gong practitioners in Tianjin led to a peaceful appeal in Beijing joined by about 10,000 practitioners. Three months later, Jiang Zemin launched the nationwide suppression that is still ongoing.
Practitioners from Chicago and Houston went to the Chinese consulate over the weekend, calling for an end to the persecution.
Chicago
With banners reading "Stop persecuting Falun Gong" and "Falun Dafa teaches Truthfulness-Compassion-Forbearance", Chicago practitioners gathered by the street across from the Chinese Consulate at 5 p.m. on April 23.
Practitioners Ding Xiangyu and Andy Darin recalled the peaceful appeal 17 years ago. Yang Sen, coordinator of the Mid-USA Falun Dafa Association, said the incident had historical significance. "The firm belief of Falun Gong practitioners, based on the principles of Truthfulness-Compassion-Forbearance, is safeguarding the spirit and core values for both China and the entire human civilization."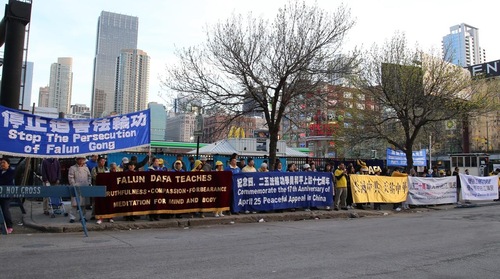 Peaceful protest by Falun Gong practitioners in front of the Chinese Consulate in Chicago on April 23, 2016.
"We believe that truth will bring the defamatory propaganda to an end. And we believe more Chinese will act upon their conscience to support justice. By supporting Falun Gong practitioners, and by supporting the common good, they are walking towards a better future, for themselves and for the nation."
Through the years, many young practitioners in China have suffered tremendously, just like adults. Sun Xinyu, a 23-year-old engineer working in Springfield, began to practice Falun Gong at the age of four. "Falun Gong taught me to be nice to others." By knowing what is right and what is wrong, it was easy for him to stay away from bad habits and other temptations.
The harsh suppression was nonetheless a major challenge that Xinyu had to face every day when he was China. "Although Falun Gong taught us to be better people, the slanderous propaganda in China misled my classmates and teachers. They could not understand me and treated me badly." Despite the huge pressure, Xinyu said he did not give up his belief.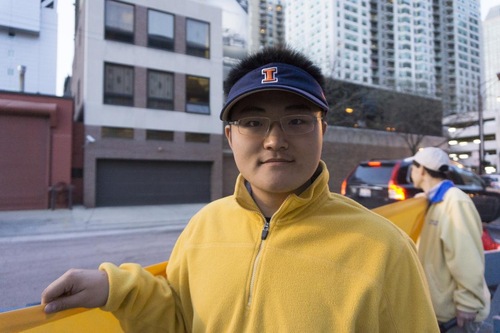 Sun Xinyu, 23, works as an engineer in Springfield
The event included a candlelight vigil at dusk. Many people learned about the persecution in China. Two Spanish tourists, Antonio and Christian, listened attentively as a practitioner explained to them what Falun Gong is and how practitioners have been mistreated in China for their belief.
"Thank you for telling us these things," Christian said to the practitioner, "We'd never heard about it before. But this is very important." He said that he would forward the pictures he took about the event to El Mundo, the second largest newspaper in Spain.
Houston
Practitioners in Houston went to the Chinese consulate at 9 a.m. on April 25 to raise awareness of the suppression in China. Many passersby stopped to learn more, and some signed petitions to support the practitioners.
Two pedestrians in their 60s said that they had heard about the persecution before and were glad to help. Several drivers also stopped at the intersection to get information materials.

Houston practitioners called for an end to the persecution in China.
Two men asked a practitioner to help them quit the Chinese Communist Party (CCP) organizations. The older one thanked the practitioner, "Glad to talk with you today. Each of us has to follow his or her own conscience."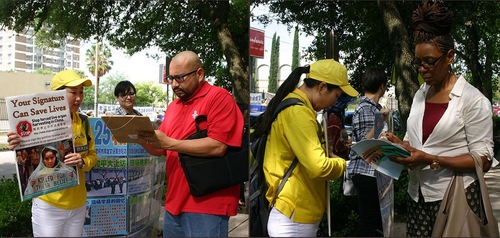 Passersby sign petitions to support the Falun Gong practitioners
Hard to Believe, an award-winning documentary on the forced organ harvesting from living Falun Gong practitioners in China, was screened at a meeting room of Southwest National Bank two days earlier.
After watching the film, one of audience, Mr. Li, said he was severely disturbed by the heinous crimes committed by the CCP. Another audience member, who used to work in China as a medical professional, said, "I believe what we have seen in the film. What we saw is hideous, but does happen in China."