Family Brutalized in the Persecution, Matriarch Files Lawsuit Against Jiang Zemin
March 08, 2016
|
By a Minghui correspondent from Jilin Province
(Minghui.org) Falun Gong practitioner Ms. Chen Shuhua from Jilin City filed a lawsuit in September of 2015 against former Chinese dictator Jiang Zemin, who launched the persecution of Falun Gong.
In Ms. Chen's family nine people practice Falun Gong and they were persecuted in varying degrees. Her son and granddaughter-in-law were tortured in labor camps, her grandson died in a detention center, and her daughter was tormented to the point of a mental breakdown.
Ms. Chen's grandson, Mr. Wang Jianguo, was tortured in a labor camp for two years. On March 2, 2006 the police arrested and put him in a detention center. To protest Mr. Wang went on a hunger strike. He died as a result of force feeding 40 days later at the age of 30.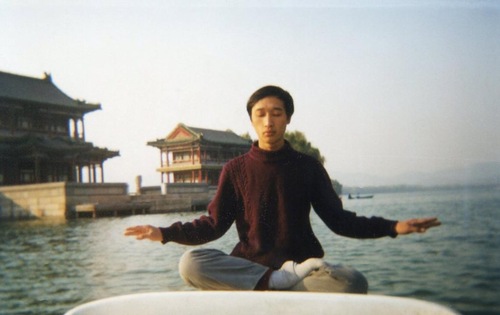 Mr. Wang Jianguo.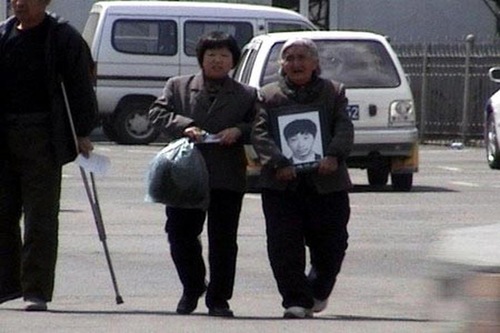 Ms. Chen Shuhua wants justice for her deceased grandson Mr. Wang Jianguo.
The police arrested Ms. Chen's son Mr. Wang Shusen in August 2001 and relentlessly tortured him. He was then put in forced labor camps for two years, forced to perform hard labor, and given very little food.
Ms. Chen's granddaughter-in-law, Ms. Zhao Qiumei, was arrested six times. She was incarcerated, brainwashed, and put in forced labor camps twice for a total of three years. She was beaten, shocked with electric batons, injected with unknown drugs, and eventually developed a severe heart condition from the torture.
Ms. Wang Xiufen, Ms. Chen's daughter, was arrested many times because of her practice. She was put in Heizuizi Women's Labor Camp in March 2000. In an attempt to force her to give up the practice, the guards kept her awake for three weeks and brutally tortured her.
She was placed on the backs of two wood chairs, with four men holding her arms and legs down, so that her body was suspended in the air. This is called the "flying torture." The guards stripped her and shocked her with seven electric batons. Ms. Wang lost consciousness due to the excruciating pain.
The next day the guards wanted Ms. Wang to sign five statements to renounce her belief and promise that she would stop practicing. When she refused, she was given the "flying torture" again. Later the guards put unknown drugs in her drinking water and food, causing her to be disoriented. Her skin turned gray within three weeks. She became emaciated and spoke incoherently.
When she was released, she was still mentally unstable. Three days later the local police forced her to leave Jilin City and go out of town to her husband. The police escorted her to the train station and revoked her residence registry in Jilin. Her husband, seeing her condition, divorced her. She is now unable to work without her registry and is now financially dependent on other family members.
Background
In 1999, Jiang Zemin, as head of the Chinese Communist Party, overrode other Politburo standing committee members and launched the violent suppression of Falun Gong.
The persecution has led to the deaths of many Falun Gong practitioners in the past 16 years. More have been tortured for their belief and even killed for their organs. Jiang Zemin is directly responsible for the inception and continuation of the brutal persecution.
Under his personal direction, the Chinese Communist Party established an extralegal security organ, the "610 Office," on June 10, 1999. The organization overrides police forces and the judicial system in carrying out Jiang's directive regarding Falun Gong: to ruin their reputations, cut off their financial resources, and destroy them physically.
Chinese law allows for citizens to be plaintiffs in criminal cases, and many practitioners are now exercising that right to file criminal complaints against the former dictator.
Below are previous reports regarding the persecution of Ms. Chen Shuhua's family members:
Family Torn Apart, Falun Gong Practitioner Wang Shusen Sues Former Chinese LeaderIn Memory of Fellow Practitioner Mr. Wang Jianguo (Photo)Jilin Detention Center Guard Insists: "His Death Had Nothing To Do with Us"Ms. Zhao Qiumei Tortured in Labor Camp--Husband Wang Jianguo Persecuted to DeathPolice Tear Down Mourning Tent After Practitioner Wang Jianguo's DeathJustice Should be Done and the Guilty PunishedPractitioner Wang Jianguo's Family Appeals for Wang's Death Case and Voices Grievance (Photos)Additional Information on the Persecution Death of Falun Gong Practitioner Wang JianguoWang Jianguo Killed; His Wife in Detention and Parents Threatened (Photos)Practitioner Couple Arrested by Jilin City PoliceMr. Wang Jianguo, 30, Persecuted to Death at the No. 1 Detention Center of Jilin City (Photos)Jilin City Police Brutality Exposed: Grandmother in Her 80s Protests Death of Her Grandson