Rally at Chinese Embassy in Washington DC Calls For Release of Falun Gong Practitioners Detained in Tianjin
March 06, 2016 | By a Falun Gong practitioner in Washington DC
(Minghui.org) Falun Gong practitioner Xu Runtao, whose mother was recently detained in China for displaying a Falun Gong banner, spoke about her mother, Wang Sirong, at a rally held in front of Chinese Embassy in Washington DC, at noon on March 3, 2016. She said, "When I heard the news that my mother had been detained, I could not believe it. She told me to take care of myself a few days ago." The rally's goal was to raise awareness of the incident and request the immediate release of her mother, and three other Falun Gong practitioners recently detained in Tianjin, China.
Practitioners Wang Sirong, Li Xiaohe, Li Xiaoxiao, and Xiong Wei had hung banners in Wangdongti, Tianjin on Chinese New Year (February 8, 2016). The banners read, "Greetings Tianjin Residents! Falun Dafa is Good. Truthfulness-Compassion-Forbearance is Good."
Wang Sirong was arrested and her home ransacked on February 13. The other three practitioners were later arrested and detained. They are detained in Tianjin's Nankai Detention Center.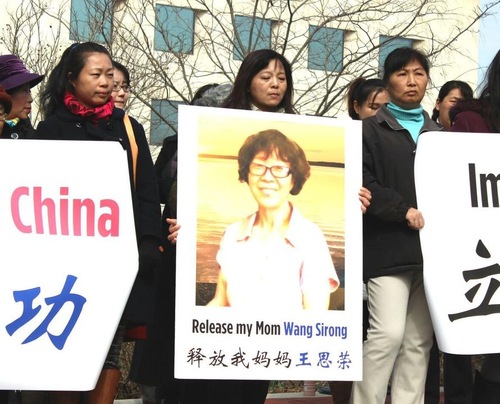 Falun Gong practitioners hold a rally in front of Chinese Embassy on March 3, 2016 to request the immediate release of practitioners recently arrested in Tianjin.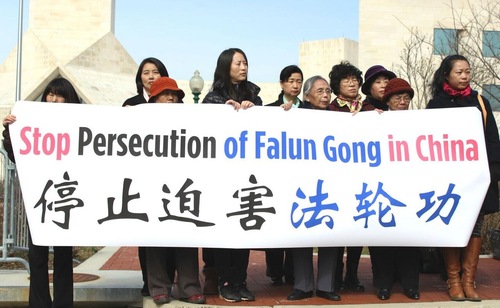 It is estimated that at least 735 Falun Gong practitioners were arrested around Chinese New Year. Sixteen practitioners in Tianjin are currently being detained.
Practitioner Ms. Xu said that her mother previously had many illnesses, and could not walk well due to a lumbar facet joint disorder. She suffered in agony, both physically and mentally. She had visited all of Tianjin's major hospitals, and taken various medications, including traditional Chinese medicine, with no improvement. Several well-known doctors suggested that she would have paralysis in the future.
"At that time, she suffered with illness and agony," said Ms. Xu. "She told me many times that life was too hard. I cried many times for her. She started practicing Falun Gong in early 1997, and all of her illnesses disappeared after one month. It was a miracle. We were shocked at the miraculous change. I too then started practicing Falun Gong."
After Jiang Zemin, former head of the Chinese Communist Party (CCP), initiated the persecution of Falun Gong on July 20, 1999, local police came to harass her many times.
Ms. Xu requested that the Tianjin Government and police immediately release her mother and other practitioners who are being detained, and stop the persecution of Falun Gong.
Washington DC Falun Dafa Association Spokesperson: Stop the Persecution of Falun Gong and Renounce the CCP
Ms. Min Ge, spokesperson for the Washington DC Falun Dafa Association, said at the rally, "These Falun Gong practitioners being detained in Tianjin did not commit any crimes. They strive to be better people by following [the principles of] Truthfulness-Compassion-Forbearance. They delivered New Year greetings to Tianjin residents."
"Falun Dafa has spread to over 100 countries around the world, and more than 100 million people practice. But the CCP continues its brutal persecution in China. Jiang Zemin's faction staged the Tiananmen self-immolation incident to frame Falun Gong. They arrest, detain, beat, and kill Falun Gong practitioners. They even conduct live organ harvesting from practitioners."
Over 200 million Chinese people have renounced the Party and its affiliated organizations after becoming aware of the persecution. Ms. Min called on the Chinese officials from the embassy to have a clear understanding of the current situation, stand on the side of justice, and choose a bright future for themselves and their families.