Ottawa: Divine Land Marching Band Participates in St. Patrick's Day Parade
March 26, 2016 | By Minghui correspondent Ying Zi in Ottawa
(Minghui.org) The 2016 Ottawa Saint Patrick's Day parade was held on March 20. The Divine Land Marching Band, which is made up of Falun Gong practitioners, was the only group representing the Chinese community.
"The Divine Land Marching Band has participated in the Saint Patrick's Day parade for the past 6 years," noted one of the event organizers, Mr. Sean Keaoey. "This is a very good band--their performances are high quality. The audience really likes them!"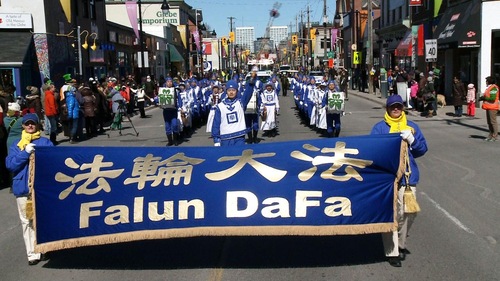 The Divine Land Marching Band in the 34th Saint Patrick's Day parade in Ottawa on March 20, 2016.
Some of the spectators' comments echoed Mr. Keaoey: "The band is amazing. It's wonderful! It's the best band I have seen so far," said Tim Irvin, a biologist.
"It's awesome! I like them very much!" exclaimed Ms. Sharon, a teacher in Ottawa.
The band members said that the spectators' warm applause and cheers made them forget that it was 7 degrees below freezing.
Charley Cui, a member of the band for 5 years, could tell that the onlookers were impressed with the band's performance. "The people of Ottawa are very enthusiastic. Despite the cold, they cheered and cheered for us."
According to the organizers, 45 groups from Ottawa and Montreal participated in the parade. The groups represented the Irish Community, government entities, colleges and universities, commercial organizations, and other ethnic communities.